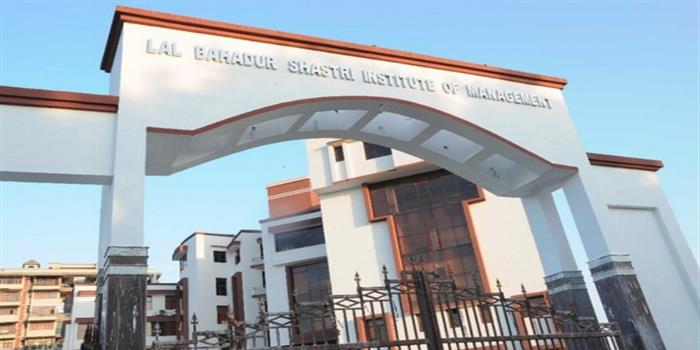 Lal Bahadur Shastri Institute of Management (LBSIM), Delhi conducted a two-day long National Conference on 'Digital Interventions for Economic Growth' on March 22 and 23, 2018. The conference, which took place at the Dwarka campus of LBSIM was divided into five sessions spread across two days. Domain experts, speakers, management thinkers and professors participated at the gathering.
Admissions Open Now
LBSIM- Lal Bahadur Shastri Institute of Management
Application open for AICTE approved full-time PGDM courses batch 2019-21
The inaugural address was delivered by Shri Shekhar Dutt, Former Governor, Chhattisgarhas the chief guest on the occasion. In his address, he highlighted how digitization will make activities in all the sectors cheaper and efficient. He also stressed on the importance of implementing standard operating and training practices.
Compare Colleges
College Comparison based on Courses, Placement, Rank, Fee
Compare Now
Anil Bhardwaj, Advisor, TRAI acted as the key note speaker of the conference. Dr. D.K. Shrivastava, Director, LBSIM; Dr. G.L. Sharma, Advisor, Corporate Interface, LBSIM; Prof. Alok Pandey, Conference Convener, LBSIM and Saurabh Maloo, President, Management Grid 2018-19, LBSIM participated in the lamp lighting ceremony.
Post the addresses by the professors and speakers followed by a short tea break, Technical session one began with the introduction of the theme- 'Digital Entrepreneurs: Leading Transformation in Rural India'. Various entrepreneurs from Village Level presented their life cases and narrated their journey of being successful entrepreneurs in rural India.
Session two witnessed five research papers on 'Digital Interventions for Governance & Society' being presented by various authors and co-authors. A concurrent Technical session Three was themed on 'Digital Intervention for Financial Intervention'.
Day Two of the National Conference started off with Technical session Four, which was themed at 'Digital Interventions, Stakeholder Awareness and Capital Markets'. Prof. Amitava Chatterjee, Formal Principal, Presidency College, Kolkata introduced the audience with the presenters of four research papers who talked about their research work regarding Mobile Wallets, IT organisations, Search Engine Marketing and Portfolio Diversification Strategies.
The Valedictory Session of the National Conference commenced with welcoming the dignitaries, Dr. Dinesh Tyagi, CEO & Whole time Director, CSC e-Governance Services India Ltd. and Mr. Saurabh Jain, Head Paytm-Build for India. In his speech, Dr. Anuj Verma, Jt. Convener of the Conference, talked about how digitization has helped achieve this economic growth and also highlighted certain safety issues which are to be taken care of. The topic for this farewell session was "Digital Interventions for Economic Growth: Way Forward", which was addressed by the chief guests and speakers of the session.
'Nivesh Marg', a magazine by the Mutual-fund Investment Society of LBSIM was also launched. Post that, the awards for best research papers were distributed to the research scholars who were invited for paper presentations for the conference. The research paper that bagged the first prize was presented by Dr. Isha Rawal and Dr. Renu Vashisth on "Portfolio Diversification Strategies with Special Reference to Financial Crises in a Digitally Globalized World." The second prize was given to the paper by Prof. Harsh Purohit and Ravisha Chutani.
The session was concluded by memento presentation to the dignitaries and a vote of thanks by Dr. Alok Pandey, Convener of the Conference.
Questions related to LBSIM