Expert Column: Technology is innovatively disrupting the hiring process, says Debjani Roy, Chief People Officer, SRL Ltd
Debjani Roy, the Chief People Officer of SRL Ltd., speaks to Careers360 on the hiring trends across the globe. In this column, she explains the human and strategic part of talent acquisition. Read this expert column by Debjani Roy, the Chief People Officer of SRL Ltd. who discusses how technology has innovatively disrupted hiring processes in companies with the help of data analysis.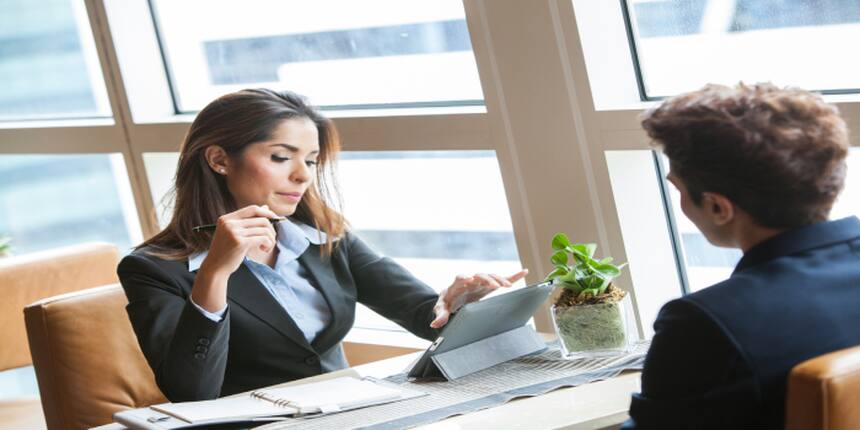 Businesses today are highly unpredictable in the VUCA (Volatile, Uncertain, Complex and Ambiguous) environment. In this fast-changing landscape, organizations are rethinking their strategy and realigning HR and other functions to deliver results.
Considering the increased focus on peoples' capabilities and the asymmetric talent war in the market, the role of talent acquisition has become critical. Over the years, the role of the talent acquisition has changed considerably from a traditional, number-focused and inward function to a quality-focused and outward function.
Hiring talent has become highly transactional. The tedious candidate searches the endless scheduling, and the repetitive screening can be inefficient and mind-numbing. It's time for a new era of recruitment focused on the more gratifying aspects of the job — the human and the strategic part. To do so, it is important to understand the big hiring trends. Let's take a look at the factors which are changing the dynamics of sourcing talent. 
TRM accelerating quality hires
Talent Relationship Management (TRM) goes beyond candidates to encompass contingent workers (external talent networks) and current employees (internal talent pools) in a holistic approach to identifying, engaging and building talent networks. A large number of progressive companies say that their highest-quality hires are internal candidates. 
Consulting giant Mercer has found that 79 percent of the organisations are focusing their efforts towards building and promoting their own talent from within, and nearly half of them (48 percent) are increasing their recruitment from the external labour pool. 2018 is expected to be the year when TRM will hit the mainstream. 
Social recruiting strategy 
Best-in-class companies are 32 percent more likely to engage candidates via social media, recent studies suggest. Investment in social media strategies, recruitment marketing and increasing use of social listening tools will reach even the most stalwart laggards in 2018. 
The better off organisations say strengthening their employer brand is a top priority – since any disconnect between what employers are trying to 'sell' and the reality of working in an organisation is quickly uncovered on social media. 
Candidates are turning to social media in droves for job search activities. In contrast, organisations have been slower on the uptake. The trend is likely to change with astute recruiters going from Facebook, LinkedIn and Twitter to Instagram, Pinterest and Snapchat in a bid to catch the right talents. 
Agility over experience
Hiring people who can adapt quickly to the changing face of technology and rapid economic shifts is becoming critical for recruitment strategies. The skill shortage continues to weigh heavily on the minds of CEOs –most are concerned it will impact company's growth. Companies are changing their talent strategy to support the employment and skill needs of the future.
The soft skills which are valued the most include problem-solving, adaptability, creativity and innovation— also some of the hardest to find. To build a sustainable high-performance culture of engaged, innovative and creative people requires a shift in emphasis beyond hard skills to learning agility.
Mobile, finally!
There are now more mobile devices on the planet than people. We are prolific users, with the mobile device the last thing looked at before going to sleep and the first thing reached for in the morning. By 2018, we expect more organisations to adopt a mobile-enabled application process as companies catch up to candidate expectations.
This happens because indications are that most job-seekers believe mobile devices will become the most common way to search for jobs within the next two years.
Artificial Intelligence to impact capacity and skills desired
Automation is streamlining everyday recruitment processes, including CV screening, web scraping and application updates. Artificial Intelligence technology is capable of filtering through CV submissions, learning what any particular job's requirements are and what qualified candidates look like. This frees recruiters to spend more time on aspects of personality and cultural fit, resulting in a closer match. 
AI and automation can also help with maintaining schedules, removing any human bias and keeping candidates in the loop through chat-bots, push notifications and automated emails.
Flexible working
Over the last few years, as candidate expectations grow and change, the concept of flexible working has continued to gain momentum. While employees find the option of working away from office motivating attractive, employers view flexible working leading to a better work-life balance and more motivated staff, thus increased productivity.
Data is the new corporate super-power
Research shows that most recruiters and hiring managers use data and are likely to use even more in the coming years. Important to note here is that data informing talent decisions isn't a new concept. But what is new is the volume of data available and the speed with which it can be analysed. What's new is that data can be used to predict hiring outcomes. The most sophisticated companies are piecing together every bit of data they have to try to compete for talents. Just as they might have a social media strategy or an events strategy, they now have a talent intelligence strategy too.
Well-being and benefits
As benefits continue to improve, companies are moving beyond bonuses, pensions and insurance to include workplace wellbeing, flexible working and up-skilling opportunities as perks. Employers are recognising the positive effects of offering training and development, with the potential for increased productivity, retention and higher employee engagement morale. This trend has been encouraged by millennials, who when asked which benefits they most value from an employer, count training and development and flexible working as more attractive than financial benefits.
Candidate experience
Candidate experience is becoming critical including everything— from marketing to the hiring process. Giving a negative experience to a candidate comes with consequences, especially today where bad reviews spread rapidly on the world-wide-web. Meanwhile, a good candidate experience can lead candidates to refer a company to family or friends, or even apply again in the future. 
Recruiters must take this seriously and deliver the best possible candidate experience that job seekers expect.
A few things to look out for:
Visibility and Transparency: Candidates would appreciate some feedback from you. Candidates want to be heard and be communicated.
Efficient Interviews – being sensitive to candidate timings: Multiple assessments done on different days and weeks can take up a lot of time and energy. Efficient interviews are conducted by a panel in a day or two. Video interview is perfect for an initial assessment to evaluate candidate's work experience, communication skills and personality. Also, they can be used for interviewing candidates who can't personally attend the first schedule, since the focus should be on finding the right-fit and thus these inconveniences should be minimized. 
Clear Salary and Compensation delivery: Let the candidates know the compensation package immediately. This allows an understanding of non-negotiables of the candidates as well as negotiable things like allowances and bonuses, among others.
Upright Treatment: No one wants to be treated unfairly or taken for granted. If a candidate came for the interview on time, made an effort to dress well, and came prepared, don't waste their time by making them wait for hours. Keep the interview informative and short. Treat it as a two-way communication that promotes proactive exchange of information and ideas. Also stick to interview schedules. If you mentioned that the recruitment process would only take 2 to three weeks, you should try your best to comply with it. Remember to update them immediately when there are some changes.
Identifying the right fit
Today, the expectation from this function is not only to understand the very specific business requirements in-depth but also step out in the world to identify the right fit through innovative thinking. The role of technology in enabling innovative thinking, volume hiring and a supreme candidate experience is huge. As the technological, social and economic disruptions impact businesses significantly, it is high time that the talent acquisition function goes back to the drawing board and defines a game-plan that has business, technology and continuous development as the key pillars.