Top Group Discussion (GD) Topics & Essay Writing Ideas
GD and Essay Topics: GDs (Group Discussions) and Essay Writing (Written assessment test) are integral to the admission process for IIMs and top MBA colleges in India. This article covers some of the most important GD and Essay topics. But before we do that, let's dive into Group Discussions and Essay Writing basics.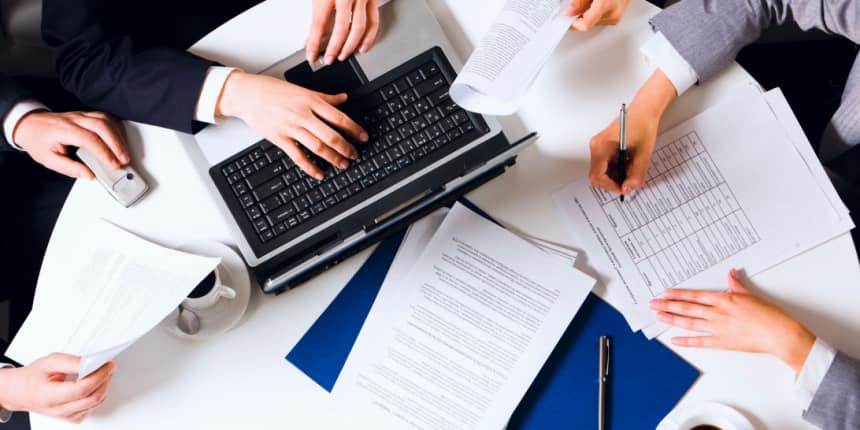 What is a Group Discussion?
Group discussion for part of the decisive selection round in admission interview that applicants must attend after passing their aptitude test or written exam. GDs essentially involve the active participation of a group of candidates who are asked to discuss and discuss various aspects of a topic raised by the interviewers.
Whether you want to attend a top university or apply for a job, you'll have to face the round of group discussion to get one step closer to realising your dream. While many candidates are paralysed when thinking about how they will speak, engage, and participate in a group discussion, the group discussion session is not as dreaded as it seems when you master the proven tricks that help decipher GDs.
Why is a Group Discussion important?
The group discussion round is essential because it allows interviewers to analyse candidates based on various parameters, including their self-confidence, ability to work as a team, communication, leadership, and analytical and logical skills.
Now that you have understood what Group Discussions and Essay Writing are, and why they matter from the selection panel's point of view, the next step of your preparation includes preparing for various topics that might appear in group discussions and essay writing.
What is Essay Writing/WAT?
The Writing Ability Test (WAT) is a selection test with a maximum duration of 30 minutes and forms an essential part of the MBA admission process at top colleges in the country. A few B-schools, such as XLRI and IIFT and also carry out analyses of the WAT or perhaps of case studies similar to the WAT. The WAT at IIMs and most of these take place shortly before the personal interview; the duration can range from 15 to 30 minutes. In fact, as a recent trend, most IIMs have stopped using GDs (group discussions) and instead opt for in the WAT during the final selection process.
Why is Essay Writing/WAT important?
Many top MBA colleges in India have replaced Group Discussions with Essay Writing/WAT for admission to the MBA/PGP program. This is because many candidates could not express their opinions during the group discussion, and their real abilities could not be evaluated. This is where Essay Writing/WAT came in to help in the final selection process, as candidates could write their views and thoughts on paper without fear of being interrupted.
Which is the one good thing about GD and Essay Writing (WAT) Preparation?
The one good thing GDs and Essay Writing is that they have common topics. A topic appearing in a group discussion can also be the subject of your essay. Hence, preparing for a common pool of topics, where you analyse these topics and collect content for them, can go a long way in helping you prepare for the selection procedures. Keeping this in mind, let's go through some of the important GD and Essay Writing topics.
Important GD and Essay Writing Topics
Discuss the importance of financial literacy in today's world.

What are the benefits of a college education?

Analyse the impact of technology on our daily lives.

Is Indian culture in decline?

Should mobile phones and such devices be allowed in schools and colleges?

Who are better managers: men or women?

Should beauty pageants be banned or promoted?

Is India ready for Driverless cars?

Is Indian Culture at threat from Globalisation?

Examine the effects of global warming on the environment.

Discuss the pros and cons of social media.

Evaluate the effectiveness of current methods of enforcing environmental protection laws.

Video games: Virtue or Vice?

Should firecrackers be banned during Diwali?

Hard work vs Smart work - what's the difference?

How do movies impact the young generation?

Compare and contrast the different approaches to health care in India and abroad.

Analyse the positive and negative effects of Globalisation.

Discuss the advantages and disadvantages of multinational corporations.

India's population growth: Can it be controlled?

Should we make Hindi India's national language?

Is a paper ballot system the best way to restore democracy?

How can we reduce poverty and inequality in the world?

Should governments regulate social media?

What are the risks and rewards of online shopping?

Should online data be regulated and protected?

Can E-learning substitute for classroom learning?

Media: Problem or solution?

Examinations – Has education become irrelevant?

Are foreign television channels damaging our culture?

What strategies can be used to protect personal data online?

What are the potential ethical implications of artificial intelligence?

Technology in the classroom: Benefits and drawbacks

E-waste management: Does the topic deserve urgent attention?

Social networking sites: Virtue or Vice?

Is the ever-increasing reliance on digital technologies good or bad?

Brain Drain: Does it need to be stopped?

What are the implications of using facial recognition technology?

Love marriage vs Arranged marriage: Pros and cons

Should alcohol be banned?

What should be the role and ambit of youth in politics?

Generation Gap: Can it ever be bridged?

What changes can be made to promote digital security?

What are the best practices for using the internet safely?

Is the cap on wedding expenditure fair?

Where does the problem lie with ever-growing air pollution levels?

Is it right to kill stray animals?

Should the portrait of Mahatma Gandhi be replaced on Indian currency notes?

Uniforms in schools: Mandatory or optional?

Free WiFi spots – are they always beneficial?

The population explosion – what is its effect?
How should you approach the GD (Group Discussion) and WAT (Essay Writing) topics?
The task here can be divided into two broad parts or phases.
Phase-1: The Research Phase
As a starting point for the topics given above, make a list of points that come to your mind. Then, as additional work, run some quick Google searches for each topic and identify the various points you missed during the research phase. You will find some great resources, essays, and even some Wikipedia pages for some of these topics. Make sure you spend time on these and absorb as much content as possible.
Phase-2: The Articulation Phase
With the points you have gathered above, articulate an argument on a given topic. Coherently and logically sequentially present your points, with one thing leading to the other. Remember, the greater the number of logical connections (such as cause and effect sequences or logical conclusions for a given course of action) you establish in your oral or written arguments, the greater your impact on the examiner.