CAT is considered the gateway or the most sought-after exam to get into an IIM (Indian Institute of Management) or any other prestigious B School in India; deemed the most challenging management entrance exam. Therefore, aspirants should carefully devise a strategy to comprehend the milestone and a plan of action to crack the exam with a score of 90 percentile and above. A checklist of dos and don'ts should be curated and strictly adhered to.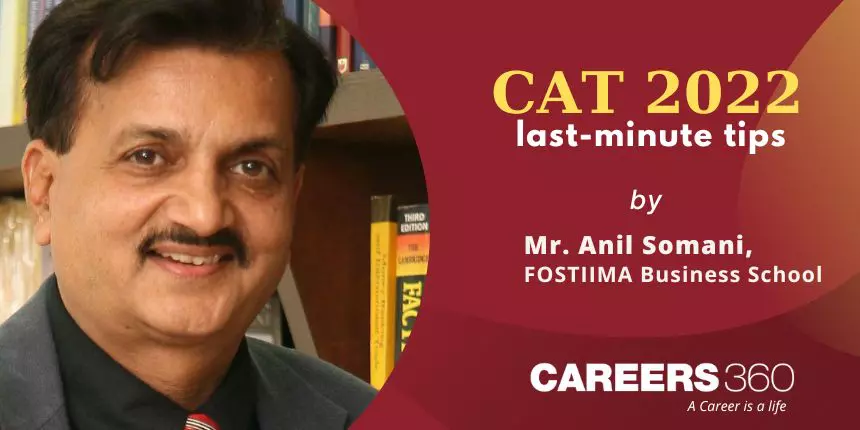 Last minute CAT preparation tips for candidates Dos & Donts
With months of vigorous hard work and studying, the aspirants must gear up for the CAT (Common Admission Test) 2022 exam. The article is authored by Mr. Anil Somani, Chairman of FOSTIIMA Business School.
Also read:
With tremendous analysis and research from the experts from the topper's strategies, we have curated last-minute tips and Do's & Don'ts for CAT 2022 aspirants to organize themselves in these last few days before the exam and for the grand finale.
Strategy for the few last days of CAT preparation
CAT is arguably the toughest entrance examination in the world, and therefore it requires not only good preparation but also special care in the last few days. There are an average of more than 2 lakh students appearing for the CAT every year. And so if you have to be in the top 10 percentile which is the 90 percentile or above, then you have to be amongst the best 20,000 students. Last-minute preparation for CAT should be to concentrate on revisiting and strengthening what one has learned. For example, enhanced practice sessions, identifying and improving errors, taking Mocks, eliminating weaknesses, and further strengthening one's sturdy areas instead of conceptual clarity, strengthening fundamentals, or starting anything new.
Also read-
Strengthen the areas prepared and try to get the maximum out of it instead of trying to spread wings in every direction. Better to improve the speed and accuracy and practice on the topics well prepared before.
CAT is not the end of life; hence, never let anxiety overcome the positive attitude. Remaining calm and motivation is the key.
Many students choose to ignore such questions, assuming that they will spend a significant amount of time reading and comprehending the problem. However, it has been noticed that questions that are lengthy in nature or long in text are generally easier to solve. As a result, simply because a question is long, students are advised not to overlook or skip it since it is likely to be an easy one.
Also read- What to carry at CAT 2022 test centres
One more general tip is that all CAT aspirants should be mindful that there is negative marking in CAT and guesses should be strictly avoided. If you are doubtful about an answer, do not attempt the question, and only attempt when you are certain since it is meaningless to add negative marks to your score.
CAT 2022 Sectional Tips
Preparatory Tips for DILR
This section was the toughest one, going by past exam trends. There is no set syllabus for DILR.

Focus on topics like syllogism, scoring, and relatively simple presentation to improve the DILR score.

To understand the types of questions anticipated in this part, practice the problem-solving questions and go through the previous year's papers.
Also check-
Preparation Tips for VARC
This substantial section evaluates the candidate's proficiency in the English language.

Increase one reading time and practice answering questions about hidden neighborhoods.

Depending on the topic, unseen sections can be answered using either critical thinking or factual material.

More regularly, practice grammar-related questions. Here, taking a guess might result in a negative consequence.
Preparation Tips for Quantitative Ability
This section can be time-consuming as it includes topics like Permutation & Combination and Algebra, among others.

Try to solve and practice the questions within the prescribed period.

Tables of squares, cubes, and others can save massive time and effort in the calculation.
Quick Links
Above all, carrying admit cards to their exam center will be imperative for the candidates appearing for the CAT 2022 exam.
Almost all the IIMs have increased the intake for the 2023-25 batch. IIMs and other top B- schools like FMS Delhi have also increased the intake of students. IIMs are on the path to doubling their intake in future years. Therefore the chances of acquiring a seat at the top institutes will increase in 2023.
-By Mr. Anil Somani,
Chairman of FOSTIIMA Business School.