KSOM alumni Sromona Banerjee says, "Curriculum is crucial for thinking strategically and differently"
There has been quite a few times when a candidate gets confused whilst selecting a B-school. There are so many factors that the candidates have to look after in order to get the best institute. When checking the factors, such as, the infrastructure, the faculty, the students, the environment set in the institute, and most importantly, the placement reports. It gets difficult to filter out the best institutes which score a ten on ten in each category, but it is not impossible. To minimise the pressure on candidates and to help them find a better B-school, so that they can mend their career accordingly, Careers360 has interviewed Sromona Banerjee, an alumni of KIIT School of Management (KSOM). Continue reading to know the experience that a candidate can get at KSOM.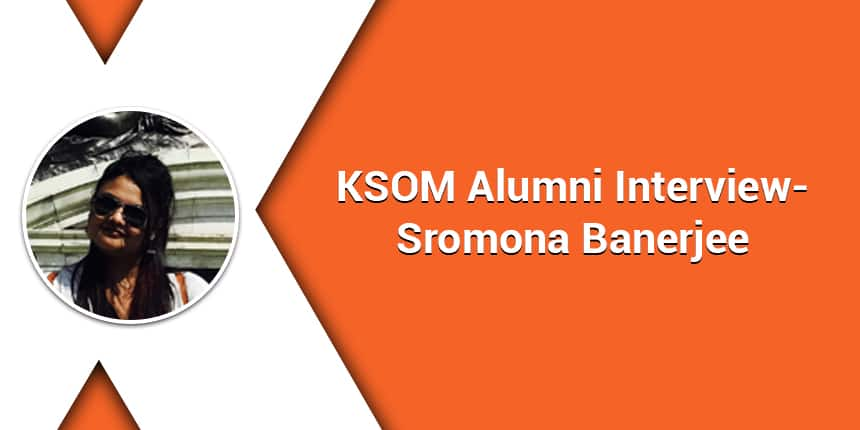 Careers360 -Tell us about your domain and your work profile. At the professional level, did you pursue the same field you were interested in or you switched?
Sromona Banerjee - I work as an analyst in the ratings for Structured Finance products for various asset classes for a leading rating agency in the world.
In my second year of MBA, I had chosen Finance as my Major. Hence, I have pursued the same field since my college days and while I had pursued Finance, I had Marketing as my other area of specialisation. And also, a fair number of important papers from HR in my list of chosen electives. I did not want to dismiss my other career options, should there be any change of interest, after going into the industry.
Careers360 - Can you briefly tell us about your career path so far?
Sromona Banerjee - I was placed in TCS from KSOM right after my first year itself and posted in Mumbai, where I worked as a process consultant for a leading US bank. We worked towards making their banking process more streamlined, digital and cyber-safe. I was in that project because I had pursued Finance in my MBA and that was my area of interest. Since all these projects are sponsored and driven by top management, I had learnt a lot in terms of handling international clients, communicating with the top management, knowing the nitty-gritty of the banking systems and a lot of people management skills. However, 2 years into the company, I realised I needed to be in a Finance company to actually know the nuances of finance. An IT company is limited in terms of the other streams of management, and likewise, an FMCG gives you exposure in marketing like no other company type.
So, 2 years down the line, I had started applying to various companies from job portals and Linkedin. I had to work hard on my resume. I had to prepare and go back to my MBA books and notes for the foundation. And after a fair amount of patient wait, I got called in by Moody's through Linkedin, which had been my dream company. Right now, I do everything that we read in our corporate finance books. I work in a very niche yet unique branch of Finance which is Structured Finance, which deals with securitisations. I work closely for ratings of a number of asset classes like Commercial Mortgages, Residential Mortgages and the like. I work on a lot of reports that are published world-wide for our investors. And needless to say, being involved in a lot of Volunteering work within the company. So, yes, extra-curricular activities for me have not stopped since KSOM days. With that, I have completed close to 5 years in the corporate in 2 different cities of India.
Careers360 - Is industry work different from what you learn at B-School?
Sromona Banerjee - I would not say it's very different. You can never do industry work if you do not have the foundation. You need to really know all those theories of Kotler, Portfolio Management or Organisation Behaviour to apply them in your daily work. You cannot substitute them with just common sense and general knowledge. The curriculum is crucial to you thinking strategically and differently than others. So, I would not say it is very different. Professor does try to give you as much of a practical experience as possible in terms of practical case studies, presentations, group work and you also have an internship to let you give you a sneak peek before your final show at the placements. In fact, my learnings at B-School have more often than not, set me apart from the crowd in a meeting with the senior management.
Careers360 - How do you think your MBA programme has added value to your life, both professional and personal?
MBA, as a degree, is valued in the industry and it really is a plus when you are just starting off your career. It is very different from other post-graduate courses, it truly prepares you for a career in the corporate. It grooms you, it lets you explore your strengths and then curve your own career path. So, MBA, for me, has been life-changing.
My MBA programme was residential and had students from various diverse backgrounds. It really opened up our own mental horizons when we actually lived together with so many different kinds of people. It taught us empathy, respect and most importantly adaptability, these three are essential traits in any business codes of conduct of any organisation.
Careers360 - What was your initial thought process when you joined your MBA programme?
Sromona Banerjee - I come from a family of entrepreneurs or government service holders. For me, I depended a lot more on my professors and my B-School for all the guidance than other students. It was crucial for me to be at a place that had the right opportunities and resources to help a fresher like me begin a career in the first place. So, the first thing I did was place my complete trust in the curriculum and on the advice of my professors. I had to let go of all my preconceived notions or career advice. I was a clean slate and I had mentally prepared myself to take it all in and make the most of my time in MBA. I never said a NO to anything. I never studied any subjects with any lesser rigour thinking it is probably not my choice of specialisation. I never said NO to any club activities. No activity is small or big. I had said YES to every experience at KSOM. And with that I saw, the dots did connect to my place in the corporate today. I will always say that I am a through and through product of KSOM.
Careers360 - You must have spent memorable time at your B-School. Do you miss being a part of it? Share a few good memories.
Sromona Banerjee - I will relive my life over and over again at my B-School, given a chance. I feel so sad that 24 months passed away in the blink of an eye. Some of my favourite memories are: The first surprise outbound trip to a beach just after two days of joining where we underwent rigorous management development sessions and had a lot of fun bonding with each other
The first time I, along with my team members, relaunched the campus magazine Pravah. It truly was a lot of hard work and we brainstormed everything from the names of the sections to the colour of the fonts, under the guidance of the professors-in-charge. It was a whole different experience creating something right from scratch to its publication.
A zillion memories of games, assignments, and meetings on the lush green lawn of KSOM. It was beautiful and picturesque.
All of the festivals that we celebrated in the beautiful campus from Christmas to Diwali to our own fest, Kolosseum and our Inhouse competition. It helped us bond with each other, with our professors and everyone who is crucial to running KSOM. There are hundreds of people behind the scenes, in the hostels, mess and the administration who work tirelessly for you every day. From making rangolis, lighting diyas, decorating the whole college in red and white confetti for Christmas to aggressively branding our own houses for Inhouse. I can write essays of memories on them
My first ever placement of life in one of the leading IT companies in the world. It was unbelievable and the celebratory gestures by my batchmates, professors and the administration as a whole made me truly feel like WE are one big family. KSOM really cares for each and every one of us, you are always seen, heard and loved
Careers360 - Briefly take us through your life at the campus, the activities you used to do and your routine life.
Sromona Banerjee - A typical day in KSOM would consist of being greeted to the Economic times at our doorsteps in the hostel rooms, followed by a quick workout at the gym in campus 6 at 7 am. I would ideally finish it by 7:45 am and then rush to get breakfast before my first class at 8:30 am. There would be classes sometimes continuously till lunch or sometimes with some gaps in between. The gaps would mean revising for quizzes, class participation and sometimes just lazily rolling on the grass bed in the sunny lawn. Post lunch, there will be classes, mock interview practices, placement specific classes or assignments that would involve working in groups in the OAT, library or even classrooms. Evenings would be busy with club meetings, setting agendas for the meetings, taking down minutes of the meetings, brainstorming, planning club events and finally late evenings would be about spending time with friends around the fountain, green lawns and dining together. 10 pm was our deadline every night for the girls' hostel, after which we were not allowed outside. But our nights extended far beyond that with the hostel room chit chats, brainstorming, preparing for mock interviews, cooking Maggi, preparing props for club events, preparing numerous presentations for classes and sometimes just really studying hard for exams. Thus, fair to say, every day at KSOM was roughly 12-15 hours long. They were happy, stressful, competitive and fun-filled. Truly prepares you for those long days in the industry.
Careers360 - Apart from academics, what were the other activities you were involved in and how did it enrich your life?
Sromona Banerjee - I was a part of many clubs. Some as members, and in one as a coordinator. The club where I was a coordinator gave me the opportunity to hone my leadership skills in handling the club members with their own different individual thought processes, taught me to be a good listener and to truly respect different opinions. I had to work on getting the event's budgets approved, presenting them to the professors in-charge, hence it truly added a lot to my personality. Those were learnings that I carry with me even today.
On the other hand, the clubs where I was a member, I got to witness amazing leadership skills by the coordinator, I learnt teamwork in working with all the other members, in filling up for the team wherever needed, and in learning to accept the difference in leadership approaches. It is fundamental to step in the corporate world. You will probably also be under a manager or a lead, so it is important you learn to be a good team member, to make your points heard amongst numerous others and to be a good reporter. Trust me, a lot of people fail there too.
Careers360 - You are a proud alumnus of this top B-School. What is the best part of KSOM Bhubaneswar from a student's perspective?
Sromona Banerjee - KSOM has a diverse culturally and academically rich base of professors who are top B-School alumni with years of corporate experience. They bring that to the classroom every day, thus grooming you for life after B-School from Day 1
There are numerous clubs that let you pursue your passion and it is not necessarily limited to mainstream hobbies only like sports or dance or music. You have a literary club, you have master chef cooking contests, you have skits, you have various events to keep your artistic side alive.
Professors are truly invested in your career growth, personal aspirations and try their best to be there for you beyond the classrooms. To this day, being in touch with my professors for career advice, mentoring and sometimes just for friendly conversations
There is the mentor-mentee program at KSOM where you are groomed professionally by a corporate mentor. It is an eye-opener. Your interviewers are people who probably have lost touch with textbook theories but are out there in the industry dealing with all of the theories practically. Hence, your answers have to sound doable, actionable rather than just theories in an ideal situation
Careers360 - What is your suggestion/guidance for the MBA aspirants?
Sromona Banerjee - To have an open mind and to adapt is the key. Do not go with preconceived notions. While placement is one of the key aspects, the key is not to just focus on the placement, focus on learnings, absorb as much as possible from the classes, participate in the extra-curricular and placement will fall into its place on its own. It is also not a good idea to be very choosy when you are just starting out. Everyone has their own journey that is different from the person sitting next to you, from the same B-School and even placed in the same company. So, do not lose your mind over comparisons. A B-School is what its students make of it. Hence, if you give in your 100 percent, placements, accolades and everything else will come on its own.
KSOM Updates and Articles
Questions related to KSOM
Showing 37 out of 37 Questions