Krupanidhi School of Business Campus Life - Interview with MBA student Deepthi M
Everyone cherishes a dream to get admission into a B-school which offers the right kind of environment to grow professionally and personally. A good B-school not only hones a candidate academically but characteristically too and makes the journey memorable. A campus indeed plays a vital role in providing the candidates with quality infrastructure, facilities, extra-curricular, and activities to spend leisure time. Krupanidhi School of Management (KSM) thrives to provide the candidates with a lifetime experience and a conducive environment for shaping a management career. Careers360 asked a second-year MBA student of KSM, Deepthi M, to share her experience at the said institute to give you an insight into campus life.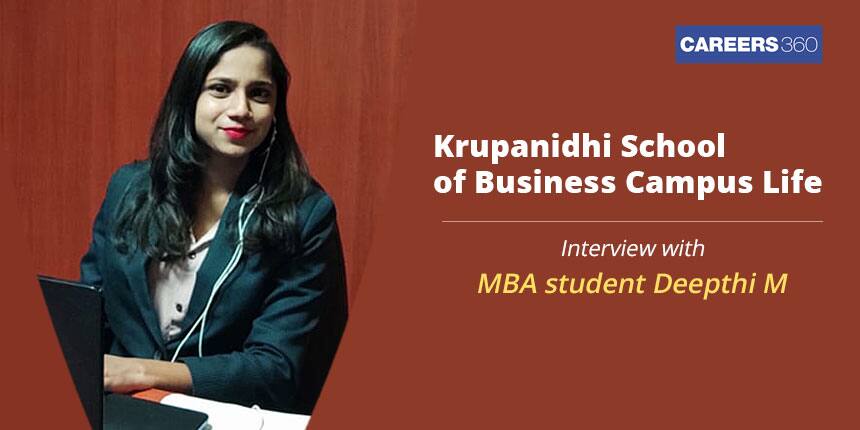 Careers360: Did you face any difficulty in the initial months when you joined the institute?
Deepthi M: Although I was worried about moving to a new place, it was like coming back home here. The diversity in the campus makes one feel at ease and having friendly mentors just adds to it.
Careers360: What activities are offered in the institute? Are there any clubs etc for the various extracurricular activities? Which ones have you taken up and are a part of?
Deepthi M: There is a myriad of activities that are offered in the college like training programs, workshops, research, conferences, cultural events, sports events and many more that are aimed towards ensuring a wholesome growth of the students. There are a number of different clubs like the debate club, media club, sports & recreation club, cultural club, marketing club, finance club, photography club, foodie club to name a few. I am personally a part of the marketing club, media club, cultural club as well as the debate club
Careers360: Describe a typical day at your institute – what do you do from the time you wake up till you go to sleep?
Deepthi M: A typical day at Krupanidhi is never the same because there is so much happening and evolving on a regular basis. My morning rituals start with a refreshing walk among the greenery on the campus, soaking in the natural beauty that the college beholds. After a hearty breakfast at the multi-cuisine college cafeteria, my busy day commences which involves a variety of activities right from regular classes to training sessions as well as some focus on research work. It gets even more interesting when there are events. Each day puts up a new opportunity to learn and grow whilst mastering the skill of time management. The evenings begin a little low-key with a relaxing cup of coffee from the cafeteria and some light music as some watch whilst some others play different sports on the campus premises. I personally love spending time at the college gym every alternate day. Post dinner, I finish up tasks due for the next day and retire to bed with a heart filled with gratitude.
Careers360: Tell us about the faculty-student ratio here and about the teacher-student relationship in your understanding.
Deepthi M: From what I have observed, the faculty-student ratio could be near to 1:10 which is very decent. Each student is assigned a mentor who is not only the point of contact for any academic needs but also a counsellor, guide and mentor for the lessons of life. Albeit being the experts in their field and years of experience behind them, each teacher is able to empathize with the generation that we belong to and hence, are able to bond at the level of a guide as well as a friend.
Careers360: What all facilities do you have on campus? What do you like here the most which you feel is unique and differentiating?
Deepthi M: There are a lot of facilities both in terms of tangible as well as intangible infrastructure as opportunities. We have an in-campus hostel facility, a multi-cuisine cafeteria, tuck shops, basketball and football grounds, state-of-art well-equipped gymnasium, smart classrooms, up-to-date digital library, in-house studio, auditorium and seminar halls all within the lush green Krupanidhi Campus.
There are also initiatives run by the campus like the Center of Excellence, Center for Entrepreneurship and Research Incubation Center that form the intangible infrastructure that adds value to student's development. Be it free access to 120+ IBM certified courses under Krupanidhi Center of Excellence or the rigorous mentorship to students provided by the Krupanidhi Center for Entrepreneurship towards launching start-ups or the guidance towards industry collaborative research initiatives, these I feel are the most unique and differentiating aspect about Krupanidhi School of Management.
Furthermore, I was most enticed by their Global Immersion Program as a part of which we get the opportunity to visit countries outside India for Experiential learning and exposure. The opportunity to obtain a dual degree with massive skill update from the numerous value-added courses was cherry on the top.
Careers360: How comfortable are your hostels and how about the cleanliness factor over there?
Deepthi M: Krupanidhi has a separate hostel for boys and girls with an attached bath and equipped with facilities like free Wi-Fi, smart card enabled washing machines, food vending machines and a common kitchen. The cosy and clean hostels are home to many national as well as international students at Krupanidhi with specially designed floors for international students to ensure their comfort in a new land. Immense care is taken towards the maintenance of hygiene and sanitation on a daily basis with no compromise.
Careers360: What about the medical facilities? Can you avail requisite medical attention if needed in an emergency?
Deepthi M: There physiotherapy and OPD on campus to cater to any emergency medical needs of the students. Also, we have a vehicle with a driver available 24/7 in case required for any medical emergencies that need a visit to the hospital nearby. The nearest hospital is 2 km away from the campus.
Careers360: How do you balance your studies, projects, exams and other activities?
Deepthi M: Before I joined here, I was not aware of the possibilities that I had within myself. The soft skills training have really come in handy in helping me realize my true potential as well as train myself with tools for time management as well as stress management such that a myriad of tasks does not overwhelm me anymore. We have been trained on how to prioritize our work and make time for each as appropriate. Moreover, the faculties are very kind and understand the limit over which a student could get worked up and hence, work in unison with us at all steps.
Careers360: Tell us about the clubs and societies at the campus and how significant are they from your point of view or students' point of view?
Deepthi M: As already discussed above, there is a good number of clubs that are there in the college which showcase the diversity that it houses. The clubs and their activities are student-driven which gives us the chance to practically apply the tools related to several life skills that we are trained on. From this outlook, I believe that the various club and society activities provide real-world exposure to the students like us on matters that go beyond academics such that we learn to adapt as well as be resilient when life throws surprises at us.
Careers360: What are the popular hangouts at the institute? What, according to you, are the most-visited places nearby?
Deepthi M: At the institute, you will find students nestled in groups at the cafeteria or the lawn area with benches and tables. Outside the institute, the possibility of exploration is unlimited. Whilst many students do hang out at the nearest malls more often, it really depends upon the group interests at large. The nearest mall is only 6 kms away from the campus equipped with all facilities to state the young and restless. With coffee corners to book store, grocery store, food joints as well as movie theatre and brand stores this is definitely the most visited place nearby. Having said that we, however, do not really travel 6 km for a cup of good tea daily catch-ups. There are shops right outside and around the campus that serve the purpose too.
Careers360: How do you spend your leisure time at the campus?
Deepthi M: As I have stated before, I love spending time at the gym when I am free after college hours. You can also find it in the library or the football ground at times. Sometimes I might be seen strolling among the greenery on the campus with music in my ears.
Careers360: Do you have any Facebook page of your campus where the students express their views, jokes or ideas, or maybe even a blog where they write about their experience of life on campus?
Deepthi M: We do have an official Instagram as well as a Facebook page where you can find daily updates about the happenings on the campus. The social media platforms also publish student blogs, write-ups, photos as and when shared with them. Our college has also started the initiative "Humans of Krupanidhi" where they welcomed students to share their life experiences with everyone via the platform. You can find some stories on the official page.
Careers360: What type of companies come for campus recruitment and what percentage of students get placed every year? How is the recruitment process here?
Deepthi M: The types of companies that come for campus recruitment each year is diverse. It depends hugely upon the choices put up by the outgoing batch of students in the particular year. We are provided with 100% placement assistance and the success rate for placement has been close to 90% as per my knowledge. We have had companies like IBM, Byju's, EY, General Motors, TATA, SAP, Narayana Health, Amazon, Toyota, Capgemini, HDFC and many many more that have visited the campus for recruitment.
The recruitment training for each student starts from the day they enter the campus in the form of finishing school training. We are made to fill a Personal Profile form stating our career goals and undertaking a SWOT analysis to list the skill sets that we have as well as the ones needed to develop to achieve the goal. Milestones are set and followed till we reach our career goal. Intensive pre-placement training is given along with varieties of training on enhancing life skills such that we are able to grasp the best opportunities and scale higher in life. The recruitment process is very transparent and systematic with a proper placement calendar in place. The assistance provided is impeccable and we could not have expected anything more.
Krupanidhi School of Management, Bangalore Updates and Articles
B-School Director Interview – Dr. Sam Paul, Director, Krupani...
22 Jun 2018
Krupanidhi School of Management (KSM) Mangalore has announced ...
07 Mar 2018
Questions related to Krupanidhi School of Management, Bangalore
Showing 1 out of 1 Questions
87 Views
Is krupanidhi a good option for mba program? in terms of placement and environment
Krupanidhi School of Management is not a very good option for MBA. The course fee for the MBA program is nearly 5.8 lakhs but you won't get good returns on your investment. The academics is decent but the placements are not up to the mark. Nearly 20-30 percent students usually get placed but the job roles offered by organizations are mostly restricted to sales only with an average compensation package of 3-4 lakhs. So if you're planning to get a good placement at the end of your course you must look out for other better options.

Good Luck