Know all about FIIB: An interaction with Dr. Anil Kumar Sinha, Director
Established in 1995, Fortune Institute of International Business is approved by the AICTE and it offers a PGDM programme in management which has been granted equivalence to an M.B.A degree by the Association of Indian University (AIU). FIIB's mission is to provide advanced management experience and produce industry and socially relevant leader-managers. Careers360 brings you an exclusive interview with Dr. Anil Kumar Sinha, Director, Fortune Institute of International Business. In this interview Dr. Sinha shares various details about the university, FIIB Delhi admissions process and other important things. Read the complete article to know more about FIIB Delhi.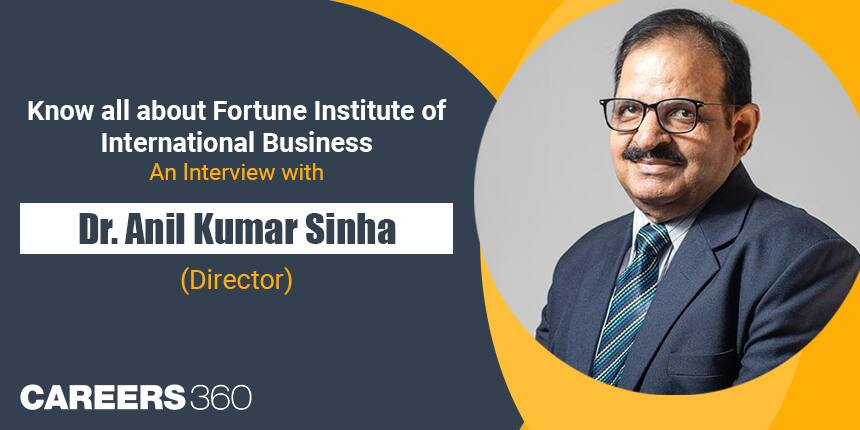 Careers360: Tell us something about the institute; when it was set up, its vision and mission
Dr. Anil Kumar Sinha: FIIB was established in the year 1995 with the aim of delivering excellence in management education. Having a legacy of more than 28 years, FIIB offers one of the most comprehensive Post-graduate (PGDM), PGDM (Financial Management) and Doctoral (E/FPM) programs in Delhi NCR. Our programs are designed to give you real learning outcomes that serve three purposes: to broaden your knowledge base, prepare you for the workforce, and fortify your professional identity in a way that will position you among the management thinkers and leaders of the future.
Also Read:
Careers360: Tell us something about the admission process?
Dr. Anil Kumar Sinha: We accept applicants from a variety of academic, professional, and personal backgrounds at FIIB, and we carefully review every aspect of their applications to get to know and understand individuals. Our PGDM entrance and selection procedure is comprehensive and stringent, and we evaluate applicants' candidacy from the standpoint of their total MBA preparedness. All candidates are required to take the CAT/MAT/XAT/CMAT/ATMA with a minimum 50 percentile. In addition, they must hold a bachelor's degree with a minimum of 50% marks in aggregate from any university recognized by the AIU/UGC or AICTE.
The admissions process will require:
1. Fill in the Application Form
2. Call for a personal interview
3. Declaration of Result
4. Acceptance of Admission and Fee Submission
Careers360: What kind of infrastructure can students expect at the institute? Please elaborate.
Dr. Anil Kumar Sinha: Students can expect world-class infrastructure. Based in prime South Delhi, FIIB has cutting-edge facilities that provide the necessary innovation and devices to ensure students' success. In addition to high-tech classrooms that help students' learning, a library stocked with state-of-the-art resources, and even study centers that foster a cordial learning environment, FIIB fosters inquiry, welcomes culturally diverse commitment, and encourages dynamic associations. Also, FIIB grounds are situated near significant points of diversion, shopping, gastronomy, and culture in Delhi-NCR, offering our students a dynamic and extraordinary association with significant involvement and an extraordinary chance for long-term ties with the FIIB people group.
Careers360: There is a lot of stress associated with interaction with industry as well as companies that recruit. What is the Institute doing in this direction?
Dr. Anil Kumar Sinha: We as an institute understand the stress that students go through. We support and move the unusual in students. Our faculty, with their abundance of industry experience and sharp scholarly prescience, work to build capabilities while providing tailored development directions for students.
We leverage our strong corporate connections, built over decades of value-adding partnerships with leading companies to provide matchless industry engagement opportunities and multiple live projects and internship options. FIIB emphasizes that MBA is a mindset and not a course, so a significant portion of the learning that students get during their two-year MBA program occurs outside of the classroom. Be it extracurricular activities or experiential learning opportunities – FIIB Racers are fiercely competitive, exacting, and immersive. They are always prepared to identify and analyze problems from multiple perspectives. Spending two years at FIIB has many dimensions and one of the most exciting aspects of student life at FIIB is that students learn to practice balance as a lifestyle. FIIB provides highly enriching experiences through a tight-knit and inclusive community that encourages your involvement and leadership in clubs, signature events, and learning teams. We are small, but buzzing and happening, providing a range of fun and learning activities to keep everyone engaged, and excited.
Careers360: Internships are now mandatory as per AICTE guidelines. Does the institute help students with this? If yes how?
Dr. Anil Kumar Sinha: Our focus has always been on experiential learning. We provide students with 12 weeks of internship, called CIP. The 12-week CIP By participating in the 12-week CIP (Corporate Internship Program), students can better understand the nuances of various industry verticals and functional areas that align with their career interests. Our graduates were offered noteworthy roles in multiple industries like FMCG, Media, BFSI, E-commerce, Manufacturing, Telecom, and Consulting. The projects assigned to students were in sync with the 'major specialization' opted by the students, customized for each set of students. The projects offered included various functions like business development, sales promotion, market research, digital marketing, supply chain management, warehouse management, import-export documentation, talent acquisition, HR operations & analytics, investment portfolio management, banking operations, and sales of financial products.
Careers360: Can you please share details if there is any collaboration with universities abroad?
Dr. Anil Kumar Sinha: FIIB provides students with the Global Immersion Program that provides them with an experience-driven understanding of the culture and commerce of another country while developing the confidence to work at an international level. We have collaborations with 21 international universities like Universiti Teknologi MARA (UiTM), Malaysia, University of Agder, Norway, Geneva School of Diplomacy and International Relations, Switzerland, SBS Swiss Business School, Switzerland, DAV College & DAV Business School, Nepal, Bangladesh Institute of Human Resource Management, Bangladesh, Celbridge International School of Business, Woosong Foundation, South Korea, Uniglobe College, Kathmandu, Nepal, Burgundy School of Business, Dijon, France, etc.
Careers360: Please share placement statistics with information on the average package, highest and lowest package, number of students placed, and details of companies that have recruited.
Dr. Anil Kumar Sinha: FIIB has an impressive placement record with noticeable improvements year after year. We have consistently placed over 96% of our graduating students in the last five academic years. We also have a 100% record of successfully providing corporate internships to our students year after year. Our highest placement package - International is 24.93 LPA, our highest domestic package is 15.13 LPA and our Average Package is 8.20 LPA. We have around 650+ active recruiter connections. Our leading recruiters are: ICICI Lombard, Deloitte, Godrej, Kellogs, ANZ Bank, TATA Consultancy Services, Ameriprise, Berger Paints, MRF, ITC, Wipro, Reliance, Pladis, Aditya Birla Capital, Naukri.com, etc
Disclaimer: This content was distributed by FIIB Delhi and has been published as part of Careers360's marketing initiative.
Know About Other Popular Institutes and Universities:
FIIB Delhi Updates and Articles
Questions related to FIIB Delhi
Showing 115 out of 115 Questions