JKSHIM - Interview with Dr. K. Sankaran, Director on Admission, Cutoff, Placement
In 2006, the Department of Business Administration of NMAMIT was designated as Justice K S Hegde Institute of Management (JKSHIM). An autonomous institution affiliated to the Visvesvaraya Technological University, Belagavi, JKSHIM offers a two-year full-time MBA programme recognized by AICTE.It is also accredited by ACBSP, NBA, and is a member, AACSB. Careers360 interacted with Dr. K. Sankaran, Director of Justice KS Hegde Institute of Management to know about the institute, its mission, courses offered, admission process, and more. Read an excerpt from the interview with Director Dr. K. Sankaran of Justice KS Hegde Institute of Management.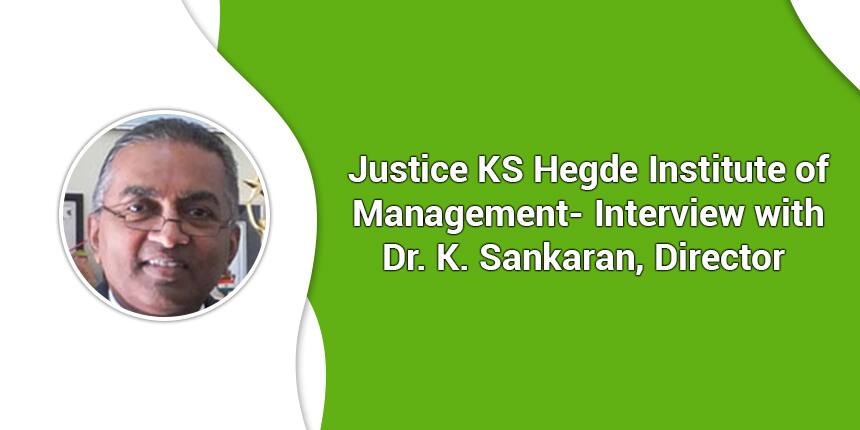 Careers360: Brief us about the Justice KS Hegde Institute of Management.
Dr. K. Sankaran: The University started with the idea and need to educate local people. At that time there were a lot of opportunities for students to learn different things and management was one of them. One of the key things was employment and an MBA degree was always considered as a good for earning well. So professional courses like medicine, engineering, and management were given more importance. Other humanities and social sciences courses came in much later.
Careers360: What programmes and specializations are offered at JKSHIM?
Dr. K. Sankaran: We have around 11 specializations. In marketing we have two specializations- Consumer and B2B Marketing. Similarly, in finance, we have Corporate Finance versus Services Finance and we have 11 of these specializations. The idea is to create the opportunity for people to have dual specialization and that has worked out very well for students because they get this interdisciplinary sense while also specializing in two different areas. For instance, they could take Corporate Finance with B2B Marketing. Information Technology (IT) is also included in this 11 specializations so some of the engineers who join us go for this.
Watch the full interview of Dr. K. Sankaran

Careers360: How diverse is Justice KS Hegde Institute of Management in terms of regional, gender, and stream?
Dr. K. Sankaran: In terms of educational background, we have engineers as well as students from science, arts, hotel management background. If I compile to give a clear picture, engineering graduates will constitute around 25 percent while 75 percent would be either B.Com, BBA, or BCA students. In terms of gender, these days it's more girls. In numbers, it would be 53 percent female and 47-48 percent male. Lastly, in terms of geography, we get mostly students from South India. We do get students from other parts of the country as well but the number is less in comparison.
Careers360: What are the facilities students enjoy at the JKSHIM campus?
Dr. K. Sankaran: We have a hostel facility that can accommodate an entire lot. Around 40 to 45 percent of our students are day scholars and the rest are hostellers. We have a separate hostel for postgraduate boys and girls. Most of the rooms in the hostel are for two occupants. We provide both North and South Indian food in our mess.
Careers360: Whatare the internship opportunities students avail while pursuing their studies at Justice KS Hegde Institute of Management?
Dr. K. Sankaran: We have mandatory eight-week internship for all students. The internship could be in banks, financial sectors, business analytics roles and so go. In many cases, students get employed after completing their internships.
Careers360: Throw some light on placements at Justice KS Hegde Institute of Management.
Dr. K. Sankaran: The average salary is Rs 5.5 lakhs per annum and the highest package last year was around Rs 9.8 lakhs per annum. The lowest salary was around Rs 3.5 lakhs per annum. Some of the companies that visited our campus are Airtel, Cure.fit, Exito, ICICI Prudential, South Indian Bank, Grant Thornton, Kobayashi (a Japanese firm), Spandana Sphoorty Financial Ltd (a Microfinance firm), KPMG to name a few.
Careers360: Describe the journey of JKSHIM over the years.
Dr. K. Sankaran: We are located in a smaller place like Nitte which is close to Mangalore and we think it is an advantage because we can really be in a compact place wherein the relationship between the students and faculty is strong and creates a community for all of us.
Careers360: What kind of students should be looking at Justice KS Hegde Institute of Management?
Dr. K. Sankaran: We are looking for students who are team players, looking for solving problems for society, who can get along with unstructured situations, trust themselves, and willing to look at their inner voices.