"JIMS Rohini Aims at Academic Excellence with Commitment to Quality Education" Says Director Dr. Pooja Jain
Jagan Institute of Management Studies commonly known as JIMS Rohini provides Graduate and Postgraduate level courses. JIMS Rohini has now moved beyond National Recognitions and has got South Asian Quality Standards (SAQS) accreditation for quality assurance standards. This gives an advantage for increasing international visibility among the South Asian Countries. JIMS Rohini PGDM, PGDM-IB, PGDM-RM Programme are approved by the All India Council for Technical and are accredited from National Board of Accreditation (NBA) for excellence in quality education and have also been granted equivalence to MBA degree by Association of Indian Universities (AIU). JIMS Rohini Director Dr. Pooja Jain in a one on one interaction with Careers360 throws lights on the admission process of JIMS Rohini, campus infrastructure, recruiting companies, internships offered, statistics of placements and much more. Read the complete article to know more.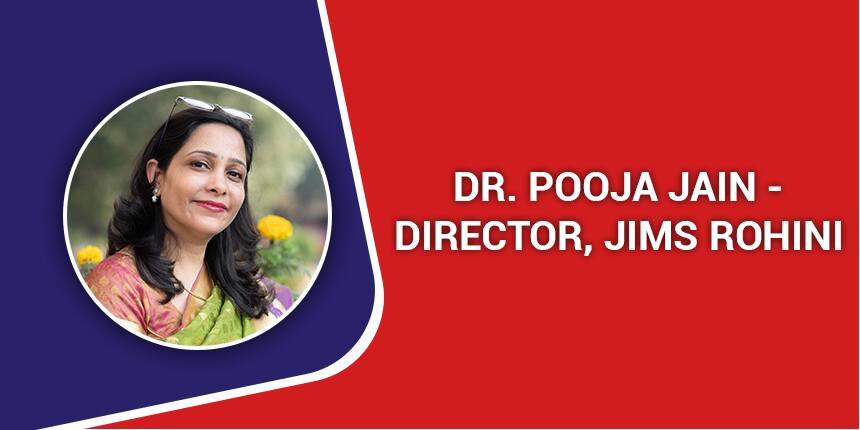 Careers360 - Tell us something about the admission process of JIMS Rohini, New Delhi?
Dr. Pooja Jain - Our admission committee comprises professionals who carefully review each application received for admission and assess the academic background and achievements of students applying for the course. Admission to the autonomous programmes namely PGDM, PGDM (International Business) and PGDM (Retail Management) is done on the basis of following four parameters.
Parameters:
| | |
| --- | --- |
| Levels | Weightage |
| Entrance Test | 40% |
| Performance in Qualifying Exams | 20% |
| Personal Interview | 25% |
| Group Discussion | 15% |
Final selection is made on the basis of CAT/MAT/CMAT/XAT/ATMA scores, past academic Performance, Personal Interview and Group Discussion score.
Whereas, the admission procedure for GGSIPU affiliated programmes namely MCA, BBA, BCA is on the basis of centralized counseling conducted by GGSIPU University.
Our aim is to find students who will thrive in JIMS Rohini rigorous academic environment. With such a large and strong puddle of students to review, our job is difficult but admissions are remarkable. Our students become adaptable, innovative and learned after pursuing their masters/bachelors from JIMS Rohini.
Careers360 - What kind of infrastructure can students expect at the institute? Please elaborate.
Dr. Pooja Jain - JIMS Rohini ensures an all-round development of every student through the healthy collocation of various facets of learning inter-mixed with cutting edge technology, facilitating students in their quest towards excellence.
Location - It is located in a spacious area in Rohini, in north-west part of Delhi and easily accessible by all modes of public transport

Classrooms - All classrooms at JIMS are spacious and air-conditioned. They have been designed to bring together analysis with action and are augmented with integrated audio-visual teaching aids like smart board, projector etc for lectures presentations

Computer Centre - It is continuously refurbished keeping in view the fast paced changes in IT. The facilities include world class severs, Wi-Fi enabled campus and heterogeneous range of hardware and softwares which facilitate an effective model for learning

Library - It is designed to meet the information needs of the JIMS fraternity. To support high-quality teaching, learning and research, the library has full- text access to over thousands of international journals through online databases of repute apart from the physical textbooks. The library is well equipped with the latest IT tools and equipment to collect, store, retrieve, and disseminate information

Auditorium/Seminar Rooms - Auditorium/Seminar Rooms and Conferences provides a centre stage with state of the art audio, video facilities for conducting guest lectures, speaker sessions, events and workshops. It serves as a common place through which plethora of activities, initiatives are conducted and organised within the campus.

Hostel - The institute provides a well-furnished hostel facility exclusively for males and females. It has spacious rooms with windows opening into the balcony; other facilities include a common room and dining room. It provides sufficient scope for interaction and relationship-building. These interactions play an especially important role in a student's life during placements and examinations

Cafeteria - The canteen is a place of informal and innovative learning where one can debate, discuss and deliberate over a cup of coffee. JIMS Rohini has multiple food outlets inside the premises to provide various food options to its students
Careers360 - Industry interaction is being stressed by the AICTE as well as companies that recruit. What are the steps being taken by the institute in this direction?
Dr. Pooja Jain - JIMS Rohini always works towards strengthening relationships and expanding partnerships with Industry and big corporate entities. JIMS Rohini has adopted a multi-disciplinary approach to learning with exposure to industry through visits, guest sessions from renowned industry speakers, annual corporate meets along with experiential learning through internships and engagements such as seminars, conferences, symposiums, workshops, conclaves and so on.
Faculty members of JIMS Rohini conduct FDPs/MDPs on a regular basis to bring together key researchers from academic and industry to create a platform for enhanced learning.
JIMS Rohini focuses to solve business problems and design solutions for the industry in the form of short term consultancy assignments and designing training and workshops as per their requirements. JIMS Rohini has signed MoU with Bawana Industries and Badli Industrial Estate to bring a closer coordination and connect among the academia and industry in the areas of research, consultancy and training.
Careers360- Internships are now mandatory as per AICTE guidelines. Does the institute help students with this? If yes how?
Dr. Pooja Jain- Yes in JIMS Rohini the students are required to undergo summer internship for a period of six to eight weeks with reputed companies domestically and internationally. This enables them to understand theoretical concepts learned at JIMS Rohini in a real-life corporate context. While working on live and time-bound projects, they gain first-hand experience of the corporate culture. The process helps them develop professional attitude, sense of responsibility, analytical ability and leadership qualities. It also helps the industry in assessing the students' performance and potential, on the basis of which pre-placement offers are often made to our students. The students earn a stipend in their summer internships. Last year the highest stipend received by students at JIMS Rohini was Rs. 50,000 for two months in Deloitte.
Careers360- Can you please share details if there is any collaboration with universities abroad?
Dr. Pooja Jain- JIMS Rohini strongly believes in learning from others. JIMS Rohini have tried to collaborate with reputed universities and institutions to provide a larger platform for student learning, faculty growth and collaborative research. Auckland Institute of Studies (New Zealand), Malaysian University of Science and Technology (Kuala Lumpur, Malaysia), Lincoln University College (Kuala Lumpur, Malaysia), Nilai University (Malaysia), University of Sunderland (U.K) and Northemburg University (New Castle) are the few international collaboration that JIMS Rohini has managed to make in the last 2 years.
Careers360- Please share placement statistics with information on the average package, highest and lowest package, number of students placed and details of companies that have recruited.
Dr. Pooja Jain- JIMS Rohini is committed towards providing placement opportunities to all eligible students. JIMS Rohini placement centre known as CRMC (Corporate Resource Management Centre) performs the task of writing recruiters to our campus for offering SIP and final placement.
Every effort is made to enable students grooming and building intellectual capabilities to make them compete to obtain positions of their choice offered by companies through campus

The mission of JIMS Rohini is to ensure the best possible placement outcomes for its students. JIMS Rohini equip students with the skills that are required to succeed in the corporate world through one-on-one mentoring, Group discussion and interview preparations, résumé writing and career education workshops. Students after completing their masters not only get placed domestically but also internationally

JIMS Rohini has a 100 percent placement record for the last year batch with the highest package of Rs 17 Lakh, average package of Rs. 9.55 Lakhs and lowest salary of Rs. 8.5 Lakhs

Few Companies that have visited the campus to recruit the students are Nestle, Wipro, ByJus, Squareyards, Indicaa Group, Piramal Group, Reckitt Benckiser, KPMG, EY, Future Group, Moodys, Ambuja Cement, Amul, Deloitte, MRF and the list goes on
JIMS, Rohini Updates and Articles
Questions related to JIMS, Rohini
Showing 266 out of 266 Questions