Jaipuria School of Business (JSB) - Interview with Alumni, Shalabh Aggarwal, PGDM (2013-2015)
Going to B-School is no less than reaching a milestone in life. It helps you stay close to achieving your career goals and developing the key management skills needed to become a business leader. The B-School campus plays an important role in providing an environment conducive to career development and personal well-being.

The Jaipuria School of Business (JSB) is committed to providing its students with a unique MBA experience and a personalized environment on campus that enables them to build a great bond with their peers and professors. Careers360 spoke to Shalabh Aggarwal, PGDM alumni at JSB, about his experience at the institution and to know all about campus life at JSB, Ghaziabad.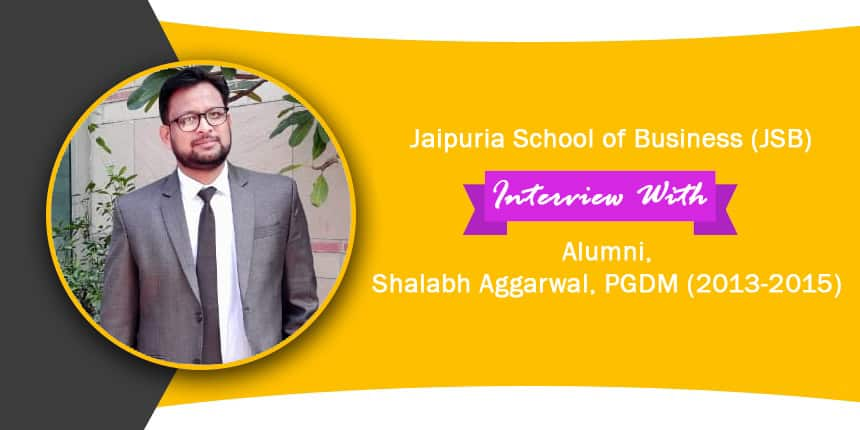 Careers360: Tell us about your domain and your work profile. At the professional level, did you pursue the same field you were interested in, or did you switch?
Shalabh Aggarwal: Presently, I'm working in the Data Science and Analytics domain. I'm an Application Developer. My role is to analyze customers' business problems and provide a data-driven solution by using machine learning and deep learning models.
Careers360: Can you briefly tell us about your career path so far?
Shalabh Aggarwal: As I see it, my career path began with my academic pursuits in higher education, following which I have kept myself continually busy while working for a number of organizations and performing a wide variety of job roles. My credentials and career path are as follows:
Academic Qualification:
Graduation: B.Tech (2008-2012) from MJP Rohilkhand University, Bareilly (UP)

Post-Graduation: PGDM (2013-2015) from Jaipuria School of Business, Indirapuram, Ghaziabad (UP)

Executive MBA: PGPM (Business Leadership) (2019-2020) from School of Inspired Leadership, Gurgaon (Haryana)
Professional Experience:
3 years of work experience in operations with Onicra Credit Information Company Limited

3 months of work experience as Assistant Manager with Indiamart Intermesh Limited

6 months of work experience as a Product Analyst with Vidooly Mediatech Private Limited

1 year 6 months of work experience as Application Developer with Telus International
Careers360: Is the Industry work different from what you learn at Jaipuria School of Business?
Shalabh Aggarwal: Yes, industry work is very different from what we learn at college because in college we learn only about the basics of the work and not the in-depth intricacies that we encounter on the job.
It takes a minimum of 2 years to gain complete knowledge of any industry, which cannot be possible at the college level. But what you learn at college is enough to get you the job of your choice in the industry.
Careers360: What was your initial thought process when you joined Jaipuria School of Business?
Shalabh Aggarwal: My initial thought process when I joined the college was to gain industry-specific information, improve my personal and communication skills, which could help me to crack a job interview.
Careers360: You must have spent a memorable time at your Jaipuria School of Business. Do you miss being a part of it? Share a few good memories.
Shalabh Aggarwal: College life is always a great time in your entire life. It's the time when you learn new things daily. I miss my college days badly because that period was free of worries. You did not have to think anything else apart from assignments, lectures, presentations, etc. I always liked to do presentations as it improved my skills, and now I'm reaping the benefits of it in my profession.
The buzz and enjoyment created on the annual feast at the college level are very pleasing. The free time spent with friends at college canteens and goofing around with friends are endearing to the soul.
Careers360: Briefly take us through your life at the campus, the activities you used to do, and your routine life.
Shalabh Aggarwal: Our campus was well-equipped with all things a PGDM student may need, be it learning or sports, or recreation. All classrooms were well-equipped with audio-visual equipment and were air-conditioned.
There were annual fests, inter and intra-college competitions, sports activities, festival celebrations, industry visits. In brief, there was everything that is required to create professionals.
Careers360: Apart from academics, what were the other activities you were involved in and how did it enrich your life?
Shalabh Aggarwal: Apart from academics, I was involved in other activities like the annual fest, alumni relationships, guest lectures from key persons from different industries, and also in the placement process.
It helped me in my day-to-day office work to manage relationships with the client and understand their need. It helped me to work effectively with teammates. It helped me to deal with different types of people.
Careers360: How did you keep updated with the industrial requirements and what was the role of the institute in it?
Shalabh Aggarwal: To get updated with industrial requirements, the institute arranged guest lectures from the industry-specific persons who had vast experience and knowledge of the domain, whether it is finance, marketing, HR, or operations. Apart from it, the institute also arranged industrial visits, internship programs, and live projects to give us hands-on experience before getting into the jobs.
Careers360: You are a proud alumnus of this top College. What is the best part of Jaipuria School of Business from a student's perspective?
Shalabh Aggarwal: The best part of this college is that you are getting the brand name that is recognized among the top recruiters. The first-class infrastructure and up-to-date industry-relevant course curriculum enrich the student learning experience. The college also provides a strong network of alumni all around the globe and for most of the faculty who have both industry experience and academic experience.
Careers360: What is your suggestion/guidance for the PGDM aspirants?
Shalabh Aggarwal: My suggestion to the aspirants is to look for the brand name, record, alumni network, roles offered during placement (the package is secondary), and ROI (ratio of placement package to the course fee).
Also read; Interview of JSB Director, Dr. Jitendra Kumar Mishra
Jaipuria School of Business, Ghaziabad Updates and Articles
Questions related to Jaipuria School of Business, Ghaziabad
Showing 5 out of 5 Questions