Jaipuria Institute of Management Noida Conducted Jaipuria Annual Management Conclave 2013
Jaipuria Institute of Management, Noida organised its 3rd Jaipuria Annual Management Conference (JAMC-2013) on December 13 and 14, 2013. The theme was 'Resurgent India: The Path of Globalization'.


Shri Yashwant Sinha, MP (Lok Sabha) and Chairman, Parliamentary Standing Committee on Finance was the Chief Guest during the Inaugural Session on Dec 13, 2013 along with Sudhir Jalan, Chairman, Sharad Jaipuria, Vice chairman, Shreevats Jaipuria as the guest of honour as well as a gamut of learned speakers as well as dignitaries from government, industry and academic background and various other sectors.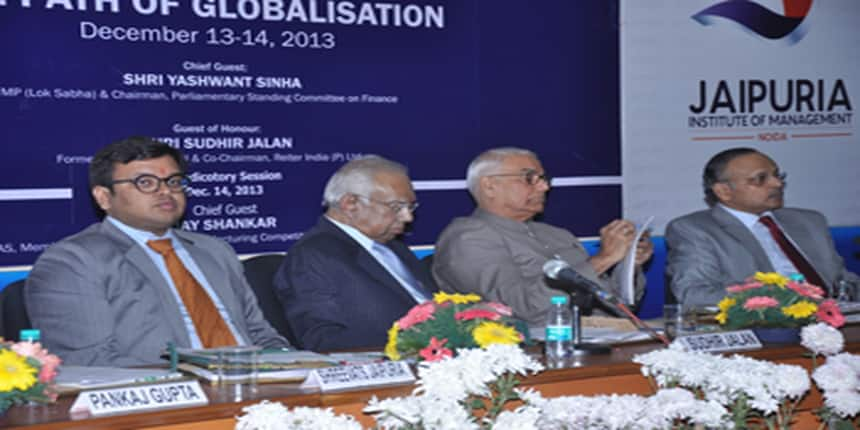 Click here to download the application form of Jaipuria Institute of Management.


The inaugural session was intended to give a boost to the plethora of immense knowledge, and learning coming all the way across the two day long conference and to analyse and understand the various concerns for businesses in the changing environment.


After the ceremonial lightning of the lamp, Director Rajeev Thakur introduced the theme of the conference after which Sharad Jaipuria addressed the gathering through which he emphasised the significance of globalisation for our country followed by Mr. Sudhir Jalan's speech in which he encouraged the youth to go one step beyond being made in India and come up with business models that are Designed in India and Dreamt in India.


Yashwant Sinha also came up with his deep insights and experience that would offer sustainable solutions through the path of globalization to bring back Indian economy to the levels unparalleled before. He talked about the threats and challenges that he had to face globally during his tenure of Finance Minister. He also said that globalisation is a two way process for India as according to him if we have something to take we also have something to give, if we have something to learn we also have something to teach. He concluded his speech by saying that always be a proud Indian in the global arena.


The vote of thanks was delivered by Sharad Jaipuria who appealed the students to make the best use of the conference by understanding the insights of the different management paradigms and practices that are being aimed at globalisation. As the session reached its end the distinguished guests were honoured by presenting mementoes as a gesture of gratitude.
Jaipuria Noida Updates and Articles
Questions related to Jaipuria Noida
Showing 192 out of 192 Questions