Jagan Institute of Management Studies - Interview with PGDM student Sanchita Goel
For someone who wishes to pursue a career in management dreams of joining a B-school that provides the right kind of environment to grow professionally and personally. A good B-school improves a student not only academically but also qualitatively and makes the journey unforgettable. A campus really plays a vital role in providing candidates with quality infrastructure, facilities, extracurricular and leisure activities. Jagan Institute of Management Studies (JIMS), Rohini is evolving to provide its students with a lifetime of experience and an optimal environment to design an executive career. Careers360 spoke to Sanchita Goyal, a final-year student of JIMS Rohini to give an insight into campus life and share her experience at the institute.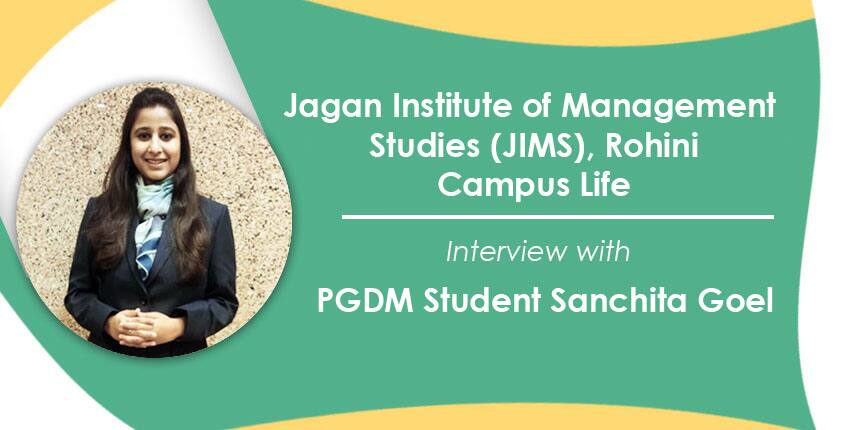 Careers360: Tell us something about yourself.
Sanchita Goel: Hi, I am Sanchita Goel, and I am from Delhi. I love to explore new places and read novels, I have a keen interest in marketing that is why I am pursuing my post-graduation in the field of retail management and marketing. I am in my final year of MBA.
Careers360: Why did you choose this institute?
Sanchita Goel: I was pursuing my coaching from IMS and I was always told by my mentor that JIMS Rohini is one of the best colleges in Delhi for MBA. So I landed up.
Careers360: What do you consider the top strengths of this institute?
Sanchita Goel: JIMS makes you corporate ready, they teach you the basics of working in a corporate and adopting the corporate environment like the number of hours spent taking classes and working on projects, the practical exposure through social projects and industrial research projects. The institute actively helps you to understand the ground realities of society by giving you ample opportunities to explore.
Careers360: Did you face any difficulty in the initial months when you joined the institute?
Sanchita Goel: Initially, it was difficult to adapt the schedule of 9:30 am to 5 pm classes as we were used to taking classes for just 4 or 5 hours in our undergrad days but it was a good habit that was inculcated within us which will help us in future.
Careers360: What activities are offered in the institute? Are there any clubs etc for the various extracurricular activities? Which ones have you taken up and are a part of?
Sanchita Goel: There are various extracurricular activities that are offered to us in JIMS starting from sports, culture, retail, marketing, and a lot more. There are various clubs that you can join but I have joined a retail club and it has been my favorite because we were able to meet many of the industry experts and learn a lot from them.
Careers360: Describe a typical day at your institute - what do you do from the time you wake up till you go to sleep?
Sanchita Goel: My day starts at 7 am, when I wake up and get ready for college and leave my place at 8 am so that I can reach college by 9:30 am maximum and don't miss the lecture. Then there are four lectures of 1.5 hours each with a break of 30 minutes after each lecture. Almost by five, we are very exhausted but still, we have to reach home and work on the project. I reach home by 7 or 7:30 pm and work on the projects and then after having dinner, by 10 pm I am off to bed.
Careers360: Tell us about the faculty-student ratio here and about the teacher-student relationship in your understanding.
Sanchita Goel: The faculty-student ratio is quite high, that is 1:60, but still, we have a good understanding and relationship with our faculty.
Careers360: What all facilities do you have on the campus? What do you like here the most which you feel is unique and differentiating?
Sanchita Goel: We have various facilities available at the campus starting from the canteen to Nescafe or library but out of all what I love what is that we have a computer lab from which we could get our coloured printout so they were a savior for us whenever we have to make the project or sometimes at late at night we used to remember that we forgot to get a printout of a coloured picture or something that we needed for a project then we have a rescue with our computer lab so it was my favorite one.
The most differentiating facility that we have is that there is a mentor allotted to each student and they are not only teaching us but mentoring us for everything starting from internship projects or anything that we need, so we always have a guide to whom we can always look up to and share our problems with.
Careers360: How comfortable are the hostels and how about the cleanliness factor over there?
Sanchita Goel: Since I haven't stayed at the hostel so I'm not very aware of the comfort and cleanliness but as far as I have heard from my classmates it is good.
Careers360: What about the medical facilities? Can you avail requisite medical attention if needed in an emergency?
Sanchita Goel: I never had some medical issues or anything so haven't really experienced the medical facilities but since I have been in this college, I haven't seen any sort of thing going out of control or there might not be something that couldn't be figured out in terms of medical so yeah I suppose it is good.
Careers360: Tell us about the clubs and societies at the campus and how significant are they from your point of view or students' point of view?
Sanchita Goel: The clubs and societies are very important to develop our personality and to increase our network so it is a good medium for me to connect with the corporate world. I am able to get good insights from the seminars or webinars and everything that we used to plan out and organize for the students so yeah it is great learning to raise professionally as well as to groom ourselves for the corporate world.
Careers360: Is there any in-house magazine or journal for the latest events or happenings at the institute?
Sanchita Goel: Yes, there are in-house magazines even I was part of the editorial team where we used to collect the material and organize everything for the magazine. So there is a magazine which covers all the latest events and happenings around the institute as well as some outside events. Also, people have always updated the magazines and it always great.
Careers360: What are the popular hangouts at the institute? What, according to you, are the most-visited places nearby?
Sanchita Goel: The most popular hangout might be the nearest mall that was unity one because it is the only distance that we could cover during a break and explore McDonald's and Burger King around so most hangout places were unity one and Gupta Ji the Samosa seller near our college so most of the people hang around there only.
Careers360: How do you spend your leisure time at the campus?
Sanchita Goel: Most of my leisure time at the campus is spent with my faculty mentor or my dean so I always reach out to them and learn new things during my leisure time and discuss problems that I face.
Careers360: What do you like most about JIMS?
Sanchita Goel: The thing I like most about JIMS is that it makes us adaptable, punctual, responsible, and most importantly teaches us the importance of time management.
JIMS, Rohini Updates and Articles
Questions related to JIMS, Rohini
Showing 297 out of 297 Questions