It is How you study that will matter
IT ISN'T HOW

much you study that matters, but the quality of input and focus
For most students, a mere mention of top exams like CAT, XAT, or XAT gives jitters. You get confused about which exam to appear to get into top B-School. And after you enrol for the exam, the next is preparation fever, which is usually high. You hunt for best coaching institutes to guide you on best preparation strategy. Let's examine whether a coaching institute is worthwhile?

Q. How will I prepare for top MBA entrance exams?
A: The preparation for the common MBA entrance exams can be in four steps. The first step is to know the exam pattern and difficulty level of the MBA entrance exams, which you have decided to take. Next, identify your preparation level by taking a mock test. Don't be disheartened if your score is not that high. Your performance will help to identify the strengths and weaknesses on which you will need to work for a few months before the test.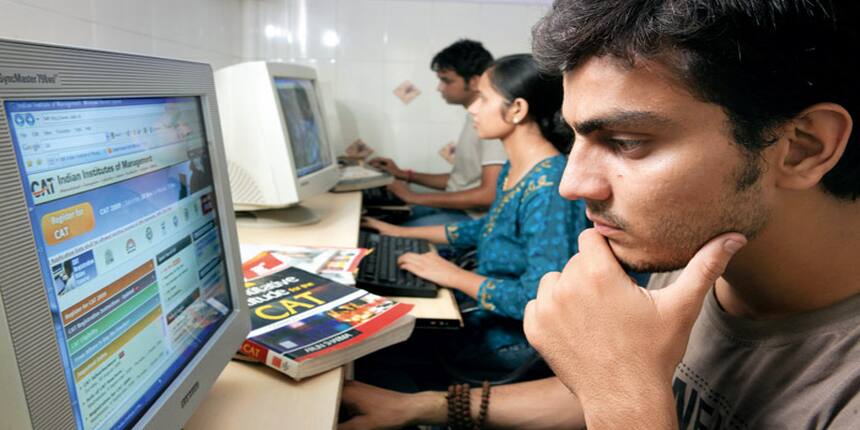 The third step is the combination of the two: working on your conceptual and application skills and fine tuning your test-taking skills. After you finish the basic preparation of a particular section or chapter, take mock tests. Remember, you should attempt the mock test only when you are confident about your preparation. After taking the mock test, analyse your performance in detail. Take the help of an expert for doing so. Kamlesh Sajnani, MD, IMS India says, "At the end of each mock test check your sectional performance. If your attempt and accuracy is greater than or equal to the benchmark percentile, you are ready to move on to the next stage. On the other hand, if your attempts and accuracy are less than the benchmark percentile, then analyse the test to find out where you need improvement."

Q. What subjects need more attention while preparing for CAT/XAT?
A. If you can master English and Maths during preparation, then the gateway to success is closer than you think. A candidate should be proficient in English (both written and verbal). Questions on Verbal Ability tests your prowess with words, Reading Comprehension checks how you understand nuances of the presented passage. If you are clear with mathematical concepts, then solving Quantitative, Logical Ability and Data Interpretation questions will be simple. Since GK or business GK is not part of CAT testing, it has a huge presence in XAT. So brushing up GK papers is helpful for written paper and GD/Interview part of the selection process, be it CAT or XAT.

Q. What should be my preparation strategy?
A: First you need to shortlist the B-Schools and know their cut-off marks. Plan your preparation accordingly. Next, create a timetable that suits your daily schedule. Take at least 3-6 months for preparation. According to Sajnani, you should not spend more than four hours for preparation. "The manner in which those four hours are utilised depends on the student's strengths and weaknesses," he opines. The progress in all the sections must be equal as most of the tests like CAT, XAT have sectional cut-off marks. After you complete the basic preparation, take regular mock tests and analyse them thoroughly with the help of your senior or a mentor. Plan your preparation according to the analysis. As the exam date nears, make sure you have acquired good accuracy to counter negative marking. Give at least a 3-day gap between two mock tests for analysis and further preparation. Taking two mock tests in a week should suffice.
"Do not take any mock test in the last week before the exam. Revise thoroughly, solve practice papers. Don't start a new topic. Don't fret about areas where you are not comfortable. You do not attempt all questions anyway. Just be sure about your preparation level of the key topics," says a CAT 2012 topper and currently studying at IIM Ahmedabad. Be updated on current affairs and mull over key concepts studied at graduation. Anupriya Thakur, alumnus of Amity Business School shares, "MBA admission exam is a general aptitude test and there are no modules or definitions that need to be memorised; what is needed is presence of mind, analytical thinking and logical analysis. Aspirants must take regular test series from last year of graduation which will help in hitting the bull's eye." Tanmay, MBA student, MDI, Gurgaon, says, "I think 1-2 year is decent enough. This would encompass time to shortlist schools, and prepare for the tests," he says.

Q. Why should I take more than one exam?
A: Popular MBA entrance exams include CAT, XAT, MAT, CMAT, IIFT Entrance Exam, SNAP, NMAT, ATMA and IBSAT. The key differences of these exams can be determined on the basis of the following factors:
Acceptance of scores: Choice of entrance exam(s) is driven by the number of B-Schools that accept the scores. For instance CMAT, which is conducted by AICTE, gives a score that is accepted by 1500+ B-Schools. On the other hand, the scores of the state-level MBA entrance exams like TANCET, ICET, KMAT etc., are accepted by the state B-Schools and in case the exams are conducted by universities, the MBA department or the B-Schools affiliated to that particular university accept the scores.
Mode of Delivery: From 2009, top MBA entrance exams like CAT, NMAT and MAT became computer-based from paper-pencil pattern. ATMA and IBSAT adapted the computer format from last year. Other popular tests like XAT, IIFT, SNAP and MICAT still conduct paper-pencil format.
Frequency of exams: While some exams are conducted once a year, there are others that are conducted more than once. In case of retakes, the best of the scores is accepted for shortlisting and final admission.
Exam pattern: This can be further divided into testing sections, duration and marking scheme. The common sections, which any of the MBA entrance exams have are Quantitative Ability (Mathematics), Verbal Ability (English skills) and Data Interpretation/Data Sufficiency and Reasoning (Analytical, Critical, Verbal, Visual). The nomenclature of the exams may vary but the syllabus or the question type remains the same. There is an additional section of General Awareness in XAT, CMAT, IIFT entrance exam, SNAP, MICAT and IBSAT. The XAT, TISSNET and MICAT exams have subjective questions like Essay Writing (See Table for comprehensive information on the tests).
Exam

Score Acceptance

Mode

Annual
frequency

Pattern

Duration

Scoring (+ for correct answer and – for negative marking)

CAT

100+ B-Schools

Computer-based

1

Objective

140 minutes

+4 (-1)

XAT

100+ B-Schools 

Paper- Pencil

1

Objective &
Subjective

3 hours

0.25 negative marking

MAT

150+ B-Schools

Paper- pencil & Computer-based

4  

Objective

2.5 hours

+1 (-0.25)

CMAT

1500+ B-Schools

Computer-based

2

Objective

3 hours

+4 (-1)

ATMA

150+ B-Schools 

Computer-based

6 

Objective

3 hours

+1 (-0.75)

IIFT

IIFT Delhi & Kolkata

Paper- pencil

1

Objective

2 hours

1/3 negative marking

NMAT

NMIMS Mumbai

Computer-based

1 (with 2 retakes)

Objective

2 hours

+3

SNAP

Symbiosis International University

Paper- pencil

1

Objective

2 hours

+1 & +2 for select queries (-1/4)

MICAT

MICA

Paper- pencil

1

Objective &
Subjective

125 minutes

0.25 negative marks in select queries

IBSAT

ICFAI Business School

Computer-based

1

Objective

2 hours

+1 (no negative marking)
Q. Will gap-year affect getting admission in top B-Schools?
A. Yes, it could affect if you cannot give solid reasons in your interview. Prof. Harish Sihare from Goa Institute of Management says, "If you have right attitude and confidence, then a gap-year will never hinder your career. You have to justify yourself wherever you go. It could be tough to start, but nothing is impossible." 
A gap year is certainly a risk. But a good homework will help you overcome it. The best and the most honest reason you could give is: "I needed that much of time to prepare."


Q. How will I select MBA entrance exams?
A: The first step is to decide which MBA entrance exam to take. This depends on understanding about these exams in detail and matching it with your aspirations. Once you zero-in, gauge your preparation level and how high you can score. For example, if you are targeting top rung B-Schools like IIMs, XLRI, FMS (DU), IITs, IIFT etc., you can take the CAT, XAT and IIFT entrance test. While CAT scores are accepted by IIMs, FMS, IITs and other top B-Schools, XAT scores will be accepted by XLRI Jamshedpur, XIMB and around 100 other B-Schools. If you are interested in niche MBAs such as Foreign Trade, Communication, Rural Management, you can take IIFT entrance exam, MICAT and CAT. If you want to pursue MBA from a known private university such as NMIMS or Symbiosis International University, then add NMAT and SNAP to your 'consideration set'. The difficulty levels of these exams are moderate to tough. To crack NMAT and SNAP, make sure your level of preparation is reasonably good. Next, be honest with yourself while analysing your merit and preparation level. If you cannot analyse yourself, get the help of an MBA expert or an alumnus. If you can obtain a high score, then go for CAT, XAT, IIFT and MICAT, which are highly competitive. Cracking these exams require high level of diligence. Hence you must decide wisely. If you are aiming to get into a mid rung B-school with a moderate fee, the ideal examinations to take are MAT, CMAT, ATMA and IBSAT. The level of difficulty to crack these examinations is not that high. Even with moderate scores in CAT and XAT, you may get admission to a mid-level school as the number of participating institutes is quite high with varying cut off marks.


Q: Is MBA entrance preparation possible along with studies or a job? Do I need to drop a year for this?
A: It is better not to have a year's gap in your CV. This betters your chance of converting a call letter to a final admission offer. A majority of CAT and XAT toppers whom Careers360 has interviewed had prepared for the exams along with their studies or job. Their results reflect their successful balancing act. According to Abhishek Gupta of Career Launcher dropping a year is not worth it. "The syllabus of the MBA entrance exams can be covered along with your regular schedule of studies or work. As the syllabus mostly includes what you have already studied at school or college, you don't have to put enormous effort in preparation. A smart planning and time management will ensure success. Having work experience and no gap year will be to your advantage," says Gupta.
Dr. Bhimaraya A Metri, Dean (Academics) at Management Development Institute (MDI) Gurgaon says, "Taking a year for preparing CAT or XAT will not guarantee you a high score or balanced sectional scores. Prepare to be grilled by the interview board to justify your decision of spending a whole year on preparation. There are so many cases where candidates who take a break from their study or work (for exam preparation) do not score in line with their expectation. Rather, aspirants who balance their test preparation with college studies or job give individual attention to succeed in each of the aspects and prioritize better."


Q. Which are the top coaching institutes that will guide me in cracking various exams?
A: Selecting the right MBA coaching institute is important, as the fee is quite high. Good coaching institutes with nationwide presence are: Triumphant Institute of ManagPradeepement Education (T.I.M.E.), IMS Learning Resources, Career Launcher and PT Education. Career Forum, VistaMind, Byju's CAT Classes, MBA Guru, Bull's Eye are the other popular coaching institutes. Online MBA coaching is also booming after pattern of CAT, MAT and NMAT changed to computer-based exams from paper-pencil mode. Online MBA coaching centre are: TestFunda.com, TCYOnline.com, TopCATCoaching.com, 100Percentile.com, among others.


Q. How important is coaching for cracking MBA entrances?
A. More than taking coaching, it is important to be focused on your goal. If you are determined and prepare systematically, then taking extra guidance may not be necessary. However, coaching gives you an edge as you get expert training, and can also compare your calibre with your fellow competitors. According to past year's toppers, coaching does give you an opportunity to judge yourself better. But cracking an MBA entrance exam is not impossible without coaching. However, enrolling for mock tests is a must.
Sanchari Samui, a student of ISB shares that depending on the grasp on subjects such as English, Quantitative Math, and Data Interpretation, a student would need to take a call on coaching. Some institutes give well-defined schedules, which might be beneficial, but at the end of the day it would be a personal choice. Saloni Mehta, a PGP student of IIM Ahmedabad says, "I don't think coaching, especially class room coaching is necessary. If you look at the past CAT questions they are more or less of class 10/12 level. However, given the competition it may be useful to enrol in a national-level test series to track the progress of preparation". Prof. MP Gupta of IIT Delhi's Department of Management Studies, says, "A peer or self-help studies, along with resources available on Internet are adequate to crack entrances." But coaching helps in many ways: students get a whiff of entrance ambiance through regular mock tests, and guidance on how to enrol for a programme as admission process differs from institute to institute. Before selecting a coaching centre, examine the mentors, track record and its success ratio.


Prianca Mishra
(MBA aspirant from Sonipat, getting coachingin Delhi)

I think scoring good marks in CAT is not a cake walk as the competition is too intense. Coaching helps me with strategies and techniques to solve the questions fast. It will really help those who are from Arts background
Aditya Tiwari
(99.81 percentile in XAT 2013; student of XLRI Jamshedpur)
I didn't take any formal coaching. It's possible to crack XAT or any MBA entrance exam without formal coaching provided you work hard enough. It is important to allot at least 1-2 hours every day for preparation.
Animeha Singh
Scored 99.96 percentile in XAT 2013. Currently pursuing PGDM BM from XLRI Jamshedpur

Of course it's possible to crack any competitive exam without formal training but joining a coaching centre gives the average aspirant a sense of direction and a structure to the way one should study