IRMASAT Syllabus 2021 - Institute of Rural Management Anand did not prescribe the exact syllabus of IRMSAT 2021. However, based on previous year question papers Careers360 brings to you the compiled IRMASAT 2021 syllabus. Students appearing for IRMASAT must know the IRMASAT syllabus 2021. Knowing the syllabus before would help students to know which topic would take more time for preparation and vice versa. Aspirants are once well versed with the syllabus of IRMASAT 2021, it becomes easy to ace the examination. IRMASAT 2021 was held on February 18-19, 2021. IRMASAT is a national level entrance examination that is conducted for a duration of 30 minutes. Read this complete article by Careers360 to know in detail about the IRMASAT 2021 syllabus.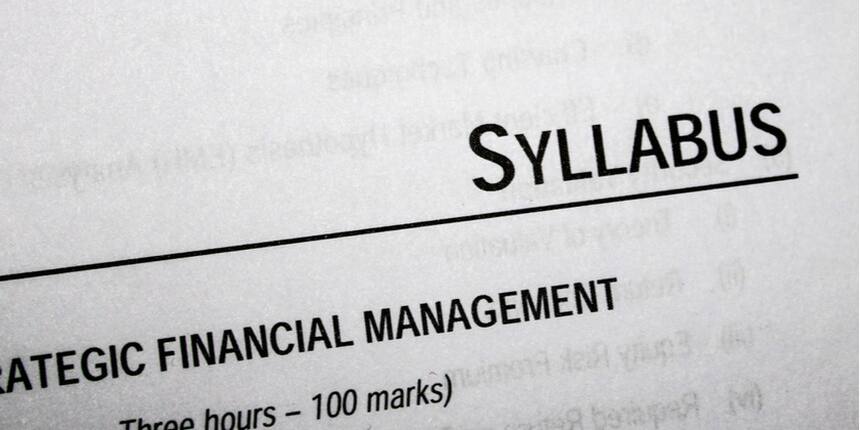 IRMASAT Syllabus 2021
Students can check the important topics under IRMASAT 2021 syllabus. Areas from which questions are asked in IRMASAT 2021 are current affairs and social and economic issues. Students can check the previous year IRMASAT syllabus to get an idea about the topics that are likely to be covered in IRMASAT 2021:
IRMASAT 2021 Syllabus
Indian Economy

Women-Oriented Schemes

Social and Economic Development

Short-Term Migration

Sex Ratio

IRDP Schemes

Rural Development

Rural and Urban Population

Gender and Social Groups

Human Development

Health Issues

IRDP Schemes

Gender and Social Groups

Human Rights

Employment and Literacy

Educational Initiatives of the Government

Environmental Issues

Corporate Social Responsibility

Agriculture



IRMASAT Syllabus 2021 - Detailed
The Indian economy and issues relating to India's national income and its composition; per capita income, etc.

Human development, millennium development goals, HDI, and its achievements by India.

Issues in demography- sex ratio, rural and urban population, etc.

Issues arising from the social and economic exclusion of large sections from the benefits of development such as poverty and inequality

Poverty levels, poverty line, disparities in income, employment, and literacy by urban-rural background, social and gender groups.

Right to information; Issues relating to good governance and accountability to the citizens including the maintenance of human rights, and of probity in public life.

Planning in India, 11 Five Year Plan- goal, targets, and strategies.

Agriculture, crop, and livestock production systems in India.

Approaches to rural development- features of the area-based approach, target-based approach, right-based approach; participatory development.

Rural poverty development programmes– features, goals, and major achievements: operation flood, green revolution, land reforms, ICDS, NREGA, SSA, IAY, and NRHM.

Institutions in rural development-policy, role, and characteristics; rural banks, NGOs, co-operatives, PRIs, corporate social responsibility.

Health issues including the management of public health, health education, and ethical concerns regarding health-care.

Regional variation in the level of education, primary education, educational status of different social groups.

Social movements, recent legislation on social issues.

Naxalism, Internal security, and related issues such as the preservation of communal harmony.

Environmental issues, ecological preservation, conservation of natural resources.
IRMASAT Exam Pattern 2021
Students must know the exam pattern of IRMASAT 2021. Check the table below:
Exam Pattern of IRMASAT 2021
Feature

Details

Name of the examination

IRMA Social Awareness Test

Conducting body

Institute of Rural Management, Anand

Mode of examination

Online Zoom

Duration of the exam

30 Minutes - Two Slots

11.00 AM - 11.30 AM
4.00 PM - 4.30 PM
IRMASAT Sample Paper
Students before appearing for the examination must solve the sample papers of IRMASAT 2021. With the help of IRMASAT 2021, sample papers students could get the exam environment and can know the type of questions that would be asked in IRMASAT 2021.
Frequently Asked Question (FAQs) - IRMASAT Syllabus 2021
Question: How can I download IRMASAT sample paper?
Question: Will there be any negative marking?
Answer:
As per the IRMASAT 2021 exam pattern there would be no negative marking for incorrect answer or unattempted question.
Question: How can I apply for IRMASAT 2021?
Question: What will be the exam duration?
Answer:
The exam of IRMASAT would be held for a duration of 80 minutes.
Questions related to IRMASAT
Showing 29 out of 29 Questions