Interview: Prof. Ranjit Goswami, Dean- Academics & Officiating Director, IMT Nagpur
In this interview with Careers 360, Prof. Ranjit Goswami, Dean – Academics & Officiating Director, IMT Nagpur, speaks on different aspects of MBA education including. He also talks on ROI concerns and how different regulations are affecting the quality growth of business education in India.
Excerpts: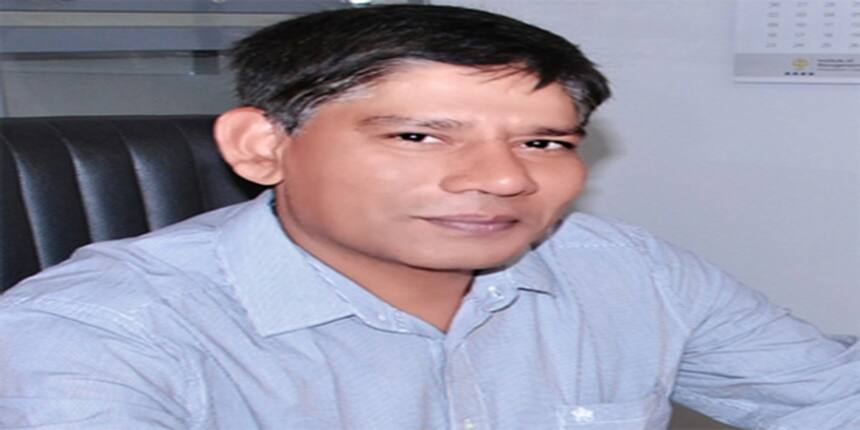 Careers 360: Is MBA degree worth the return on investment?
Prof. Ranjit Goswami: The question can be redrafted by asking: Is higher education/post-graduation education worth the return on investment? For any bright young student, I see time as the biggest investment, probably much more than money. The simple answer will be it depends, on the quality of it.
If we measure MBA from a short-term ROI perspective, it may not be right now worth the investment due to Indian economic slowdown and job-market situation; however, it is expected that things would look better, if not significantly better, in 2016, when the next batch graduates.
Careers 360: How to identify best B-School?
Prof. Ranjit Goswami: This is easy to answer – look at quality of faculty members, and the number of full time faculty members. Agreed, quality cannot be easily gauged; and in Indian education system, fudging of data on number of full time faculty members is also another dominant practice. Still, any B-School, having 40 or more full time faculty members, with the right balance of academic-practitioners blend, is something to look forward to, as a pre-qualifier, to start with.
Next comes infrastructure, where with ubiquitous web, and other than faculty members (and library), there isn't much scope of other soft infrastructure. Hard infrastructures, like residential campus, culture, sports facilities, extracurricular activities, etc. also play a very important role. Any MBA, who completed his/her MBA from an Ivy League B-School, or from the old generation IIMs/IITs would state that they probably learnt more from their batch-mates than from their teachers (true, now students thank Google/search engine most for their degrees, which was not true two-decades ago).
Careers 360: In your opinion, should one pursue general MBA or a specialised one?
Prof. Ranjit Goswami: I would strongly suggest General MBA. First develop a strong understanding of the global and Indian economy and business, social and political issues again from the global and local perspectives, behavioral dimensions, etc. Indian B-Schools cover very less of global economic and business environments, what they cover is few cases of global companies. We often tend to forget that with 17% global population over 2% of global land, India still contributes less than 2% of global (nominal) GDP or trade. So, when I say general MBA, I mean well versed with global/local business and socio-economic issues.
Once one understands above, then one may take up any specialization. However, specialization for the sake of specialization without a basic understanding of macro-to-micro issues of business, socioeconomic, geopolitical issues are producing managers who know some business lingo, without ample clarity on how one is different from the other, or when to use what. We need managers with macro-understanding and an ability to apply that understanding in micro-applications with absolute clarity.
The theme for IMT Nagpur is: 'macro understanding, micro applications and making a small difference'. Managers are supposed to be generalists first, and if they can do that and then specialize, again in-depth, that's better. All depends on the degree of knowledge acquired and on its breadth-and-depth. There are few B-Schools whose General MBA graduates or Finance MBA graduates would be having much better clarity of thinking, understanding and real life implications on Marketing issues than Marketing specialized students from the vast-majority of Indian B-Schools.
What ultimately matters is your knowledge and understanding of a situation (like a context in a Management Case), your ability to communicate clearly, your attitude to be a continuous learner and a team-player, your willingness to be a hard and honest worker, etc.
Careers 360: What according to you are the skill-sets desired by recruiters who come to your institute for placements?
Prof. Ranjit Goswami:
An in-depth awareness of current local and global business and economic environment (Macro understanding).

An in-depth understanding of the sector in which the recruiting company is, its current economic / business opportunities / challenges /threats /opportunities.

Micro-understanding of certain business processes related to the function for which the company is considering the applicant, process measures, etc.

A great communication skill – ability to listen to the question first, understand why recruiter is asking it and what is being tested, and then choosing each words of answer very carefully. If question is not rightly understood with absolute clarity, better to get the clarification first, with probing counter questions.

Ability to show original, critical and analytical thinking.

Right attitude, behavior, not rushing through, body languages (eye-contact with each members of the panel). Numbers help as facts are sacrosanct, opinions are free. But be sure of the numbers and their overall significance.

Ability to work in the team, not to be chest-thumping type who takes all credits.

Visiting recruiting company's website, going through latest financial statements in details, doing 3rd party verification by searching in Google about more current news-reports of the company/sector, etc. help.
Careers 360: While talking of regulations in the Indian education system, the real problem is the lack of enforcement of regulations. What is your view?
Prof. Ranjit Goswami: Sometime back, one private research report on Indian higher education started by stating the Indian higher education regulatory environment to be: '"Over-regulated and under-governed". This observation surely has merit. With 4000+ B-Schools in India, the way AICTE insists on maintaining physical computer-lab when in most B-Schools students have laptops/handheld devices in wi-fi campuses (AICTE insists on sq. feet of built-up area and many other non-issues, but says nothing on faculty quality, most important!) clearly shows that the regulator simply fails to understand 21st-century B-School education. Coupled with that, the indiscriminate way in which B-Schools have been created by AICTE, to UGC/MHRD/State Governments, as autonomous PGDM institutes or as part of state universities/deemed universities show there is absolute lack of understanding and synergy from multiple level of policy-makers/regulators.
Having stated above, we also understand, that for hundreds of thousands of students, coming from different socio-economic background and facing the lure of dubious B-Schools, an effective regulator is also needed.
Careers 360: B-schools in India are less inclined to address business problems confronting the real world and rather focus on transmitting acquired knowledge. Your comments
Prof. Ranjit Goswami: Absolutely right.
As I understand both (IIT-product – graduation to PhD; and serious academician; and have also seen corporate world with leading global/local firms from junior to top management), I can also explain this probably better than others.
In our education system, we, without application of mind, have adopted Western Education (to economic reforms) model; and history and results show they mostly fail. In B-schools or universities in US/Europe; faculty members move to-and-fro between academics and policy-making, and they are also actively engaged with business organizations through consultancy. Therefore, a faculty member in a leading global B-School understands academics (PhD with publications), has experience of policy-making challenges, and has also experience of how business organizations work.
Now take a look at premier Indian B-Schools, including IIMs. How many of them have any relevant experience of policy-making or corporate world? Therefore, they live in the isolated world of pure academics when B-Schools are supposed to produce practitioners. One HBR article of last century pointed it out nicely, with the analogy of a medical school with attached medical hospital. Would any one of us go to a heart surgeon who has been teaching at one of the best medical schools, but never has done any single heart operation in his/her whole life? Medicine, like B-Schools/law schools, is practitioners' areas. In India, policy-makers understood that for medical schools, but not for B-Schools.
Other problem has been the (desired) PhD requirement for higher education, including B-Schools. Talk with anyone who understands, we have been producing lots of PhDs, with instructions from MHRD to IITs/IIMs; and many more from not so well-known universities; but no one has ever thought about the quality aspect of it. There is a mad-rush among young to old academicians to get that PhD/equivalent degree; and most of them do not have any scanty respect for academic codes/ethics.  At the same time, there are good managers, at senior levels at industry, who comes from premier education institutes like IITs/IIMs, but without a PhD, and they face tremendous difficulties to get into academics, even when they want to.
Point is: we have always looked at quantity more than quality, or valued a 'paper' more than what a person brings to the table. Our value-system, from regulators to society, needs to change.
Careers 360: In the present times when the economy is still struggling to overcome uncertainties, which business areas do you think MBA graduates should enter?
Prof. Ranjit Goswami:
Understanding digital revolution as it has implications and applications everywhere, globally and more so in India, as Indian connectivity is likely to move up from present 15% to much higher levels soon.

Infrastructure management (in India)

Developing a global perspective (as domestic jobs will be scarce, and global companies would increasingly look for Indian talent for Africa/other emerging markets).

Entrepreneurship

I can also state catchy phrases like 'business analytics', but it is nothing more than developing an analytical mind in each MBA student. Now there are few tools, keeping in mind the information revolution in SM/web.
Careers 360: There is a myth that only IIMs grads get good jobs and salary package. Is it true?
Prof. Ranjit Goswami: It is partly true, only for four old-generation IIMs (and not 'only' IIM grads, but other non-IIM good quality B-School grads also); because recruiters at least respect the intake process, if not the value addition. A strong input quality check along with strong value addition makes a good quality final product.
There is also a big hype on IIMs in India. One regularly sees news-headlines that 'IIMA & B are better than Harvard/MIT' etc. Our journalists write that based on GMAT cut-off scores, without understanding GMAT is just one part to check a good MBA student. Our rote learning culture runs deep in the system, and we never promote original and critical thinking. My friends from Harvard/MIT see these news headlines and laughs. Nobel winner Venkatraman Ramakrishnan did not qualify for IIT, whereas no IIT alum/faculty member has yet achieved what Ramakrishnan did. Our media hype on IITs/IIMs needs to stop.
Careers 360: How do companies recruit in top tier schools?
Prof. Ranjit Goswami: Take an example: Asian Paints visit IMT Nagpur but not many similar leading B-Schools. Similarly, Asian Paints does not visit IMT Ghaziabad whereas HUL or Britannia visits IMT Ghaziabad but as of now, not IMT Nagpur. It is a relationship, trust, performance of direct-recruits to alumni when they join from markets, perception and ranks, location (B-Schools in Bombay/Delhi has an advantage here), etc.
Ideally, companies should be partners in curriculum development and review, and in IMT Nagpur, we are trying to institutionalize this process.
Careers 360: How much weightage is given to extra-curricular activities or social initiatives during admissions?
Prof. Ranjit Goswami: In IMT Nagpur, it can be as high as 25%. But again quality of that activities/initiatives (at what level and how) is what we look at. As we said, we always trust more what the person brings to the table than the certificates alone.
IMT Nagpur Updates and Articles
Questions related to IMT Nagpur
Showing 74 out of 74 Questions