IMI Kolkata Director Dr Mohua Banerjee says, "Classrooms are equipped with audio-visual teaching aids"
IMI Kolkata Director Interview Dr Mohua Banerjee - International Institute of Management (IMI) Kolkata ranks 52nd among business schools in India by the National Institutional Ranking Framework (NIRF). The flagship program is the two-year Full-Time Postgraduate Diploma in Management (PGDM), approved by AICTE and accredited by the NBA. Careers360 caught up with Dr. Mohua Banerjee, Director of IMI Kolkata to know about the institute's vision and mission, admission process, infrastructure, Internships, placements, and packages offered.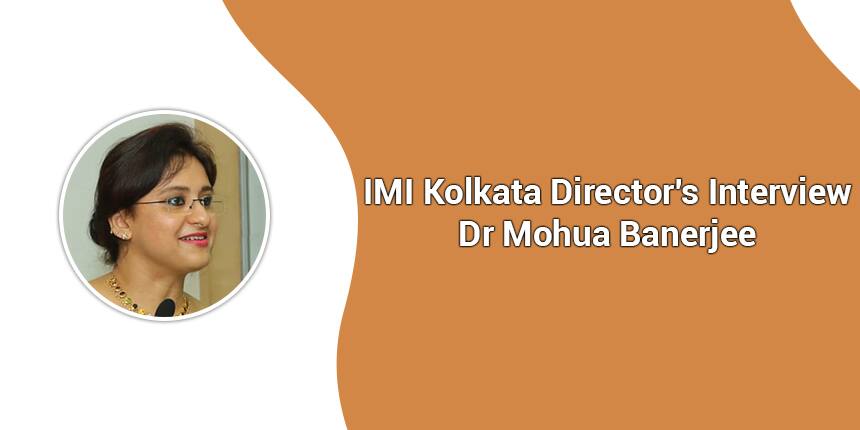 Careers360: Tell us something about the institute; when it was set up, vision and mission
Dr. Mohua Banerjee: IMI Kolkata was set up in 2011 as a part of the IMI Family of Business Schools to give world-class education to young minds in the field of management education.
Vision: To be a globally recognized Centre of Excellence in management education.

Mission: To produce socially sensitive, globally aware, values-driven individuals capable of providing leadership. To conduct research for knowledge creation and dissemination.
Careers360: Tell us something about the admission process?
Dr. Mohua Banerjee: Students possessing a bachelor's equivalent degree, with a minimum of 50% aggregate marks or equivalent in any discipline, from a recognized university in India or abroad (recognized by the UGC / Association of Indian Universities) are eligible to apply for the flagship PGDM programme of IMI Kolkata. Students in their final year are also eligible to apply under certain conditions. Candidates applying online are shortlisted based on their CAT/XAT/CMAT/MAT score and their prevailing academic record. Shortlisted candidates are invited for the final stage of the selection process, i.e., the Individual Assessment Process including essay writing, personal interview, etc.
Careers360: What kind of infrastructure can students expect at the institute? Please elaborate?
Dr. Mohua Banerjee: IMI Kolkata is equipped with ultra-modern and futuristic infrastructural, academic and residential facilities. The college campus is separated into an academic block and a residential block. The educational block is centrally air-conditioned with spacious lecture theatres. The classrooms are equipped with the latest audio-visual teaching aids, lecterns, 50" monitor screens, and 360° cameras (for blended learning), microphones, and wireless laptops. The residential block houses air-conditioned single-occupancy hostel rooms for students along with cafeterias. Separate areas for recreational and co-curricular activities have been created to facilitate all-round development.
Careers360: There is a lot of stress that is being made with regard to interaction with the industry as well as companies that recruit. What are the steps being taken by the institute in this direction?
Dr. Mohua Banerjee: At IMI Kolkata, specific skill-enhancing employability in higher-paying jobs is delivered through short, focused industry-conducted workshops such as Lean Six Sigma by KPMG. Other workshops are on Sales Analytics, Digital Marketing, training on using Excel, Taxation, etc. In order to increase industry-academia interactions, corporate engagements through Management Conclave (Conferro), Summits, Symposiums, Panel discussions, Lecture Series are being conducted in the virtual mode. The HR Symposium was recently conducted on "New World | New Ways | New Thinking" featuring eminent panelists from the HR industry from H&R Johnson, LAPP Asia Pacific, Shalby Limited to name a few. Similarly, IMI Kolkata also conducted the CXO Symposium on "Driving Business Outcomes in Dynamic Times" consisting of panelists from ATC Tires, Mahindra Susten, and Sterling & Wilson, to name a few.
Careers360: Internships are now mandatory as per AICTE guidelines. Does the institute help students with this? If yes how?
Dr. Mohua Banerjee: Yes. IMI Kolkata provides Summer Internships to all the students by contacting the industry executives and potential recruiters for engaging in a full-time internship programme.
Careers360: Can you please share details if there is any collaboration with universities abroad?
Dr. Mohua Banerjee: IMI Kolkata has multiple collaborations with several universities of world renown. Some of the prominent universities are College of Business and Economics, University of Guelph, Ontario, Canada; Emporia State University, Kansas, USA; Universidade do Estado do Rio de Janeiro, Brazil; Autonomous University of Sinaloa, Mexico; Instituto Internacional de Educação- IIE, Brazil; IDRAC Business School, France; ESC Rennes School of Business, France; UPEM, Universite Paris-est Marne-la-Vallee, France; Xunta De Galicia, Spain; Turku University of Applied Sciences, Finland; University College, CEPS - Centre for Business Studies, Kiseljak, Bosnia and Herzegovina; Kunming University of Science and Technology, China; Sichuan Academy of Social Sciences, China; Sichuan University of People's Republic of China; North South University, Dhaka, Bangladesh These collaborations are carried out in terms of joint research activities, exchange of faculty members and academic personnel between both institutions, exchange of academic materials related to areas of interests and competency, organization of conferences, short duration programmes for students and management development programmes for executives.
Careers360: Please share placement statistics with information on the average package, highest and lowest package, number of students placed, and details of companies that have recruited.
Dr. Mohua Banerjee: IMI Kolkata has always provided its students with placements to onboard their corporate journey. In 2019-20, the highest package received by our students was INR 20 lakhs, the average package was INR 8.25 lakhs. Some of the prominent companies are JSW Steel Limited, Deloitte, ICICI Bank Limited, HDFC Bank Limited, ICICI Prudential Life Insurance Company Limited, CESC Limited, Randstad India Pvt Ltd., Coffee Day Group, Tech Mahindra, and many more.
IMI Kolkata Updates and Articles
Questions related to IMI Kolkata
Showing 3 out of 3 Questions
203 Views
Is there any possibililty IMI kolkata reopen there online application now?
hi,
International management institute in kolkata offers courses on following disciplines,
Post Graduate Diploma in Management (PGDM)
Fellowship Programme in Management (FPM), Doctoral Level Programme
PGDM programme is equivalent to MBA with equivalence granted by Association of Indian Universities (AIU), Government of India.
KINDLY mention which course admission details you want to know, then we may help you with necessary information.
61 Views
How is International Management Institute,Kolkata for PGDM?
IMI Kolkata is pretty average college. For IMI only the Delhi campus is good and the Bhubaneshwar campuse is a little decent. The PGDM program consists of courses like Marketing, Finance and Human resources management. The fees for the PGDM program in IMI Kolkata is 12.4 lakhs but the placements are not up to the mark. Companies like ICICI Prudential, HDFC Life insurance, Jaro Education, Ujjivan and some other startups visit the campus but the job roles offered are mostly for sales. For Human Resources Management most of the companies like TCS, Arohan Financial Services and others conduct pool campusing. The average compensation package offered there is 5-6 lakhs. So if you have limited options with you in terms of colleges or you want to pursue marketing management then this college won't be a bad option. But they do have good alumni base which can help you in future growth.

Good Luck


201 Views
cat cut off for this college.?
Dear Priyanka, you will  have to score atleast an overall 60-70% in CAT for being shortlisted for further rounds of selection procedure. Your education background, marks scored in 10th and 12th, Graduation and work experience are considered and calculated for being shortlisted for WAT and PI. IMI Kolkota conducts WAT to evaluate written capabilities of prospective Candidates. WAT evaluates Articulation and Technical aspects of the applicant. After WAT, selected Candidates will attend 15 minutes of Personal Interview. For complete information about the selection process, please visit their official website at: https://imi-k.edu.in/imik/index.php/admission/programme?page=pgdm-admission-process