IMI Delhi Alumni Interview: "Aspirants must know why they are pursuing MBA," says Pranav Kaushal 2016-18 Batch
Master of Business Administration or popularly known as MBA is one of the most sought-after post-graduate programmes in the country but a huge number of aspirants who pursue MBA do not carry any vision behind pursuing the programme. Pranav Kaushal, an IMI Delhi alumnus from 2016-18 batch of MBA in BFSI, says that every aspirant must know very clearly from the start why s/he is pursuing MBA. It will help them plan their actions during or after the completion of the course. He further adds that a management degree teaches you time management and how to manage available resources effectively. Learn how the industry works, difference between academics and corporate work structure, and what a management degree adds to your life from Pranav who currently works at HCL as Senior Management Trainee.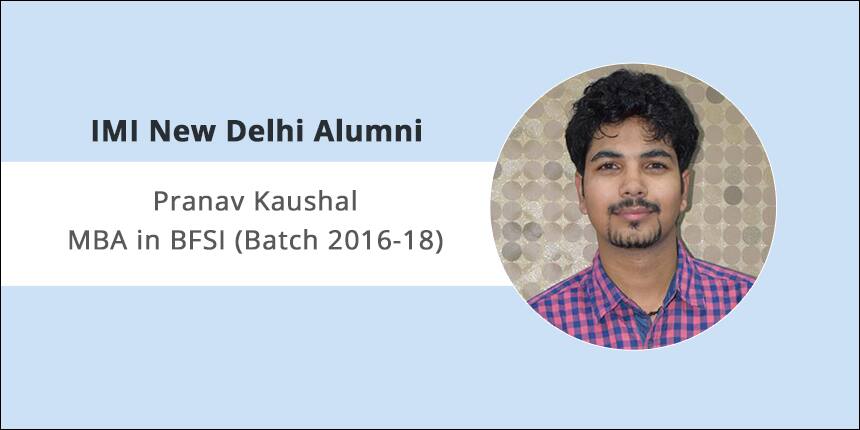 Read the complete interview here:
Careers360: Tell us about your domain and your work profile. 
Pranav: As part of the CTO Office, I am responsible for the following actions:
Identifying global start-ups with a view for strategic investment/partnership

Extensive analysis of HCL's global competition using a new self-developed in-house framework, Creating new product and service propositions

Monetizing HCL's start-up ecosystem - Identifying opportunities in new/existing customer engagements to leverage disruptive start-up solutions; worked closely with customers to communicate how they can leverage HCL's external ecosystem 

Working with global technology start-ups for creating use-case, rolling out Proofs-of-Concept and positioning them with HCL customers

Identifying and building relationships with Venture Capitalists: Work with their portfolio companies for collaboration and/or strategic partnerships

Collaboration with leading academic institutions for research on next-generation technology.
Careers360: Can you briefly tell us about your career path so far?
Pranav: I graduated in Mechanical Engineering and started my career as a line manager with Hero. Pursued my post-graduation at IMI in Banking and Financial services as my specialization with special expertise in the field of Strategic Business Development. During my 6+ months in HCL, being part of the CTO office has given me a huge advantage. I have been working directly with the CXO's of HCL and CEO's, CTO's of various companies. Certainly got a jump start to a new inning.


Careers360: Is industry work different from what you learn at B-School?
Pranav: The industry work is definitely different from what we study during college. The difference makers are the case study simulations done during the course. It gives you a realistic view of industry work. Thus focusing on them is of the uttermost importance.

Careers360: How do you think your MBA programme has added value to your life, both professional and personal?
Pranav: Resource management and Time management are the two key areas in which MBA has helped me evolve. On a personal level, I have gained much more knowledge in various domains and made friends for life.

Careers360: What was your initial thought process when you joined the MBA programme?
Pranav: This is just a perception and varies from person to person. As far as I am concerned, I was very clear about what I am doing and how I am going to do it. Thus, being a very practical and logical person it really didn't intimidate me.

Careers360:  You must have spent memorable time at your B-School. Do you miss being a part of it? Share a few good memories.
Pranav: College life is always fun. Last night studies, college canteen, sitting the amphitheatre and playing cricket in that small area certainly made two years fly.

Careers360: Briefly take us through your life at the campus, the activities you used to do and your routine life.
Pranav: I am a very chilled out person and being in the hostel was certainly not new. 1st year was certainly tough as we had to travel around 4 km from the college campus, thus being late to class in almost every 9 am morning class. Tons of assignments, projects were the late night thing on almost every single day. Being on campus in the 2nd year certainly made a huge difference with hardly 5 mins away from the classrooms. Roaming in the campus, playing day and night was fun and actually made the stress go away. Sonu and Globe were lunch/dinner venue almost every alternate day.

Careers360: Apart from academics, what were the other activities you were involved in and how did it enrich your life?
Pranav: I am a sports lover. Playing cricket, table tennis, snooker were the main areas where I spent most of my time. Watching sports, reading science journals, and current affairs were areas of interest. This helped me keep both my mind and body enriched and perfectly healthy.
Careers360: You are a proud alumnus of this top B-School. What is the best part of IMI Delhi from a student's perspective?
Pranav: Beautiful atmosphere is one key area for a student. Being in Delhi, the campus is situated in such a dense forest cover, it gives a positive vibe and energy to the students. Highly qualified teachers with great industry experience bring a flavour of the outside world to the students which enrich them during the course. One can gain a huge amount of experience from each one of them.

Careers360: What is your suggestion/guidance for the MBA aspirants?
Pranav: An MBA aspirant needs to be clear from the very start why is he doing this. Keeping focused on the studies won't take them through. Overall development of a student is very important to fit in a corporate world. Take keen interest and have active participation in classes especially during the case study simulations. 

As far as the placements are concerned, my advice would be to focus on the Job Profile rather than the company profile or the package as job satisfaction is much more important and would help in shaping your career path as you want.
IMI Delhi Updates and Articles
Questions related to IMI Delhi
Showing 104 out of 104 Questions