IIM Lucknow Fees 2023: Check Fee Structure and Scholarships
IIM Lucknow Fees - Indian Institute of Management will release the fee structure for IIM Lucknow PGP programme batch 2023-25 on its official website. As per the last year's IIM Lucknow fees structure, this year the fee structure for PGP courses is expected to be Rs 19.25 lakh. IIM Lucknow is the premier B-school that accepts CAT scores for admission to its flagship programme.

Candidates who have been shortlisted for final admission will have to pay the IIM Lucknow fees which will be divided into six terms. IIM Lucknow fees will mention admission fee, infrastructure fee, tuition fee, refundable deposits, and other information which are included in the fee structure. Read this complete article by Careers360 to know in detail about the IIM Lucknow fee and detailed structure.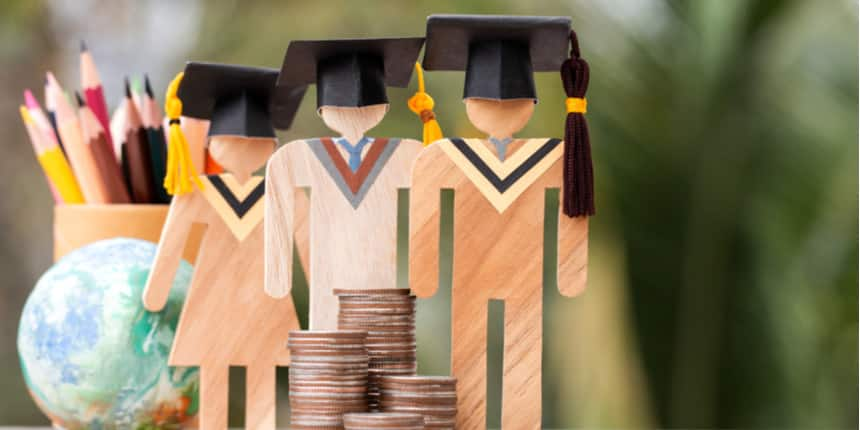 IIM Lucknow programme offered
Candidates aspiring to take admission to the IIM Lucknow PGP program must check the programmes and number of seats offered by the institute. Check the table below to know the program details.
IIM Lucknow programmes
| | |
| --- | --- |
| Programme Name | Number of Seats |
| PGP & PGP-AB | 436 |
Also Read:
IIM Lucknow PGP fee structure
IIM Lucknow offers two years of full-time PGP program. IIM Lucknow Fees PGP program is expected to be the same as the previous year Rs. 19,25,000. The structure of IM Lucknow fees will consist of the following components
Admission fees

Tuition fees

Infrastructure fees

Refundable fees

Alumni Membership fees
The table below mentioned the tentative semester wise fee structure of IIM Lucknow PGP
IIM Lucknow fees Structure for PGP (I)
Fees & Expenses

PGP I

Particulars

Term I

Term II

Term III

Admission fees

70000

-

-

Tuition fees

190000

190000

190000

Infrastructure fees

115000

115000

115000

Total fees(A)

375000

305000

305000

Refundable Deposits

20000

0

0

Alumni membership fees

0

0

0

Total fees (B)

20000

0

0

Total fees (A+B)

395000

305000

305000
IIM Lucknow fees structure for PGP (II)
Fees and Expenses
PGP-II
Particulars
Term-IV
Term-V
Term-VI
Admission fees
-
-
-
Tuition fees
190000
190000
190000
Infrastructure fees
115000
115000
115000
Total fees (A)
305000
305000
305000
Refundable deposits
0
0
0
Alumni membership fees
5000
0
0
Total fees (B)
310000
305000
305000
With regard to IIM Lucknow fees, the institute provides adequate financial aid to the candidates so that none of the students is deprived of taking admission to desired programs due to financial constraints. IIM Lucknow has several schemes which are as follows:
Also Read:
Need-based IIM Lucknow Scholarships
Scholarships will be granted to the students on the basis of their merit and family income. Any candidate belonging to the reserved category whose total annual gross income (self, parents, spouse) does not exceed more than Rs. 4,00,000 will be considered for the scholarship. The awardees will be chosen from the eligible students in order of their merit.
The financial assistance will be provided in form of a fee waiver and is subjected to maintaining the stipulated standards of academic performance.
Know all about IIM Lucknow
Other offers
Candidates can also avail the scholarship offered by various Central Governments, State governments, and other higher bodies. The details for the scholarship are available on the National Scholarship Portal official website- scholarships.gov.in or click here and the respective State Government portals.
Payment options for IIM Lucknow fees
Candidates who will be accepting the final offer for admission to PGP batch 2023-25 will be able to pay the fee of IIM Lucknow through Demand Draft or online payments. However, candidates accepting the offer will have to the acceptance fee of Rs. 70,000 which will be adjusted towards term 1.
Top Colleges in India offering MBA
IIM Lucknow placement
IIM Lucknow released the final placement report for the PGP batch 2021-23 recording the highest domestic CTC of Rs. 3.4 LPM. Also, the institute witnessed 100% placement statistics for its PGP batch which consisted of 562 students. The IIM Lucknow placement saw participation from prestigious companies such as Amazon, American Express, Asian Paints, and so forth.
Quick Link: IIM Placements
Statistics of IIM Lucknow Placement
Highlights

Detail

The number of students who participated

562 students

Number of offers made

567

Top Segments

Strategy/ Consulting
Operations/IT
General Management
Sales and Marketing
Finance

Total percentage of offers made by Top Segments

Strategy/ Consulting- 32%
Operations/IT-24%
General Management-13%
Sales and Marketing- 12%
Finance- 19%

Highest Domestic Salary

3.4 Lacs Per Month

Median Domestic Salary

1.25 Lacs Per Month
Top MBA Entrance Exams
Frequently Asked Question (FAQs) - IIM Lucknow Fees 2023: Check Fee Structure and Scholarships
Question: What is the expected fee of IIM Lucknow for batch 2023-25?
Answer:
The expected fee of IIM Lucknow for batch 2023-25 is Rs. 19.25 Lakhs.
Question: What is the offer acceptance fee that has to be paid?
Answer:
The acceptance fee will be notified to the shortlisted candidates.
Question: Can I withdraw the admission after paying the academic fee?
Answer:
Students can withdraw within the stipulated time. However a fraction of the fee will not be refunded as per the norms.
Question: Can I pay the IIM Lucknow fees in offline mode?
Answer:
Candidates will be able to pay the fees in online mode only.
Question: Which IIM has lowest fees?
Answer:
The top four IIMs with the lowest fees are..
IIM Amritsar- Rs.12,00,000
IIM Bodh Gaya- Rs.10,60,000
IIM Jammu- Rs.13,80,000
IIM Nagpur- Rs.13,75,000
Question: Which IIM gives highest package?
Answer:
As per previous year placement stats, IIM Ahmedabad notches the top spot of highest package of Rs 55.88 (domestic salary offered).
Question: Can a poor guy study in IIM?
Answer:
Yes, there are certain banks that offer education loans to pursue MBAs from IIMs with the least interest rates.
Question: Does IIM fees including hostel?
Answer:
Yes, the accommodation fee is included in the total fee.
Question: Can I study in IIM for free?
Answer:
No, there is no compensation or scholarship offered at IIM.
Question: Does IIM have 100 percent placements?
Answer:
As per last year IIMs placement reports, IIM Calcutta recorded 100 percent placement for its 55th batch.
IIM Lucknow Updates and Articles
Questions related to IIM Lucknow
Showing 54 out of 54 Questions