IIM Interview: It is no less than a dream to get admitted into one of the most reputed management institutes like the IIMs. CAT 2021 topper Srishti Bhat is also one of them who made it to the IIM Bodh Gaya with her impeccable efforts.
For future MBA aspirants, Srishti opines "The institute is looking for students who are confident, have good knowledge in their field of study, have a good or unique approach to solving problems, are polite and professional in their behavior and have an apparent understanding of their purpose for pursuing MBA". In an exclusive talk with Careers360, Srishti shares her journey to IIM Bodh Gaya. She shares all the aspects of the IIM Bodh Gaya selection process and her preparation strategies for the Personal Interview round. She shares her success mantra for aspiring MBA students in near future. Read the full interview to know more about the IIM admission criteria, selection process, and how one should prepare for the next round once the individual has cracked the CAT entrance test.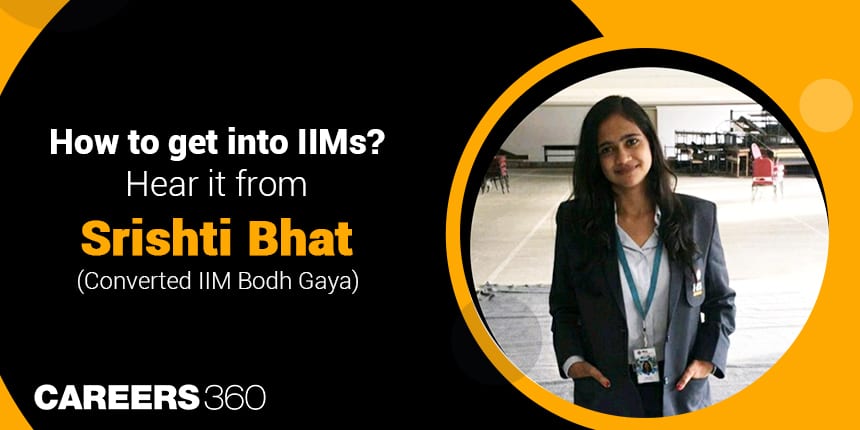 IIM Bodh Gaya MBA Admission journey shared by Srishti, CAT Topper 2021
Careers360- Congratulations on converting to your desired institute! How do you feel?
Srishti Bhat- I feel delighted! It feels wonderful to be a part of such an esteemed institution! I had actually taken Science in my Pre-University and then I realized my real passion is Management. So, I went on to pursue a Bachelor of Business Administration from PES University Bangalore. I secured a gold medal in BBA, standing 2nd to the university. I decided that I 'have' to do my MBA from an IIM and here I am! It feels amazing!
Careers360- What is the selection procedure at IIM Bodh Gaya?
Srishti Bhat- After getting the CAT results I got an IIM Bodh Gaya to call for a personal interview through SAP (Supplementary Admission Process). SAP interviews are conducted jointly by IIM Bodh Gaya and IIM Jammu. So one can get into IIM Bodhgaya through SAP or through CAP (Common Admission Process) Previously all the IIMs had the procedure of WAT (Essay writing), GD(Group Discussion), and then PI(Personal Interview) but since the COVID Pandemic, the selection procedures need to be conducted online hence WAT and GD were not conducted this time. We only had to go through the Personal Interview.
Careers360- Please elaborate on your overall experience of the selection procedure at IIM Bodh Gaya
Srishti Bhat- I was allotted the morning slot for my interview on March 4, 2022. I was sitting in front of my laptop screen nervously, excited, and anxious all at the same time. All the candidates are supposed to be in the Zoom Waiting Room until our turn comes up. So, we cannot really know when we will be connected to the interview panel. All we can do is wait patiently! I calmed my mind and tried to remain alert. Those were definitely the longest minutes of my life!
After about 30 minutes I was connected to the panelists. There were two panelists one male and one female. I greeted them and they went on to ask questions about me and my educational background. My specialization in BBA was marketing so I was asked a few questions about marketing different products in several scenarios. The majority of questions were based on current affairs – about Amazon and Future Group, Ukraine – Russia war, and other such topics.
I answered the questions confidently and to the best of my knowledge. Though there were a few questions I did not know the answer to, I was honest with them about it. The interviewers do not just want to check your knowledge but also want to know more about your personality. So always be confident and honest with your answers.
Also Read-
Careers360- Which other B-Schools' selection procedure did you appear for? How was your experience in other institutes vis a vis in the institute you have converted to?
Srishti Bhat- I had calls from IIM Bodh Gaya, IIM Sambalpur, IIM Jammu, and SIBM Pune. I converted all the calls. As I already mentioned, there was just one interview for both IIM Bodh Gaya and Jammu through SAP.
My interview experience with IIM Sambalpur was also very smooth. There were two panelists – one male and one female. They were very warm and it felt more like a conversation than an interview. They asked about my educational background, my internship experiences, and my hobbies and interests. Most questions revolved around the field of marketing and a few current affairs questions. Overall, the interview went very well.
Unlike these, SIBM Pune had an elaborate selection process – Writing Ability Test, Group Discussion, and then Personal Interview. Everything was online and well organized.
Careers360- What was your WAT/PI topic and how did you structure it? Did you find it easy or did you have a difficult time writing/ thinking about the topic?
Srishti Bhat- Actually, I had WAT/GD only for SIBM Pune. All other selection procedures consisted of only Personal Interviews.
SIBM Pune WAT/GD Experience: For WAT, there was a 3X3 grid containing various words like money, paper, water, animals, transaction, digital, etc. (There was a separate link that was sent where we could see this grid and also type the essay while being monitored by SIBM student coordinators and panelists on the Zoom Call) We were supposed to choose three of these words horizontally, vertically or diagonally and that would be the main idea of the essay. I chose money – paper - digital (or something along those lines, I do not clearly remember). My main idea for the essay was how the country is moving towards a cashless, digital economy. We were given 10 minutes for the essay. I calmed my mind and created a mental flow for the essay, important points that I wanted to touch upon. This makes it easier to cover everything within the stipulated time limit. It is a little stressful to think on the spot and write an essay within 10 minutes but the key is to organize your thoughts and create a mental flowchart.
The candidates were then divided into various groups for Group Discussion. Here we were supposed to use the various tools provided as the means to solve certain problems in any of the industries that were provided. Our group was presented with the problem of hygiene and sanitation and our group chose government policies and the construction industry out of the tools presented, to solve this problem. It was a 10-minute discussion and each candidate was first given a minute to explain their view on the problem presented before the discussion could begin. It went well. All the candidates were polite and let everyone make their point. During GD always be alert and try to make good points relevant to the topic. Also, make sure you are not yelling or talking over other candidates. Try to acknowledge what the other candidates say and try to add to their points.
GD was followed by the Personal Interview. There were 3 panelists. They were really pleasant and made me feel at ease. They asked questions about my intention behind choosing to pursue BBA and why I chose Marketing as my MBA specialization. There were a few more questions related to my educational background. There were no questions on current affairs. The interview was for about 10 minutes. SIBM Pune was also a great choice but due to certain personal reasons, I chose IIM Bodh Gaya.
Browse Top MBA Colleges Accepting CAT Score: Location-Wise
Careers360: Did you get external help or join a coaching school to prepare for PI and WAT? When did you start your preparations for it?
Srishti Bhat- Yes. Actually, I joined T.I.M.E. for CAT (2020) coaching and also for the GDPI preparation during my BBA final year. I wrote CAT 2020 but I didn't receive any IIM calls. So, I decided to write CAT again in 2020 and this time I was clear with my basic concepts and I required guidance when it came to learning shortcuts, and increasing my speed and accuracy. So, I enrolled in CatKing's online course in May 2020. They provided me with great videos on shortcuts and tips to increase speed which helped me a lot. I prepared for my PI also through CatKing. I attended a few mock interviews which gave me insights into the frequently asked PI questions and how I need to structure my answers. There were also sessions organized to help us with GD and WAT. These helped me understand how to organize my thoughts and present them within 10 minutes for both WAT and GD.
Careers360- Do you think that WAT/PI requires some separate preparation apart from what you mentioned?
Srishti Bhat- I think it does require some practice to be able to structure your thoughts and communicate them within those 10 minutes that are provided for WAT. I would suggest aspirants read editorials in newspapers every day to understand how to pen down opinions correctly and it also helps you to stay updated on current affairs.
For PI, it's important to be prepared beforehand for questions that are frequently asked in interviews like "tell me about yourself," "why do you want to pursue MBA?", "what are your strengths and weaknesses?" etc. It's also important to be up to date on all the business and political news.
Careers360- Please share the WAT/PI topics which you were asked about during the admission rounds?
Srishti Bhat- My questions in PI were mostly about marketing – the basic concepts of marketing, practical situations in the industry, and how I would deal with them. I was also asked about my internships in marketing and what I learned from them.
Careers360- Are there ways to handle a situation when one has no answer to a question during PI?
Srishti Bhat- That did happen to me during my SAP interview! I was asked about certain details about the Amazon and Future Group case which I was not aware of. I did panic but I kept myself calm and had a smile on my face. I told the panelists honestly that I was not aware of that particular detail but I told them I was aware of the case and explained what the case was about.
So, if you do not know the answer to any question, be calm and talk about relevant details of the question. If you do not know anything about it just be honest to the panelists and do not panic. They do not expect you to know everything. Your reaction to situations like these is what matters.
Also Read-
Careers360- How must one approach a WAT/PI topic? Could you share some Dos and Don'ts for the same?
Srishti Bhat- As I mentioned, stay calm and create a mental flowchart of the important points that you want to highlight in the essay. Have a good introduction that covers the main idea of the essay and your conclusion should make your opinion on the topic clear. Practice writing essays on diverse topics within 10 minutes to train your thought process.
Do not just blindly start writing the essay without creating a structure in your mind. This will make you miss out on points and you may run out of time before you conclude the essay as you have not thought out the flow of the paragraphs.
Careers360- Is there a particular kind of time management strategy that should be added to the candidate's skillset? Will it help in writing a completely structured WAT/PI?
Srishti Bhat- As soon as the topic is revealed try to think of what are the important aspects of the topic, what are the different perspectives on the topic and what is your perspective and how you would justify it. It requires practice to be able to quickly think of all these aspects.
Careers360- How did you feel when you faced the interviewers during the PI? Please share a few details like the size of your panel and your overall experience.
Srishti Bhat- I was very anxious while I was waiting for my turn in the interviews. It's important to keep yourself cool. I used to listen to songs on my playlist while getting ready for the interview to keep my mind calm and refreshed. While waiting for my turn I would chant a few mantras and keep my brain alert to answer any question that is thrown my way. While facing the panelists always have a pleasant smile on your face and try to answer all their questions politely. If you do not know the answer to any tricky questions or puzzles that they ask, think out loud. Let them know your process/approach to solving the problem (which is exactly what they want to know).
At the end thank all the panelists and exit the interview with a smile.
Careers360- Which interview turned out to be the best one? Enlighten us about the finest one according to you.
Srishti Bhat- My IIM Sambalpur interview was the best out of all. The interviewers were very pleasant and their questions were mostly related to marketing hence it made it easier for me to answer well. They were also very patient listeners. They let me finish my answers without interrupting me. They gave me enough time to explain my points and justify my answers. They asked about my family background, educational background, and internships as well. I felt really confident after the interview!
Careers360- What about the questions which you found difficult to answer? How did you reply to those?
Srishti Bhat- If I did not know anything about the topic I was asked about, I straight up told the panelists that I did not know, instead of trying to simply guess the answer. If I had some idea about the topic, I would tell them I do not know about that particular aspect but I am aware of… *details relevant to the topic*
Careers360- So, in those situations, was the panel easy or harsh on you? What should one do when s/he has no answer?
Srishti Bhat- The panelists would either move on to the next question or they would persuade me to think along certain lines and help me get to the answer. They were actually helpful. For example, a panelist asked me to name the mission that was in operation to bring Indian students from Ukraine back to India. I just couldn't remember the name! The panelist tried to give me some time. He told me "it is in the news these days; you have obviously heard of it. Try to recall the name." I just went blank and told him I couldn't remember it. He smiled at me and asked other questions related to the Russia Ukraine War which I answered well! So, do not panic if you do not know the answer.
Careers360- What were the most fascinating questions you were asked? Please share your answers too.
Srishti Bhat- I was asked how I would market a toaster that was launched newly in the market for household use.
I spoke about the Indian market, the behavior of consumers, the target audience for a toaster, competitors in the market, the USP of the new toaster, the various channels available to market household products, and went on to explain the best channels for this particular product.
Careers360- How different is an IIM interview from a non-IIM yet top B-School interview? Are there major differences? (If you have appeared for IIMs)
Srishti Bhat- From my experience, the only non-IIM interview I gave was for SIBM Pune, where the interview was very similar to the IIM interviews. The only difference for me was that SIBM panelists did not ask me any current affairs-related questions. (although many other candidates were asked questions on current affairs so that cannot really be considered a difference.)
Careers360- How did you go about the preparations for PI? Did you search or look up some questions or practice mock PIs?
Srishti Bhat- For the IIM Bodh Gaya interview, the IIM BG AdComm (Admissions Committee) sent all the candidates documents containing the most frequently asked questions from various domains and also documents to have a basic knowledge of marketing, finance, operations, etc. This was really helpful as it helped me brush up on all the basics and also prepare for the FAQs.
I also looked up frequently asked questions and the best ways to answer them on the internet.
CatKing helped me a lot with interviews by providing all the necessary material to learn how to answer questions and also by conducting mock interviews.
Careers360- And finally, what are the aspects or qualities that the interview board looks for in a candidate?
Srishti Bhat- The interview board is looking for candidates who are confident, have good knowledge in their field of study, have a good or unique approach to solving problems, are polite and professional in their behavior, and have an obvious understanding of their purpose for pursuing MBA – it could be to have a better understanding of how businesses operate around the world, gain skills to start your own business, it could be anything based on your personal life story.bSo just has complete faith in your abilities, be confident about what you know and remind yourself why you started preparing in the first place.
Have a lovely smile on your face and rock the interview!
Top Colleges in India offering Management Courses