IIM Bangalore Welcomes 430 PGP And 22 FPM Students, as new academic year begins
The prestigious Indian Institute of Management Bangalore welcomed a fresh batch of 430 Post Graduate Programme (PGP) and 22 Fellowship Programme in Management (FPM) students for batch of 2018-20 on Thursday, June 14, 2018. The director, deans, faculty and students of IIMB were present at the occasion alongwith Chief Guest Saugata Gupta-Managing Director & Chief Executive Officer, Marico Limited, and alumnus of IIMB (PGP 1989-1991). A surprise guest talk by I&B Minister and Minister for Youth Affairs and Sports, Colonel Rajyavardhan Singh Rathore followed the Chairman's address.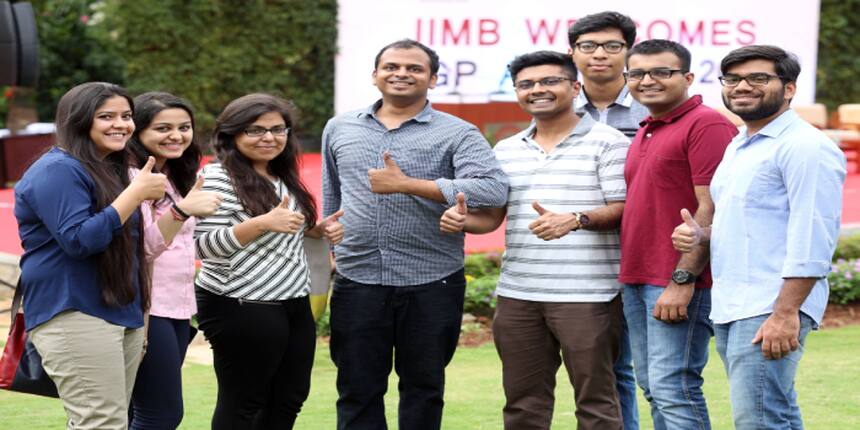 The chief guest, in his address assured the new batch of students that they were in for memorable times at IIMB. "Life is all about choice-making and you have made the right choice. When I came to IIMB in 1989, the choices (among management students) were like the English alphabet – A, B and C but it looks like the English alphabet does not work any longer because B now comes first!" he said to loud applause.
Warming to the theme of choice, he said, "Don't make choices because of peer pressure. Choose what you are interested in and are good at. If you are good, money and fame will chase you." Emphasizing what he described as "old-fashioned values", he said there is no substitute for hard work, self-discipline and resilience, and encouraged students to take risks, strive for balance, and stay relevant by constantly reinventing themselves.
Adding to the warm welcome, IIMB Director Professor G Raghuram quoted from a new student's Facebook post – a poem capturing her excitement at joining IIM Bangalore. "It is a wonderful feeling for us that your sense of anticipation at being at IIMB is so high. Honestly, management is not rocket science. It is a lot of good common sense. That is what we keep reinforcing here," he said.
In his address, earlier in the evening, the Admissions Chair, Prof. G. Sabarinathan, shared the profiles of the PGP and FPM batches, spoke of the learnings he hoped the new students would have at IIMB, and wished they would carry fond memories of their time on campus.
The Fellow Programme in Management Chair, Prof Rejie P. George, said IIMB's doctoral programme serves a national agenda of providing academic talent to management schools in the country. "If, as a PGP student, you yearn for more time here with us, then I welcome you to join our FPM programme and stay with us longer," he added.
The addresses were followed by the presentation of the Director's Merit List (DML) Awards for the PGP Class of 2017-19. The Student Affairs Council President, Amrit Anshuman, then gave the incoming students a glimpse into life on campus. The programme came to a close with a cultural programme by the senior students of FPM and PGP.
Surprise guest talk by Colonel Rajyavardhan Singh Rathore
Once, the awards were given away, the students were met with a pleasant surprise. I&B Minister and Minister for Youth Affairs and Sports, Colonel Rajyavardhan Singh Rathore, first enjoyed a game of volleyball at the IIMB sports complex and delighted in his maiden visit to the campus, described the facilities as "amazing" while addressing the students.
Apologizing for "parachuting in" at the programme, he said he was in Bangalore and the opportunity to speak to the young talent at IIMB was hard to resist. Citing instances from his life, both as a sportsperson and in the armed forces, to emphasize the importance of possessing a fighting spirit, he said: "The essence of life is that it is not about the destination but about the journeys you undertake. As you move along in life, you must create value not just for yourself but for your surroundings. You must work for greater good."
The minister also presented the Union Government's four-year report card and said he would welcome feedback from the students.
IIM Bangalore Updates and Articles
Questions related to IIM Bangalore
Showing 187 out of 187 Questions