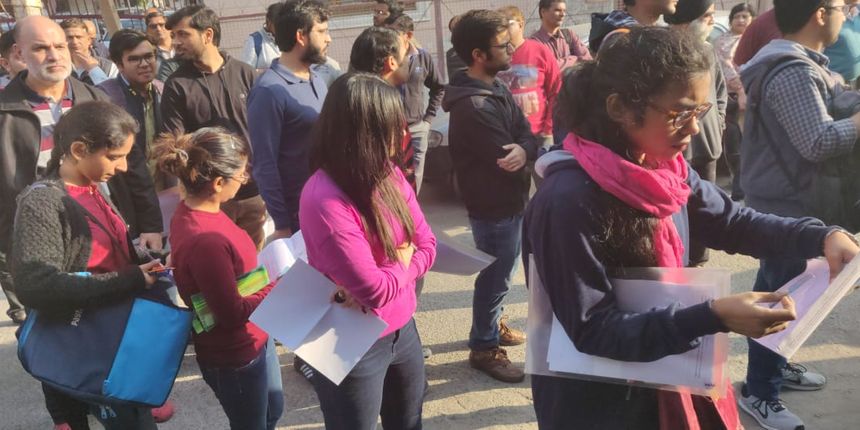 IIFT 2019 Analysis – Indian Institute of the Foreign Trade, New Delhi, has successfully conducted IIFT 2019 examination Sunday, December 2, 2018, from 10 am to 12 pm, as per schedule notified by the institute. IIFT 2019 was conducted in offline mode across 20 major cities in India. Here, we bring forth the IIFT analysis 2019 as mentioned by the test takers. Overall, the difficulty level of the exam was moderate to tough. The Logical Reasoning was the most difficult section followed by Quantitative Ability. Verbal Ability questions were tougher than CAT 2018. The easiest section was Data Interpretation (DI), however, the questions required calculation which took up a considerable amount of time. The exam analysis of IIFT 2019 will help test takers estimate their probable scores. This popular management entrance exam is conducted to grant admission to aspirants of two-year MBA programme in International Business at IIFT campuses in Delhi, Kolkata and Kakinada campuses. Careers360, in this article, projects the complete IIFT 2019 analysis including its expected cutoff, previous years' cutoff, exam structure etc.
Latest: IIFT 2019 Result is available now
MBA/PGDM Admissions Open 2019
IFIM Business School
IIFT 2019 Analysis
The difficulty level of IIFT 2019 was tougher than last year. As per the candidates, the LR section was the most difficult nut to crack followed by QA section. General Awareness was quite easy, however, the questions were static and did not have questions on current affairs. Test takers felt that GA section was easy enough to clear cutoff score. The exam was divided into six sections, namely, Section 1 - QA, section 2-DI, section 3- LR, section 4- GA, section 5-RC (five reading comprehensions), and section 6-VA. According to test takers' inputs, the offline IIFT 2019 paper was difficult than the previous year. IIFT 2019 consisted of 114 objective-type questions carrying 100 marks in total. Let's have a look at IIFT 2019 test structure and expected cutoff and more.
IIFT Exam Structure
Admissions Open Now
CMR University School of Management
Admissions Open for MBA at CMR University. Apply Now
Apply
Shanti Business School
MBA Admissions 2019 Open at Shanti Business School , Grab the opportunity to work with Leading brands. Highest Package offered : 16.12 LPA. Apply Now for Scholarship opportunities.
Apply
| | | | | |
| --- | --- | --- | --- | --- |
| Section | No. of Questions | Weightage | Total Marks | Negative Marking |
| Quantitative Ability | 20 | 1 | 20 | 0.33 |
| Data Interpretation | 20 | 1 | 20 | 0.33 |
| Logical Reasoning | 20 | 1 | 20 | 0.33 |
| General Awareness | 18 | 0.5 | 9 | 0.17 |
| Reading Comprehension | 16 | 1 | 16 | 0.33 |
| Verbal Ability | 20 | 0.75 | 15 | 0.25 |
| Total | 114 | NA | 100 | NA |
Important Links
IIFT 2019 Analysis – Section wise 
According to the test takers of IIFT 2019, the overall difficulty level was on the tougher side as both Logical Reasoning and the Quantitative Ability sections were quite tough. This article projects the difficulty level of each section in the in details in order to understand the section wise IIFT analysis 2019.  
IIFT Exam Analysis - Verbal Ability
The VA section was tough so much so that candidates felt that the Verbal Ability section was tougher than CAT 2018. Candidates who had prepared seriously for the exam could attempt around 12 questions out of 20. The section had questions from Grammar, Verbal Analogy, Jumbled Words, Prefix, Suffix etc. The expected cutoff for this section is likely to be around 3. 
IIFT Exam Analysis - Reading Comprehension
The RC section was comparatively easy. There were five passages with 3-4 questions in each passage. The questions were not difficult. 16 questions had 16 marks in total.  Candidates with good reading speed could have easily attempted 12-14 questions.  
IIFT Exam Analysis - Logical Reasoning 
The LR section was rated as extremely difficult by the IIFT 2019 test takers. A total of 20 questions were asked in this section. The section was decently lengthy but was very difficult as compared to last two years. Candidates could complete 2 sets of questions.
IIFT Paper Analysis - Data Interpretation
DI section was easy as compared to the previous year. An attempt at 5-6 would be very good and students who had attempted just about 2-3 questions with 100 percent accuracy should get through the cutoff.
IIFT paper Analysis - Quantitative Ability
The QA section narrates almost the same difficulty level as LR. Usually, this section is never a cakewalk, The difficulty level is increasing consistently. It had a total of 20 questions. The section was evenly distributed between Arithmetic, Algebra and Geometry. Few questions required knowledge of Trigonometry. A well-prepared candidate could have attempted 11-12 questions in 28-30 minutes.
IIFT Exam Analysis - General Awareness 
The GA section has been rated as easy to moderate by the candidates. It had a total of 18 questions on different static topics such as Business, Economy, Sports, Brands, Personalities etc. Candidates who stay updated with static general knowledge are likely to get an advantage in this section as there no questions were asked on current affairs, unlike last year.
IIFT 2019 Analysis - IMS Learning, T.I.M.E., Career Launcher, Bulls Eye
Now, it is time to know what the renowned coaching institutes' experts analysis on the IIFT 2019 exam.
IIFT 2019 Analysis by IMS Learning
According to the IIFT 2019 analysis by IMS experts, IIFT 2019 was a difficult test as compared to last year. The Quantitative Ability and surprisingly the Logical Reasoning (which is usually amongst the highest scoring) sections were the toughest in recent years. There was no change in the overall exam pattern with a total of 114 questions and 6 sections. The number of questions in each section also remained the same as the previous year. However, there were changes in the weightage (marks) in the two sections of Verbal Ability and Data Interpretation. For the Verbal Ability questions, the marks per question came down from 1 to 0.75 and for the Data Interpretation questions, the marks for each question increased from 0.75 to 1. As per IMS experts, the overall cutoff for the next rounds of admissions for IIFT-Delhi and IIFT-Kolkata would be around 29-31 marks for General category of students.
IIFT 2019 Analysis by T.I.M.E
The experts at T.I.M.E institute will analyse the exam to provide information related to the overall and sectional difficulty level of the exam and expected cutoffs for each section of IIFT soon. With the help of IIFT analysis 2019 by T.I.M.E., candidates would be able to estimate their score much before the announcement of the actual result. The difficulty level of the IIFT 2019 comes with a hint that the cutoff of IIFT 2019 will go down as compared to the previous year. 
IIFT 2019 Analysis by Career Launcher
As per the IIFT analysis 2019 by Career Launcher, the exam didn't have any surprise but it was certainly tougher as compared to the previous year with tricky Logical Reasoning section and difficult QA section. The exam was extremely lengthy with tedious RC section. According to the IIFT analysis 2019 by Career Launcher, the expected cutoff for IIFT 2019 for different categories are General: 31-33, Other Backward Classes: 25, Scheduled Caste: 25, and Scheduled Tribe: 25.
IIFT 2019 Analysis by Bulls Eye
As per the IIFT 2019 analysis by Bulls Eye, this year IIFT paper was almost similar to last year's paper. In terms of difficulty level, students found Analytical Reasoning very tough as compared to last year's. To maintain the cutoff, in all six sections, was really a difficult task and experts from Bulls Eye have predicted that a lot of students will end up in not clearing cutoff in one or two sections. According to IIFT analysis 2019 by Bulls Eye experts, the expected overall score at which one can expect a call from IIFT will be around 28 – 30 marks. Test takers need to clear the individual sectional IIFT 2019 cutoff as well. 
IIFT 2019 Expected Cutoff
Now that test takers have read through the IIFT analysis 2019 by various entrance examination training institutes, it is time to have a look at the last year's cutoff according to sections. IIFT 2019 appearing candidates will be able to gather some idea about the IIFT cutoff 2019.
The expected cutoff will be soon released by several coaching institutes. As of now, candidates can check IIFT cutoff of the previous year according to category-
General: 38-40
OBC: 33-35
SC: 28-30
ST: 20-22
Here are the previous years' sectional cutoff scores:
IIFT 2017 Cutoff - Sectional
| | |
| --- | --- |
| Section | Cutoff |
| Verbal Ability & Reading Comprehension | 9.67 |
| Data Interpretation & Logical Reasoning | 8 |
| Quantitative Ability | 4.01 |
| General Awareness | 1.99 |
IIFT Cutoff – Category wise
| | |
| --- | --- |
| Category | Cutoff |
| GEN | 48.5 |
| OBC -NCL | 43.5 |
| SC | 38.5 |
| ST | 27.17 |
| PH | 28.85 |
However, the official cutoff for IIFT 2019 will be declared by the Indian Institute of Foreign Trade after the exam result gets released. The result of IIFT 2019 has been declared on January 15, 2019.  
Note: Careers360 has updated the IIFT 2019 analysis based on expert and test takers' feedback after the IIFT 2019 exam was conducted on December 2, 2018.