IIFT 2021 Topper Eeshan Malhotra says "Give mock tests and analyse your mistakes diligently"
It becomes much more difficult to achieve your dreams when situations are not in your favour and this is exactly what Eeshan Malhotra faced during his preparation for India's one of the most premier management entrance exams of IIFT. Eeshan quit his job to chase his dreams. He did not only tried his best to ace the exam but topped in IIFT 2021 with 99+ percentile. According to Eeshan self study is the best strategy to prepare for any exam at the end of the day, it's the candidate who has to work hard and give their best. He also suggests that one must believe in themselves and their preparation. Read the exclusive interview of Eeshan Malhotra with Careers360 to know his strategies throughout his preparation journey.
Latest update: IIFT result 2021 has been released by NTA on February 16. Know all about IIFT 2021 cutoff.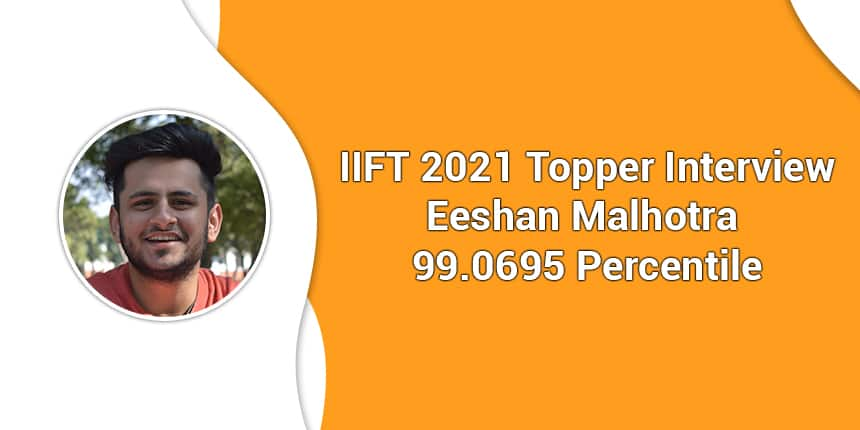 Careers360- Congratulations on cracking IIFT 2021 entrance. Please share your overall and sectional scores and percentile.
Eeshan Malhotra- My overall percentile is 99.0695 with Quant (90.083), Verbal and Reading Comprehension (96.951), Data Interpretation and Logical reasoning (94.023) and General awareness (94.403) respectively.
Careers360- What is your take on the National Testing Agency (NTA) conducting the exam. Was there any major change in the exam pattern or marking scheme.
Eeshan Malhotra- This was my first time attempting the IIFT paper so in terms of changes in IIFT paper pattern, it was on the similar note to previous year IIFT paper (2019). No. of questions as well as marking schemes remained the same since the exam switched to online format. (VARC, Quant and DILR for 3 marks each and GK for 1.5 marks with 1/3 rd negative marking for incorrect attempts).
Careers360- Mention section-wise books and study materials you referred during your preparation.
Eeshan Malhotra- I prepared for CAT with Arun Sharma's books for all the sections as I prepared on my own. Also, I made sure to read the newspaper and highlight the words that I was unfamiliar with. I took the IQuanta test series for IIFT mock which were very beneficial.
Careers360- Please share your preparation journey. How did you strike a balance between your academic life and preparation for an entrance exam?
Eeshan Malhotra- I worked with Hero Motocorp in a greenfield plant prior to my preparation journey. Before Lockdown, I was fortunate enough to get back home and realized that I wanted to explore my area of interest. I made up my mind and quit my job to prepare for my entrances. The journey has been a roller coaster so far. I used to study diligently and for long hours but
made sure to go out once in a day just to feel fresh and clear my mind which is very important according to me.
Might be interested in- IIFT Preparation Tips
Careers360- How was your IIFT exam day experience? How many questions did you attempt from each section?
Eeshan Malhotra- I got a centre near to my home and got there pretty early. I was a bit nervous but thought to myself that I can do it and have worked hard for this. I attempted 65 questions with 27 in VARC, 13 in DILR, 14 in Quant and 11 questions in GK.
Careers360- How did you manage time during exam day? Was the duration sufficient for you?
Eeshan Malhotra- Time is never sufficient for an IIFT paper. This year the paper was a little tricky and lengthy, especially the Quant and DILR section. I had formulated a plan ahead of the paper in which I decided the amount of time that I wanted to give to each section. My advice to future aspirants is to make sure you prepare a plan regarding section timings as it will help you wonders.
Also read- IIFT Time Management Strategy
Careers360- Have you started preparing for the next round of selection procedure?
Eeshan Malhotra- I just got to know the result so I have not started my preparations for further rounds but it's time to hustle up and start preparing again. I have been surfing through the Internet to get knowledge about the procedure and talking to some known alumni as well.
Careers360- How did you maintain balance in preparation between IIFT and other entrances?
Eeshan Malhotra- I Solely focussed on my CAT preparation if I am totally honest. I didn't do well there, lost motivation, and gave a poor performance in XAT too. After XAT, I thought to myself it's okay to fail but I have more opportunities and to make them count and started preparing for IIFT with all my heart.
Question- Which other MBA entrances have you taken? What are your percentiles for those?
Eeshan Malhotra- I had taken CAT 2021 – 93.08 Percentile. I had also given XAT 2021 - 84.4721 Percentile (Not my best day)
Careers360- Which B-schools have you received interview calls from?
Eeshan Malhotra- I have received calls from SPJIMR (Finance), CAP calls from IIM Udaipur, IIM Trichy, IIM Vizag.
Careers360- Why do you want to join IIFT Campus? What are your other dream B-schools apart from IIFT?
Eeshan Malhotra- IIFT is one of the premier B schools in India with campus in Delhi, Kolkata and Kakinada. Belonging from Delhi NCR, I was always focussed on getting a college in my home town and IIFT just happened to be the icing to the cake. My dream colleges apart from IIFT would be IIM BLACKI, FMS Delhi, SPJIMR, Rotman School of Management (Toronto).
Careers360- Were you a part of any coaching institute? Do you think coaching is necessary for aspirants to bag the top rank?
Eeshan Malhotra- I was not part of any Coaching institute, did self-preparation. I think yes, coaching institutes might give you a slight edge in your preparation but this matter is pretty subjective as in the end it's you, who have to work hard and give your best. One thing I would suggest to aspirants is to give mock tests and analyse your mistakes diligently as it will give you an insight of your strong and weak areas and areas of improvement.
Careers360- Please share your preparation strategy for Group Discussion, Writing Ability Test and Personal Interview? Any other element in the selection process you want to share?
Eeshan Malhotra- For GD and WAT, I opted to study the current events and get an in-depth knowledge of the same. I am working on my communication skills to speak clearly and with adequate pauses and drafted answers to some frequently asked questions. The most important thing in GD, I think is, listening to what others have to say and understanding their POV without biases.
Careers360- Apart from the preparation schedule, what activities did you involve yourself for recreation purpose? What are your hobbies?
Eeshan Malhotra- I like to watch movies, play online poker sometimes, watch and play basketball religiously.
Careers360- What is your suggestion for IIFT aspirants who will write the test next year?
Eeshan Malhotra- My suggestion for future aspirants would be to believe in themselves. At the beginning of your preparation, find your strong and weak areas and work on your weak areas. Never hesitate to ask for help even if the question seems silly and learn for your mistakes During D-day, stay calm and composed. Also, Good Luck from my side for your future preparation.
Quick links-
Questions related to IIFT
Showing 217 out of 217 Questions