IIFT 2021 Topper Sachin Agarwal says, "Consistency and constant improvement are the key to success"
A 99+ percentile in IIFT is no easy feat. It is a dream come true for many and for others it is the pedestal of success. Meet Sachin Agarwal who scored 99.72 percentile in IIFT 2021. He is a B.Com (Hons.) graduate from Guru Gobind Singh Indraprastha University (GGSIPU), Delhi. He started his preparation for management entrance exams in April, during the lockdown which helped him in managing the time as all the other activities were at a standstill. Prior to IIFT, Sachin appeared in CAT and XAT in which he scored 95.08, 93.65 respectively. Presently he has received interview calls from MDI Gurgaon, CAP IIMs, IIM Rohtak, IIM Amritsar, IMT Ghaziabad, Narsee Monjee and many more reputed management institutions. In an interview with Careers360, Sachin talks about his achievement and some important tips for prospective IIFT aspirants.
Read More-
IIFT 2021 Topper Eeshan Malhotra interview
IIFT 2021 Result - Road beyond IIFT Shortlist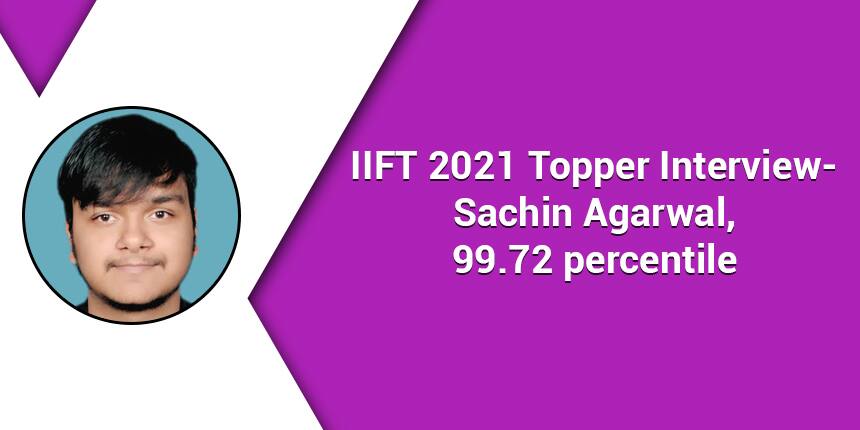 Careers360: Congratulations on cracking IIFT 2021 entrance. Please share your overall and sectional scores and percentile.
Sachin: Thank you, I was ecstatic the least to say. Following are my scores in IIFT 2021:
| | | |
| --- | --- | --- |
| Section Name | Score | Percentile |
| Quantitative Aptitude | 28 | 92.67 |
| Verbal Ability and Reading Comprehension | 53 | 96.95 |
| Data Interpretation and Logical Reasoning | 51 | 99.92 |
| General Knowledge | 03 | 24.95 |
| Overall | 135 | 99.72 |
Careers360: What is your take on the National Testing Agency (NTA) conducting the exam. Was there any major change in the exam pattern or marking scheme.
Sachin: I believe that the management done by NTA was pretty smooth; all the regulations laid down by the government with respect to the Corona-virus were followed. There were no major changes in the exam pattern or the marking scheme when compared to IIFT 2019.
Careers360: Mention section-wise books and study materials you referred during your preparation.
Sachin: For Quants and DILR, I had built my foundation through Arun Sharma books and then further strengthened it by coaching institutes material, mocks and past year papers.
For VARC, I strongly believe that it can only be strengthened by continuous reading. I used to read for at least half an hour daily from divergent sources (Books/articles/newspaper).
For GK, Honestly I wasn't able to study for it religiously and I do regret it. If I would've put in more efforts I could've made the mark.
Careers360: Please share your preparation journey. How did you strike a balance between your academic life and preparation for an entrance exam?
Sachin: I started my preparation for management entrance exams in April, during the lockdown which definitely helped me as all the other activities were at a standstill. But, due to the pandemic certain activities which were relaxing were restricted too, so all these activities went online, like watching movies which helped me rejuvenate in the times of stress.
Careers360: How was your IIFT exam day experience? How many questions did you attempt from each section?
Sachin: As previously stated, the management part by NTA was pretty smooth and I didn't face any hassle except that the interface of the exam was not appropriate and one had to constantly scroll to see the full question which consumed a lot of time in a speed based exam. I had the following attempts-
Quantitative Aptitude- 12 Questions (10 correct)

Verbal Ability and Reading Comprehension- 23 Questions (19 correct)

Data Interpretation and Logical Reasoning- 17 Questions (All correct)

General Knowledge- 10 Questions (4 correct)
Careers360: How did you manage time during exam day? Was the duration sufficient for you?
Sachin: We had 110 questions and 120 questions which makes it a speed based exam with sectional cut-off as well, so time distribution is of paramount importance. I had pre-decided on the time I would spend on each section which was flexible given the circumstances. I had distributed 40 minutes each for VARC and DILR, half an hour for QA and remaining 10 minutes for GK.
Careers360: How did you maintain balance in preparation between IIFT and other entrances?
Sachin: The other exams that I had prior to IIFT were CAT and XAT and there was a gap of good three weeks between XAT and IIFT which I believe are sufficient assuming that the majority of syllabus is the same in all these exams.
Careers360: Which other MBA entrances have you taken? What are your percentiles for those?
Sachin: I had given CAT, XAT and NMAT and my percentiles/scores were 95.08, 93.65, 260 respectively.
Careers360: Which B-schools have you received interview calls from?
Sachin: Till now I've had calls from MDI Gurgaon, CAP IIMs, IIM Rohtak, IIM Amritsar, IMT Ghaziabad, Narsee Monjee.
Careers360: What are your other dream B-schools apart from IIFT?
Sachin: My dream B-schools are IIM Kozhikode, FMS Delhi and MDI Gurgaon.
Careers360: Please share your preparation strategy for Group Discussion, Writing Ability Test and Personal Interview? Any other element in the selection process you want to share?
Sachin: Since all the interviews are happening online, most of the B-schools are only conducting Personal Interviews. For it, I've classified my preparation in five categories (HR questions, Work experience, Academics, Current Affairs and Miscellaneous)
Careers360: Apart from the preparation schedule, what activities did you involve yourself for recreation purpose? What are your hobbies?
Sachin: During the preparation, there were times when I had low scores in mocks, lack of motivation so, my hobbies were the saving grace that helped me shoot up my confidence. My hobbies are cooking and writing.
Careers360: What is your suggestion for IIFT aspirants who will write the test next year?
Sachin: In my opinion, consistency and constant improvement are the major two factors which an aspirant should keep in mind for any management entrance exam. Specifically for IIFT, I would like to suggest not to ignore any section as not clearing the cut off in any section would lead to not making the cut, no matter how high you score.
Questions related to IIFT
Showing 217 out of 217 Questions