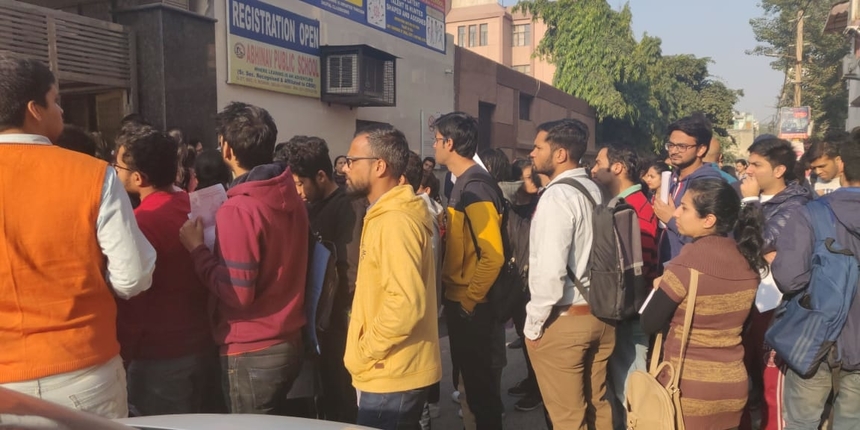 IIFT 2019 Student Reactions - The Indian Institute of Foreign Trade conducted the IIFT 2019 written test on December 2, 2018, from 10:00 AM to 12:00 noon. The national-level entrance test is held every year for candidates who aspire to get admissions in the prestigious MBA programme in International Business (IB) offered by the institute. The programme is conducted in three campuses of the institute located in Delhi, Kolkata and Kakinada. IIFT 2019 was an offline/pen and paper mode in 20 cities across India.
MBA/PGDM Admissions Open 2019
IFIM Business School
For final admissions, IIFT will take into account candidates' entrance test scores, Group Discussion (GD), Writing Skill Assessment and Personal Interview. 
Admissions Open Now
CMR University School of Management
Admissions Open for MBA at CMR University. Apply Now
Apply
Shanti Business School
MBA Admissions 2019 Open at Shanti Business School , Grab the opportunity to work with Leading brands. Highest Package offered : 16.12 LPA. Apply Now for Scholarship opportunities.
Apply
To know the apprehensions, difficulty level of the exam, preparation strategies of the candidates taking IIFT 2019, Careers360 interacted personally with some of them. Here's a look into the IIFT student reactions 2019 both before and after the exam.
Pre-Exam IIFT 2019 Student Reactions 
Rahul - I am appearing for IIFT for the first time. I used to work in a Gurgaon based consultant firm but left the job to prepare for management exams. I am not happy with the location of the exam centre allotted to me. 
Chetna - I am a student currently pursuing B.Tech. My preparation for IIFT seems to be good enough. It is my first attempt. I have taken coaching from IMS. I have appeared for CAT and I intend to appear for XAT and MAT as well. I don't have any particular strategy in mind to attempt the paper. But I am being optimistic and hope to secure a percentile. I had separate approaches to CAT and IIFT entrance test. IIFT requires us to pull out scores on the basis of sectional cut offs but CAT takes into account all the sections. My strongest area is English and weakest is DI. I studied for CAT and IIFT simultaneously and studied the GK portion at last. I don't mind IIFT being a pen and paper-based test in contrast to CAT, SNAP, XAT. I would rather say that it is good that IIFT is paper based because we have at least the liberty to sift through sections which we don't have in the other entrance tests. 
Shashank - My preparation is upto the mark and I am confident that I will meet the cut offs. I am a student and it is my first attempt at the examination. I am appearing for other management entrance examinations as well like CAT, XAT. I have taken coaching classes to prepare for the IIFT entrance exam. 
Harshit - My preparation is okay, I have covered all the necessary areas excluding GK. I have not done much revision for GK. I have appeared for CAT as well. Since I am a working professional, I took a correspondence course. So I prepared on my own by studying the course material and test series provided. It depends on the paper if I manage to score a percentile or not. As of now, I only intend to give my best. I am personally comfortable with pen and paper-based test because it allows me to sift through the sections. And as far as IIFT is concerned, we can give as much time as we want to give to a particular section. There, flexibility in attempting the papers becomes even more crucial more IIFT. 
Piyush Goyal - I am a BBA, final year student. I am not at all prepared for the exam. It's my first attempt and I am taking this test just to see how it is like. I intend to prepare well for the exam next year. I have not appeared for any other management exams. But I will appear for the exams next year including GMAT and CAT. My main focus will be GMAT. I will judge where I stand after taking the IIFT exam and then decide whether I should go for coaching classes or prepare by myself for next year's exam. I am more comfortable with the pen and pencil paper mode of exam. 
Post-Exam IIFT Student Reactions 2019 
Vibhanshu Agarwal - It was my first attempt. The VA section was tough, RC was moderate to difficult, QA was easy to moderate. I had appeared for CAT as well. VA of IIFT was tougher than that of CAT but DI section of IIFT was easier than that of CAT. 
Manik - I am working as a consultant and it is my second attempt. I did not take any coaching classes to prepare for the test. The Quantitative aptitude, LR and verbal sections were more difficult than those of the last year. DI was easy, and I hope to clear the cut off of GK. The easiest sections of all were DI and RC. I have attempted 30 questions in total. 
Sakshi - It was my first attempt, and I did not prepare quite well. The quantitative aptitude section was tough but DI was easy. 
Kiran - It was my first attempt. Last time there were four passages with four questions each but this time there were five passages. Four passages had three questions each and the fifth passage had three questions. GK and reasoning sections this year were tougher as compared to those of last year. Quantitative section was easy. DI was as usual difficult and I could solve only two data sets. There were 114 questions in total. I had appeared for CAT as well. 
Akriti - The paper was tougher compared to last year. The difficulty level of LR was very high. The quantitative section was extremely difficult. Last year, this section was considered to be tough but it was even tougher this time. DI was easy but comprised of a lot of calculative questions. There was a paucity of time, else one could have met the cutoffs easily. General awareness had more static questions and hardly contained questions from current affairs. There was no wrong question. The paper was tough overall and there was not enough time to finish the paper. I did not take any coaching and prepared on my own.
Also Read
IIFT 2019 Exam Day in Pictures