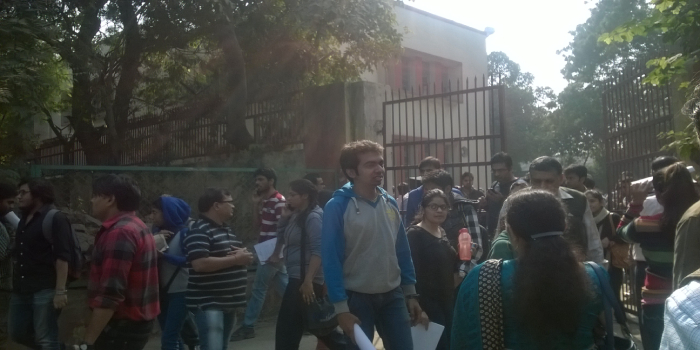 IIFT 2018 Student Reactions - Indian Institute of Foreign Trade conducted the IIFT 2018 entrance exam on December 3, 2017 and approximately 50,000 MBA aspirants across India appeared for the exam. This test is considered to be one of the most unpredictable tests which, in turn, makes it a difficult one. The candidates often become skeptical about their performance despite good preparation. Just completing the syllabus does not suffice to score well in this IIFT exam. The paper-pencil based objective type test of two hours was scheduled between 10 AM and 12 noon.

IIFT 2018 had new exam pattern this year. Unlike preceding years, there were six separate sections instead of four sections. The total number of questions was 114. Most of the students were of the opinion that the difficulty level ranged from moderate to difficult. Careers360 reporters spoke to the IIFT 2018 test takers to bring to you their reactions.
IIFT 2018 Student Reactions
Akash - I found both Logical Reasoning and Quantitative sections to be comparatively easy, provided you remember all the required formulas. It was simple maths in the Quantitative section.
The third section comprised of graphs which were quite lengthy and tough; required concepts to solve. To talk about the English sections, passages were lengthy but easy to comprehend. I would rate the difficulty level of the test to be moderate to difficult.
Amaan - This is the first time I appeared for IIFT exam. From the test paper analysis point of view, I would say this paper was a bit different from last two years' paper. The Logical Reasoning(LR) was easy. Candidates would fare well if they choose the section sequence judiciously. Data Interpretation (DI) was easier as compared to the Quantitative section. I appeared for CAT 2017 and most probably I would be appearing for TISSNET 2017 as well.
Tarun - There were six different sections which made the paper a bit lengthy. The sectional cutoffs would be different for the same reason. There was commotion outside the examination premises, but if one is focussed towards the test, will not get affected.
Deepika - It is all about time management. One should solve the General Awareness section first followed by Reading Comprehension (RC) and rest of the sections. DI section was easy and I chose to solve DI at the end.
Netra - I am not sure of my scores, but I have fared quite well. I am not expecting very high scores but sure to crack the sectional cutoffs.
Also Read
IIFT 2018 conducted on December 3; Live updates from test centres
Questions related to IIFT