IIFT 2015 Analysis; total 124 questions with DI toughest


IIFT 2015 Analysis - IIFT has been concluded on November 22, 2015, in an offline paper-pencil based mode. Around 60,000 candidates appeared in the test conducted in across 20 cities in India for admissions to the MBA-IB programme at IIFT Delhi and Kolkata.
Recent Posts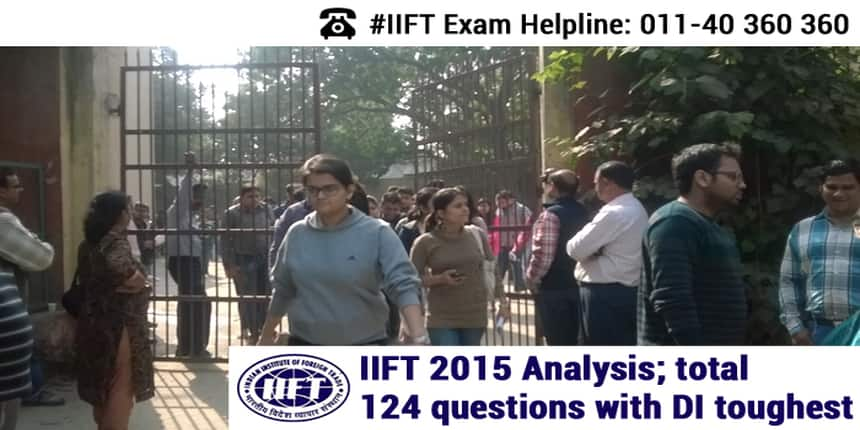 Careers360 reported live from a few of the exam centers and took reactions from the students after the exam. The IIFT 2015 Analysis is based on factors like overall difficulty level, types of questions, structure of the test etc.
This year the IIFT test had 124 questions to be answered by the candidates within two hours. Based on the reactions and types of questions, the IIFT 2015 was of Moderate to Difficult level.
[Click Here to Enroll KnockOut Test Series to Get Admission in IIFT Campuses or call 011-40360360 to talk expert counsellors]
According to the IIFT 2015 Analysis, the test was divided into four sections, mainly
Section 1- English Comprehension
Section 2- General Knowledge
Section 3- Quantitative Analysis
Section 4- Logical Reasoning
According to the students at the centers, the most difficult section to attempt was LR & DI, which had the maximum number of questions and took a lot of calculations to attempt. The General Knowledge section was of moderate to tough level, with English Comprehension as the easiest section.
The total 124 questions were distributed unevenly on all the four sections. Below given table and inforgram represents the distribution of questions and marks in each section.
IIFT 2015 Analysis- Overall distribution of total questions in each section
| | | |
| --- | --- | --- |
| Section | Part | Number of Question |
| Section1- English Comprehension | Part 1 | 16 |
|   | Part 2 | 20 |
| Section 2- GK |   | 28 |
| Section 3- Quant |   | 22 |
| Section 4- LR | Logical Reasoning | 20 |
|   | Data Interpretation | 18 |
| TOTAL |   | 124 |
Similar to last year, IIFT 2015 for most of the students was of Moderate to difficult level, with DI and LR toughest. One of the IIFT 2015 Test taker, a working executive, Naman said, "The overall difficulty level was tough. I found the Data Interpretation, Logical Reasoning and Quantitative Analysis sections to be tough. English was quite easy. GK was of moderate difficulty level".
Commenting about the overall exam experience and the difficult section, another candidate Mayank said, "I had appeared for the exam last year as well and comparatively the difficulty level was easier this year. The total number of questions was 124. The GK and Verbal Ability sections were easily attemptable. The Logical Reasoning and Data Interpretation areas were toughest".
Let us now have a look at the IIFT 2015 Section wise Analysis.
Quantitative Ability
This section had 22 questions with 1 mark each for the question. This section was of moderate to difficult level. However, students with engineering background found this section to be easy and doable. An engineer background MBA aspirant, Manjit from Delhi, said, "The overall exam pattern was moderate to tough. I am from B.Tech background so I found the Quant section to be manageable and DI and Verbal section to be tough. But still I have attempted around 100 questions accurately and hoping to clear the cutoff".
Logical Reasoning & Data Interpretation
This year the most time consuming and the difficult section was LR and DI. This section was divided into two parts- Part 1 and 2 with a total 38 questions. Part 1 had 20 questions on topics like caselets, bar graphs, pie charts and table interpretations etc.; whereas Part 2 has 18 questions on topics like comparisons, deductions, and coding-decoding etc.
As per the marking scheme Part 1 was of 0.75 marks and Part 2 was of 1.00 marks with a negative marking of 1/3rd of the allotted marks.  
Sidhartha, a test taker, said, "The sections DI and LR were tough. The Logical Reasoning and Data Interpretation areas were tricky and time-consuming. So we had to be fast while attempting this section. I am hoping for good scores in this section".
English Comprehension
This section again has two parts; 1- Reading Comprehension, 2- Verbal Ability, with 16 and 20 questions respectively. This section, compared to others was of Easy to Moderate level, and most securing as well. The section had passages, on the basis of which the candidates had to answer the given questions. The verbal ability part had questions related to grammar, prepositions, analogy, phrases, fill in the blanks etc.
Arijit from Uttar Pradesh said, "English was the easiest section and also the most scoring. I was able to complete this section before my allotted time".
General Knowledge
This is the most important section of IIFT, which makes it different from other MBA entrance exams. Unlike previous year, this year, GK was of moderate to difficult level for many students. With total 28 questions with 0.50 marks, this section forced students to think and answer. Mostly the questions were from latest happenings around the world, compared to the static GK. Agreeing on the same, a test taker, Stuti said, "The question topics of the GK area was mostly from Current Affairs and lesser on Static GK. The topics included Banks, Name of CES, and Import-Export. It was a lengthy paper and for me, GK and DI were the toughest sections".
IIFT 2015 Expected Cutoff
IIFT 2015 Cutoff will depend on certain factors like difficulty of the exam, the number of test takers, total number of questions etc.  The cutoff in 2014 was 39.5 marks, and it is expected that it will be on similar lines as that of last years. The exam was of tough difficulty level and had 124 questions from 4 sections. The following table brings to you the section wise scores that were allocated in IIFT 2015 entrance exam. 
Section

Part

Number of Questions

Marks/Question

Total

(A)

(B)

(C)

(D)

(E) = (C) X (D)

Section 1

Part 1

16

1

16

Part 2

20

0.75

15

Section 2

 

28

0.50

14

Section 3

 

22

1

22

Section 4

Part 1

20

0.75

15

 

Part 2

18

1,00

18

Total

124

 

 

100
The IIFT 2015 result will be announced, likely in the second week of December 2015, announcing the names of the shortlisted candidates for the selection procedure.
Also Read
IIFT 2015 conducted on November 22: Live Report from Test Centers
Stay tuned to www.careers360.com for more news and updates
Questions related to IIFT
Showing 198 out of 198 Questions