IIFT 2015 Analysis by Experts - Moderate to Tough paper with 124 questions


IIFT 2015 has been conducted by Indian Institute of Foreign Trade on Sunday, November 22, 2015. The overall difficulty level was moderate to tough. According to the experts, the difficulty level of the exam was easier than last year, which would impact in the cutoff as well. There were 124 questions from 4 sections to be answered in 2 hours. This article brings to you the detailed analysis of IIFT 2015.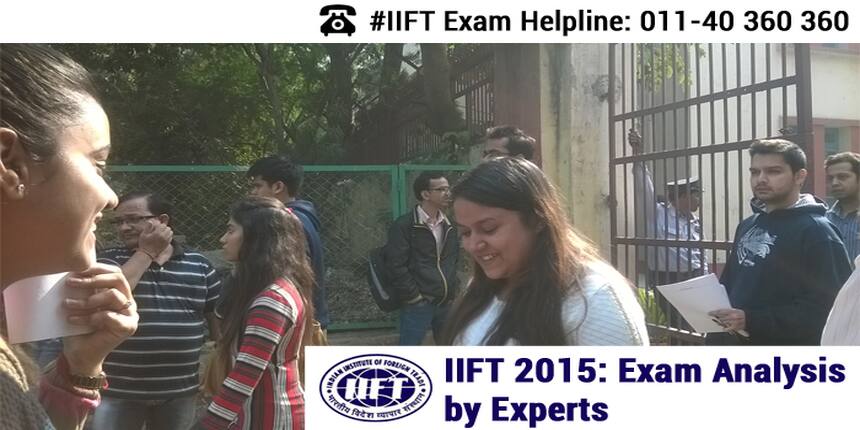 Recent Posts
Before going for the detailed section wise analysis, let's take a look at the paper pattern and structure which was followed this year.
| | | | | |
| --- | --- | --- | --- | --- |
| Section | Part | Number of Question | Marks per question | Total Marks |
| Quantitative Ability | NA | 22 | 1 | 22 |
| Logical Reasoning | Part 1 of Section | 20 | 0.75 | 15 |
| Data Interpretation | Part 2 of Section | 18 | 1 | 18 |
| Reading Comprehension | Part 1 of Section | 16 | 1 | 16 |
| Verbal Ability | Part 2 of Section | 20 | 0.75 | 15 |
| General Knowledge and Awareness | NA | 28 | 0.5 | 14 |
|   |   | 124 |   | 100 |
As mentioned in the above table, the sections had differential marking system. The total marks of the paper was 100. For each wrong answer, there is negative marking scheme of 1/3 of allotted marks. There is no sectional time limit but sectional cutoffs apply for the shortlisting criteria.
In terms of overall structure, slight changes were made this year. Last year the number of questions was 118. Quantitative Ability section was clubbed with Data Interpretation section and Logical Reasoning was a stand-alone section.  In IIFT 2015, Logical Reasoning was a stand-alone section with QA and DI areas clubbed into a single section.
Let us now have a look at the detailed section wise analysis.
Quantitative Ability
This section was given the maximum weightage with 22 marks. According to the experts of IMS, the difficulty level of this section was easy to moderate. The questions were dominated by modern maths with 8 questions and Arithmetic with 7 questions. "The questions on Modern Mathematics involved questions pertaining mainly to Probability, Permutation & Combination, Progressions, Logarithms and Set Theory. The questions on Arithmetic were mainly on Percentages, Time & Work, Averages and Mixtures. The remaining questions were on Geometry (3 questions), Algebra (3 questions) and Numbers (Surds and Indices)," mentions the IMS analysis. The expected cutoff for this section is 7 to 8 marks.


Logical Reasoning and Data Interpretation
According to the IIFT 2015 analysis by T.I.M.E. experts, this was among the easier sections of the paper. Career Launcher mentions, "Apart from the 3 questions on selection, which had language related errors, the rest of the questions were easy to moderate. All sets were easy in nature and could have been attempted. All singlets were very easy and must have been attempted all in order to maximize." The Data Interpretation sets were calculation intensive, hence time consuming.


As per VistaMind expert analysis, "The Logical Ability area in this paper was truly a traditional LA paper! The paper had FOUR sets, one each of Distribution, Linear Arrangement, Order Sequencing and Network & Routes. With Five individual questions, direction sense, syllogism (deductions), Logical Connectives, Operator based question AND a question on number series, the LR part of the LRDI was definitely doable and most students would have attempted the LR part by giving a skip to the DI part. Only the Linear Arrangement set could be termed a bit average in difficulty while the rest were easy."
The expected cutoff for this section ranges from 9 to 11.
Reading Comprehension and Verbal Ability
According to the experts, this was the easiest section. There were 4 lengthy RC passages but the questions were straight forward. The Verbal Ability area was easy too. "Verbal Ability Section was dominated by sentence completion and vocabulary based questions. There was only one analogy based question and it was moderate The Sentence Correction and grammar questions were easy to moderate. Sentence rearrangement questions were again easy to moderate. Overall this section was of easy to moderate," mentioned the analysis by Bull's Eye. The analysis by T.I.M.E. mentioned, "There were a few questions on Oxymorons as well this year. The other questions were Grammar-based, PFQs and Idiom questions."


The expected sectional cutoff is 8 to 10.
General Awareness
The difficulty level of this section can be rated as moderate. There was a good mix of questions from static GK as well as current affairs. "There were around 13 questions relating to trade – a stock topic for IIFT GK preparation. The Match the following questions were easier to attempt, given that one could arrive at the answer by knowing 1-2 of those 4 pairs," stated T.I.M.E.


According to IMS, the section was easier compared to previous years. Out of 28 questions 19 were on static GK and 9 were on current affairs. Sharing the details of the question types, the IMS expert stated, "23 questions were on world affairs and only 5 on national events. There were a few "Match the Column" questions which were easy because identifying only one correct pair would have given you the answer. However, the Current event questions pertaining to national events were quite difficult – as it asked for answers in terms of numbers. Fortunately there were only two questions of this type. The themes of the questions were mostly on business, science (inventor), headquarters and appointments with a couple from Geography and History." The expected cutoff for this section would be 2.5 to 4.
The overall expected cutoff for IIFT will range from 45 to 48.
Also Read
IIFT 2015 Analysis; total 124 questions with DI toughest
IIFT 2015 conducted on November 22: Live Report from Test Centers
Stay tuned to www.careers360.com for more news and updates on IIFT 2015.
Questions related to IIFT
Showing 198 out of 198 Questions