IFMR GSB Placements 2021: 4 US banks hire over 25% of MBA students, average salaries up by 10 percent
IFMR Graduate School of Business (IFMR-GSB), which is now part of saw a good improvement in average salaries for its 2-year MBA program in the placement season this year. For the batch of 2019-21, IFMR Graduate School of Business, Krea University Krea University, Finance, Consulting and Technology majors hire Over 96 Percent. 4 of the Top 5 US Banks—JP Morgan Chase, Bank of America, Citi and Wells Fargo—Hire Over 20 Percent of the Batch. Earlier, IFMR GSB has shared the placement statistics wherein a lot of huge companies like Deloitte, IDFC First Bank, Accenture, Cognizant, Wipro, participated and recruited students. The average salary for students belonging to sectors like finance, consulting and techfin, were offered an average of Rs 10.9 lakhs in the academic year 2020-21, wherein in 2019-20, the students of the sectors mentioned above were offered an average salary of Rs 10.1 lakhs.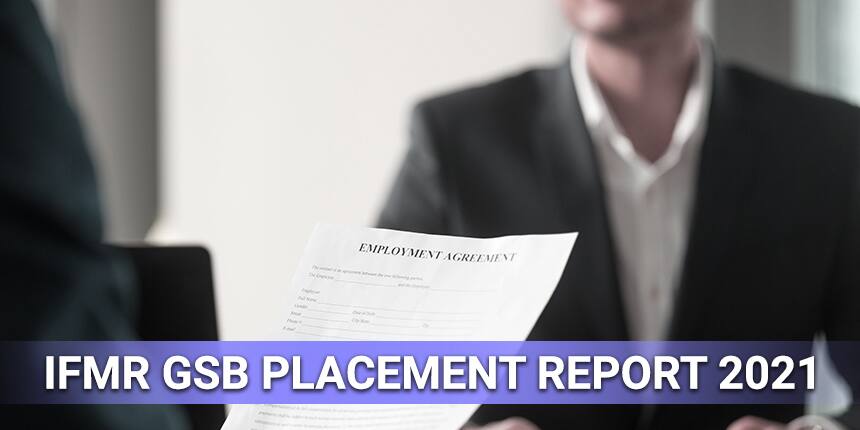 Placement Statistics of IFMR GSB
IFMR Graduate School of Business (IFMR GSB) at Krea University completed another successful placement season despite a globally challenging year impacted by the pandemic. 171 of the 175 students accepted job offers made by leading companies across sectors—both as pre-placement offers and final placement offers—while a handful of students opted out of the placement season to pursue their entrepreneurial passion or higher education.
Previously, over 80 per cent of the students have already been placed in the ongoing placement season, hired by a number of finance, consulting and technology companies. IFMR GSB has witnessed that at least 50-75 per cent of the students were typically placed in finance, consulting and technology companies in the past three years (i.e between 2017-18 and 2019-20). Students were usually offered various roles in financial strategy, business management, risk management, data analytics, compliance and governance, and financial control. Remarkably, this year the B-school observed 87 per cent of the students being picked up by leading companies in these three industries. This has further contributed to the average salaries increasing by 10 per cent, despite the ongoing pandemic and recovering economy.
Salary Offered to Students
4 top US banks - JP Morgan Chase, Bank of America, Wells Fargo and Citi - have collectively hired over 40 students already, which accounts for more than 25 per cent of the students placed till now.
| | | |
| --- | --- | --- |
| | Average Salary in Rs. Lakhs [Finance + Consulting] | Average Salary in Rs. Lakhs [Finance + Consulting + TechFin] |
| 2017-18 | 10.4 | 9.9 |
| 2018-19 | 10.3 | 10.2 |
| 2019-20 | 10.3 | 10.1 |
| 2020-21* | 11.4 | 10.9 |
* to date
Companies Participating in the Recruitment Drive
Companies in Finance, Consulting and Technology hired 96 per cent of the batch, while others were hired by companies across industries including manufacturing, automotive and e-Commerce. Notably, four of the top five US banks—JP Morgan Chase, Bank of America, Citi and Wells Fargo—hired over 20 per cent of the batch that sat for placements. The average CTC increased to Rupees10 lakhs (per annum) despite a challenging year. The average CTC for the top 10% was Rupees 14.06 lakhs and for the top half of the class Rupees 11.9 lakhs.
13 of the large recruiters made over 5 offers each, which included Deloitte, Wells Fargo, JP Morgan Chase, IDFC First Bank, Société Générale, Accenture, Infosys, Wipro, Cognizant, ICICI bank, ICICI prudential, Samunnati and HCL. Other leading companies who hired from IFMR GSB this year included The World Bank, EY, KPMG, Credit Suisse, Bank of America, Barclays, IDFC First Bank, Kotak Mahindra Bank, ICICI Bank, FactSet, CRISIL, Blackstone, Northern Arc, Samunnati, Ford Smart Mobility, IHS Markit, TechMahindra, FinCare, Knowcraft Analytics, and Scaler.
In the previous placement drive, 10 of the companies have hired 5 or more students from IFMR GSB. These include JP Morgan Chase, Wells Fargo, Société Générale, Citi, Deloitte, IDFC First Bank, Accenture, Cognizant, Wipro and HCL Technologies. Other marquee recruiters include Barclays, Bank of America, Credit Suisse, HDFC Bank, EY, KPMG and Crisil.
Krea University has attracted many leaders from the world of finance and economics to its leadership team to provide strategic direction. This includes Mr N Vaghul (former Chairman of ICICI Bank Ltd), Dr Raghuram Rajan (the 23rd RBI Governor), Mr Seshasayee (former Chairman of IndusInd Bank), Mr Raghu Sundaram (Dean of NYU Stern School of Business) and Mr Rajiv C Lochan (MD, Sundaram Finance).
Industry Personas
"From our eight-week long summer internship to the final placements, we worked closely with our industry partners to match their needs with the career aspirations and goals of our students, said Prof. Nagarani, Head of Corporate Relations and Career Services at IFMR GSB, Krea University. "Despite these uncertain times, we are glad to see our students well prepared to join the workforce and embrace the challenges of the future with confidence. Krea's mission is to prepare humanity for an unpredictable future and this year's placement season was truly a testament to our credo."
Other industry stalwarts such as Mr Anand Mahindra (Chairman of Mahindra Group), Mr S Ramadorai (former vice-chairperson of Tata Consultancy Services), Ms Kiran Mazumdar-Shaw (Chairperson & MD of Biocon Limited), Mr Aditya Mittal (President, CFO and CEO of ArcelorMittal Europe), Mr PR Venkatarama Raja (Vice Chairman, MD & CEO of Ramco Systems), Mr Rajiv Memani (Chairman, CEO of EY India), Ms Anu Aga (Former Chairperson of Thermax Ltd), Mr Cyril Shroff (Managing Partner of Cyril Amarchand Mangaldas), Mr Sajjan Jindal (Chairman & MD of JSW Group of companies), and Mr Dheeraj G Hinduja (Chairman of Ashok Leyland) are part of Krea's Governing Council.
"Technologies such as analytics and artificial intelligence, cyber forensics, robotics and blockchain are redefining the financial services landscape and experiential learning is becoming a key component of learning in the new context", said Ramkumar Ramamoorthy, Pro-Vice-Chancellor for Professional Learning at Krea University and former Chairman and Managing Director, Cognizant India. "IFMR-GSB is increasingly becoming the go-to institution for students wanting to build a career in technology-driven financial services in areas spanning strategy, operations, marketing, core finance as well as FinTech and TechFin."
"Recently, McKinsey published a report titled 'India's turning point' and highlighted that next-generation financial services has a potential to add $335 billion to India's GDP between now and 2030. This presents a huge opportunity for IFMR-GSB and its students in the upcoming years to shape this industry, both in India and globally," added Ramkumar.
Dr Shobha Das, Dean at IFMR GSB - Krea University, weighed in on the placements season thus far, elaborating on why the need of the hour is to prepare students for uncertainties, especially now more than ever. "Businesses around the world are going through a transformation, as the pandemic, with its set of challenges, has also brought new opportunities. Faculty and students are beginning to learn and adapt to the new modes of learning, networking and community building. At IFMR GSB, we don't just prepare you for a job when you graduate but also for jobs of the future. In line with the ethos of Krea University, we prepare managers for an unpredictable world, enriched by our pioneering Interwoven Learning, diverse faculty cohort, and a futuristic curriculum. When our students join the workforce, they don't just survive. They thrive, irrespective of how dynamic the environment may be," she added.
Dr Amit Das, Chairperson – Admissions stated that "Over the years, IFMR has consistently raised the quality of its entering cohort by insisting on higher test score cutoffs and more stringent requirements for undergraduate academic performance. This focus on student quality has been rewarded by demanding recruiters such as the Indian arms of US and European banks, who account for an increasing proportion of our placements."
KREA University, Sri City Updates and Articles
The Institute for Financial Management and Research (IFMR) at ...
14 May 2019
Questions related to KREA University, Sri City
Showing 1 out of 1 Questions
85 Views
At Krea University, there are BA, B.Sc courses and within that there are other subjects. How did you came up with that structure at Krea ?
At Krea, we have made a decision to not appoint faculty into departments but faculty into divisions. We strongly believe that the study of knowledge requires a student to be exposed to humanities, literature, arts, sciences and social sciences and that's exactly what happens. All of these disciplines are offered to students as they start specialising in their second or third year for majors or combination of majors and minors.
So, a student can do Bachelor's of Arts or can do science. The way this curriculum is designed, it allows you to bring elements that actually for instance you can bring elements of humanities and literature even as you are a scientist. So, while you are doing a B.Sc in Physics, you might actually bring in ethics because that is one of the guiding principles. We have 8 or 9 guiding principles that we want to be throughout the curriculum. We want students, if they are doing science,politics or anything to come back and wrestle with issues such as ethics.
The six or seven elements, whether its data, sets of history, idea of research, sense of ethics, gets woven in no matter whether you are doing a B.Sc (Hons) or B.A (Hons) which gives a sense of bringing a curriculum together so that what student learns in the first year, it doesn't get forgotten in the first year because it is in the second and third year also but with  more specialised context because then they study the discipline in great detail.
Dr. Sunder Ramaswamy,
Vice Chancellor, Krea University