"IBSAT 2020 home proctored for safety of students," - Dr. Venkat, ICFAI Business School
IBS Business School, Hyderabad is among the top business schools in India having accreditation from South Asia Quality Improvement System(SAQs), National Assessment and Accreditation Council(NAAC) and AACSB. IBS Hyderabad offers multiple courses such as BA Economics Programme, BBA Programme, Executive MBA Program, MBA Programme, Post Graduate Programme in Analytics and PhD. For admission into MBA programmes, the institute accepts IBSAT/ CAT/ NMAT by GMAC scores. Once selected on the basis of the entrance exam, shortlisted candidates will be required to go through the IBSAT selection procedure that involves group discussion and personal interview rounds. Dr. Venkat, Admissions Officer of IBS Hyderabad, in an exclusive interview with Careers360, answers multiple queries of MBA aspirants on different aspects regarding IBSAT entrance test and admissions in the current pandemic situation.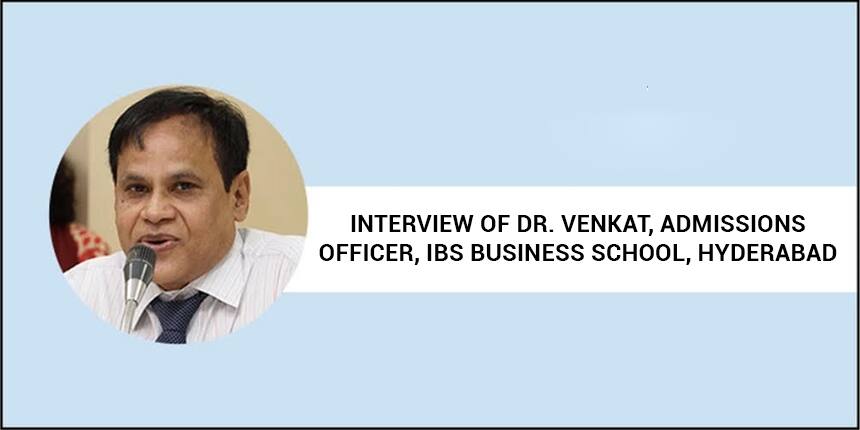 Careers360: This year, IBSAT is a home proctored exam. What prompted this decision considering that many national exams are still being conducted in exam centres? For example CAT was just held on November 29 across 400+ exam centres, NMAT has the option of appearing at a test centre.
Dr. Venkat: Under the current pandemic situation, keeping the safety of the candidates in mind, IBS has decided to conduct IBSAT 2020 as a home based online artificial intelligence based proctored exam. Candidates can take the exam from their residence.
Careers360: Considering that many students are facing net connectivity as well as power issues, what are the steps taken in such a case so that students don't suffer for no fault of theirs?
Dr. Venkat: During the exam if students are facing net connectivity as well as power issues, they can re-start the exam from the same point from where they have left by logging in again. An online help desk will be provided to support them.
Careers360: Candidates are shortlisted on the basis of IBSAT 2020/ GMAT /NMAT by GMAC/CAT scores, which test scores will be given preference if students have appeared for more than one of the specified tests?
Dr. Venkat: IBSAT 2020 is only a qualifying examination to the selection process. Candidates who have taken GMAT/NMAT/CAT are exempted from writing IBSAT test if they have scored the required cut off by IBS. There is no preference. All the qualified candidates have to appear for the selection process.
Careers360: Are the test scores (CAT/ GMAT/ IBSAT/ NMAT by GMAC) given any weightage? If yes, pls give details.
Dr. Venkat: There is no weightage. Candidates with scores from any of these tests are exempted from writing the IBSAT 2020 test.
Careers360: Students can avail mock tests which are free on your website. There is another national mock test which is scheduled between November 23 November to December 25, 2020. Kindly give some details about this and the benefits to students.
Dr. Venkat: Apart from the mock IBSAT tests available on our website www.ibsindia.org there is one National Mock IBSAT test contest also running till 25th December 2020. All candidates can attempt it and the top 50 ranks will get rewarded.
Careers360: The national mock test has prizes for the top scorers. Please give details.
Dr. Venkat: Prizes:
FIRST PRIZE: Rs.20000/- Gift card for first rank

SECOND PRIZE: Rs.10000/- Gift card for second rank

THIRD PRIZE: Rs.5000/- Gift card for third rank

OTHER PRIZE: Rs.2000/- Gift cards for (Ranks 4 to 50).
www.ibsat-mocktest.ibsindia.org/
Careers360: What is the last date for registration for the national mock test? Can students register till the last date?
Dr. Venkat: IBSAT National Mock test can be taken till 25th December 2020. This will help the candidates to prepare well for the actual IBSAT 2020 exam which is scheduled on 26th and 27th December 2020.
Careers360: The selection is based on past academic record and performance in group discussion and personal interview. Is there any weightage for applicants with work experience?
Dr. Venkat: No weightage is given for work experience. IBS assumes the candidates with work experience perform better when compared to the fresh candidates.
Careers360: Is preference given to students with technical backgrounds during selection?
Dr. Venkat: GDPI Scores of the selection process and the past academic records are the only parameters considered.
Careers360: Some exams have allowed more than one attempt. Is there anything on similar lines for IBSAT?
Dr. Venkat: No.
Hope, this exclusive interaction with Careers360 will help candidates who are appearing for the upcoming IBSAT 2020.
IBS Business School, Hyderabad Updates and Articles
Questions related to IBS Business School, Hyderabad
Showing 314 out of 314 Questions