How to prepare for SNAP Exam in 1 month - Tips to Crack the Test
How to prepare for SNAP in 1 month: Symbiosis International (Deemed) University will conduct the SNAP 2021 in the last week of December 2021 and in the first week of January 2022. Now with one month left for the exam, many candidates may be interested in how to prepare for SNAP in one month? One should start preparations for competitive exams 4 to 5 months before D-Day. However, do not panic, it is never too late to start your preparation for SNAP 2021. Also, it takes more hard work and determination to prepare for the SNAP exam 2021 in one month than it does to prepare for SNAP in 5 or 6 months.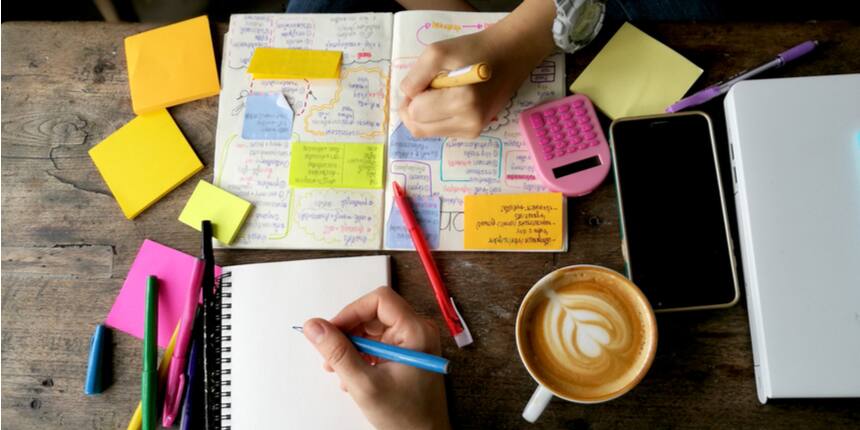 SNAP 2021 - Important Dates
The SNAP test will be conducted in three phases. Candidates who are going to appear for the SNAP test 2021 must know the SNAP 2021 exam date, time duration, and other important information which is related to the examination. Read this complete article on Careers360 to learn tips and strategies from experts on how to prepare for SNAP in one month.
Events

Dates

SNAP Exam Date

December 2021

January 2022

January 2022

SNAP Result Date

January 2022
Know-How to Prepare for SNAP in One Month
Candidates who have completed the application form for SNAP 2021 and plan to prepare for SNAP 2021 in one month should follow the strategy given below:
Grab SNAP books and research materials first

Go through the SNAP syllabus and list the difficult and easy topics

Start revising easy titles and gain full control over them

With the rest of the time, start choosing the hardest subjects

Since time is limited, candidates should start practicing SNAP mock tests side by side

Divide your study times between covering topics and practicing mock paper
Best Books for SNAP Preparation
Check out the table below for the most recommended SNAP preparation books. These books cover each topic in its entirety and provide sample questions with answers for candidates to practice.
Name of the Book

Author/ Publisher

Books for General English

Verbal Ability and Reading Comprehension for CAT

Arun Sharma and Meenakshi Upadhyay

Pearson Guide to Verbal Ability for the CAT and other MBA Entrance Exams

Sujit Kumar

Target SNAP (English)

Disha Publications

Word Power Made Easy

Norman Lewis

Books for Quantitative Ability, Data Interpretation & Data Sufficiency

How to prepare for Data Interpretation for CAT

Arun Sharma

How to Prepare for Quantitative Ability for CAT

TMH Publication

Quantitative Aptitude

R.S. Aggarwal

Books for Analytical & Logical Reasoning

Verbal and Non-Verbal Reasoning Book

R S Aggrawal

Logical Reasoning book

Arihant Publication

How to Prepare for Logical Reasoning for CAT

Arun Sharma
NOTE: Keep in mind that many SNAP preparation books are similar to the books you need for the CAT, so double check before purchasing the same book, you may already have it.
When preparing for the SNAP 2021 entrance exam apart from reading these books make sure to take the SNAP mock test regularly. This will help candidates learn about the real choice and increase their performance on the big day.
Some other books on SNAP preparation
Map the SNAP Symbiosis National Aptitude Test: 5 mock tests and sample papers by Arihant

Map the SNAP Test by Arihant

SNAP Guide by Ramesh publication house
Also Read:
How to tackle special questions of SNAP 2020
Last-minute tips and instructions
Tips to Crack SNAP 2021 in One Month
It is not easy to prepare for SNAP in 1 month. But, if candidates put in more hard work and determination to prepare for SNAP 2021, then they can easily achieve their goal. Here are some tips and strategies to prepare for SNAP 2021 in a month.
Check your strength
Initially, do a SNAP mock test without preparation to see where you stand. This will let you know your strengths and weaknesses. Start strengthening your strong areas. You need to achieve 100 percent accuracy in all the topics that are your strength.
Prepare a time table
Students should prepare a timetable by analyzing the exam pattern of SNAP 2021. With the help of a scheduling time table, candidates can easily cover all their portions within one month. Create a schedule and plan their attention to each section in SNAP accordingly.
Have an exam-centric approach
After covering your strong areas, move on to the weak areas. You may not be able to cover all the topics well as you have less time, so take a look at some previous years' SNAP question papers to know the topic-wise weightage and the types of questions asked from your weak areas. Focus more on those topics that have more weightage.
Revision everyday
Start revising the syllabus 10 days before the SNAP 2021 exam. Spend an hour revising all the mathematical formulas and theories. See Grammatical Ideas for VA and Tricks and Shortcuts for Solving DILR Questions.
Practice mock tests
Solve a SNAP mock test each day and analyze your performance in each of them. Candidates will come out better every day that passes. Mention the learning from each experience, and you will have plenty of ready-made materials to revise before exam day.
Improve reading speed
Solve sample questions in RC passages to increase reading speed, increase selected reading speed, and gain the ability to find answers from longer paragraphs.
Remember the SNAP marking scheme
Prepare for the exam with the new SNAP exam pattern and marking scheme in mind. SNAP has a negative reference of 25 percent, which means you should avoid every question you can't solve with 100 percent accuracy. So, how do you identify such a question? Avoid questions of hopeless or not well-prepared topics.
Learn time management
SNAP has no section time limit, so you will not run the timer. So, you need to allocate time to the SNAP exam 2021. Divide 60 minutes so that you have enough time to solve each section. Try to meet the sectional SNAP cut off first, then you can use each section.
Practice mindfulness
Develop the ability of mental calculation to avoid wasting precious minutes on hard work. You also need to develop the ability to solve questions through the elimination method. This method has been proven to be very effective in saving time.
Choose questions carefully
The overall difficulty level of the SNAP exam is moderate. The English and A-LR sections are generally easy, with QA, DI-DS moderate to difficult. This year, the difficulty level of the question paper is expected to be high. So, choose the questions wisely. Try only what you can solve with maximum accuracy.
Improve mental endurance
SNAP is an online test where your convenient computer system and mouse are valuable. All you need to create is a screen reading practice. In an hour, your mind will quickly act on three different types of skills (analytical, logical, and observational). Thus, you need mental endurance for the last 60 minutes of a strenuous brain workout. Also, there will be no break between the SNAP test.
Questions related to SNAP
Showing 707 out of 707 Questions