How do live projects in B-schools enhance job prospects?
As chances of landing a lucrative career blur due to demand-supply mismatch and slack employment outlook, B-schools are offering live projects to students to make them job ready. Careers360 brings you an article explaining why offering live projects is becoming a trend among most of the top B-schools of India. Read the complete article below.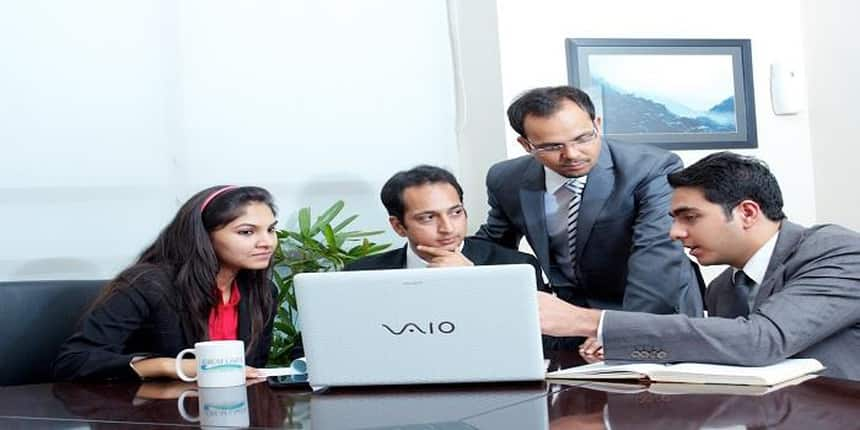 To make management education more realistic and relevant to the corporate world, major B-Schools in the country now offer live projects to its students which provide them real-time experience and make them professional ready and confident to work in any company as soon as they graduate. The MBA students who undertake live projects are much likely to get placement, internship offers or pre-placement offers even before they finish their programme.
Dr. Ashita Aggarwal, Head of Marketing Dept., S P Jain Institute of Management and Research (SPJIMR), Mumbai says, "Live projects are a good learning ground where students get an opportunity to apply what they have learned in classes to real-world scenarios and work within real constraints of resources, people factors and other organizational constraints. Classroom projects focus on singular concepts whereas live projects are an opportunity to integrate knowledge across various functions."
What is a Live Project?
In a live project, students work with a company in a real-time environment for a certain period of time during their studies at a management school. Live projects are basically to develop employment abilities in students and to provide industrial experience and insights. It's considered as the most pragmatic way for MBA graduates to apply their management knowledge in a real-time environment. And, it also allows them to understand how their jobs going to be like once they finish their programme.
Explaining live projects and their importance, Prof. Bala V Balachandran, Dean, Great Lakes Institute of Management, Chennai, says that the major takeaways of live projects are learning to be a team player, engaging with colleagues in a productive manner, rubbing shoulders with the bosses, understanding and aligning with the cultural values of the entity, among others.
All these qualities are required to work in a real-time environment and that's why they are encouraged during live projects. He also says that live projects are not just about getting jobs or for monetary benefits. Paid projects or unpaid projects, doesn't matter. It's the learning that is the game changer.
Institutions that offer live projects
Offering live projects is already becoming a trend among most of the B-Schools in the country as it improves quality of education and increases job prospects for the students. Some of the popular B-Schools that offer live projects are as follows:
Great Lakes Institute of Management, Chennai

S.P. Jain Institute of Management and Research (SPJIMR), Mumbai
However, many institutes do not offer or have live projects (explained below) as a part of their curriculum. 
Significance of live projects
Live projects play a significant role in providing real-time management education to the students. During live projects, students are encouraged to identify the domain they want to work in and select the relevant project. They also get to meet working professionals or organisations and discuss with them about the project. In some institutions, live projects are considered as assignments and students get points for it. This is important as it helps the students during their placements.
Radhika Shrivastava, Executive Director, Fortune Institute of International Business (FIIB), New Delhi, describes the need for MBA students to be a part of live projects. She says, "The earlier methods of passively learning facts and applying them out of context are no longer adequate for preparing the students to survive in today's corporate world. That's why the experiential learning opportunities in an MBA program become significant. While internships are done by all students, live projects are taken up by a few "brave" students who are able to balance the rigours of course work, extra-curriculars, personal lives, as well as keen to undertake value-adding initiatives that make their experiences richer and current."
Many renowned companies approach top B-Schools every year to offer live projects to the students. Some of them are Snapdeal, Airtel, HUL, Mahindra, Hindustan Unilever and Ziffy.
Dr. V S Pai, Director, Kirloskar Institute of Advanced Management Studies (KIAMS), Harihar, says that live projects are like a double-edged sword. It transfers the risk and responsibility completely onto the student which in a way brings on the real pressure the way it is felt in real life. And, that makes them completely job ready.
Live projects are about bringing professional management experience to young students which help them in the beginning of their career as well as in the long-run. It provides a right mix of practical exposure to the students and allows them to explore the professional work culture in the corporate world much before they actually get into it.
Job prospects
Chances of getting a job after doing a live project are quite high because students get well-versed with the industry practices and understand the corporate culture during projects and that's what the companies want from students. "Companies find students who have worked on live projects easy to deal with. They are like fish taking to water when recruited and placed in different positions in a company," says Dr. Pai.
Some of the companies even organise competitions where students from top B-Schools participate and the winners get prize money and pre-placement offers (PPOs) and Pre-placement Internships (PPIs) and internships.
"A live project helps a student expand his/her network of professional connects, which will at some point come handy. An immediate desirable outcome for the student can be if some of these positive connect translate into a linked-in recommendation from the corporate mentor. And, of course, the ultimate outcome is a job offer from the company which has seen the student in action," says Radhika Shrivastava.
Explaining the role of live projects in getting a job, Dr. Aggarwal says that they provide students with exposure to real problems and ambiguity of business world. Problem definition, comfort with ambiguity and ability to work with multiple options is a skill they acquire while working on live projects which eventually help them in cracking placement interviews. Akash Patra, a student of FIIB, New Delhi, says that live projects help you gain maturity, experience and the ability to connect different management concepts on the field. It allows you to feel much more confident in terms of communication skills, working in a team and working under pressure.
How are live projects assigned to students?
There is no specific pattern across management schools on how these live projects are assigned to the students. Generally, it depends on the type of the project. Some live projects are research-based and they are usually open to all the students whoever is interested in.
Some projects require a specific set of skills. In this case, companies or the institutes select students on the basis of their present academic record and assign live projects to the ones who fit in. Every institute/college/university may have a different pattern for assigning live projects to its students. Some renowned management schools include live projects as an integral part of their curriculum. They also assign credits to these projects and the students with high credits are likely to get an edge over other students at the time of placement.
Here are some popular management schools that assign live projects to its students.
The process of live projects at the country's one of the finest management schools is quite challenging. Participants need to deliver a powerful business model for Indian and global markets using available resources. Different topics are given to the participants. They can choose the topic of their choice. At the end, they need to submit a proposal and it will be considered as the basis of live project.
SPJIMR, Mumbai
Some projects are integrated as a part of course curriculum with weightage included in the evaluation. For such projects, faculty members get in touch with the industry and jointly with company mentors work on project problem and deliverables. Involvement of both academia and corporate is high in these type of projects. Also, the quality of such projects is more than mere market research.
Sometimes companies have some live projects primarily in the domain of primary and secondary research. In such cases, the same is floated to student communities and interested students apply for the same. They then work with industry mentors and faculty supports whenever required.
Great Lakes Institute of Management, Chennai
Opportunities for live projects come through multiple channels like alumni, career services teams and corporate L&D teams, professors and other stakeholders. All these projects are in specific areas and have specific goals and outcomes. "We call for an Expression of Interest from the student community following which we are able to match the needs of the projects with the specific competencies of the students, team sizes, among others, and assign them. If the students have themselves sourced a project then it is rightfully theirs. This is the basic framework," says Professor Bala V. Balachandran.
FIIB, New Delhi
After understanding the aspiration and interest of the students, the team of recruitment managers at FIIB approaches organizations to fetch projects of relevance for FIIB students. The students are then put through the selection process of companies and are offered offline/online projects on the basis of their performance. The method and duration of a live project differ with each company.
These projects can either be undertaken as work-from-home engagement or on-site but part-time. Typically, these projects are two to four weeks long; however, for some, it could be a longer duration, especially, if the company is happy with the students' work. Live projects are offered all throughout the year, and there is no limit for how many projects a student can take up during their two-year program. However, successful completion of a project (measured by the quality of feedback received from the company on the students' performance) is a prerequisite for additional projects.
Relation Between B-Schools and Companies
Live projects are of great importance as they help in establishing mutually beneficial relationships between the industries which are seeking young and innovative people with a fresh perspective on management and students who get to hone their classroom learnings and insights by blending them with real-life business challenges. These projects help in creating a special professional relationship between a B-School and a company where both work to fulfil each other's professional requirements.