How to deal with PI panel if you are a fresher?
Personal Interview (PI) is one of the most important deciding factors in the final selection process at B-schools. Most of the times, it carries the maximum weightage in the final merit list. While other factors such as Writing Ability Test (WAT) and Group Discussion or Group Exercise also play a crucial part in the selection but PI has always remained the key factor. Many of the management aspirants, especially fresher, who score really well in the entrance exam fail to perform well in the PI round. Aspirants must know how to crack PI round. In this article of Careers360, we bring how to prepare for PI, based on PI tips from experts and toppers.
Stay up-to date with CAT News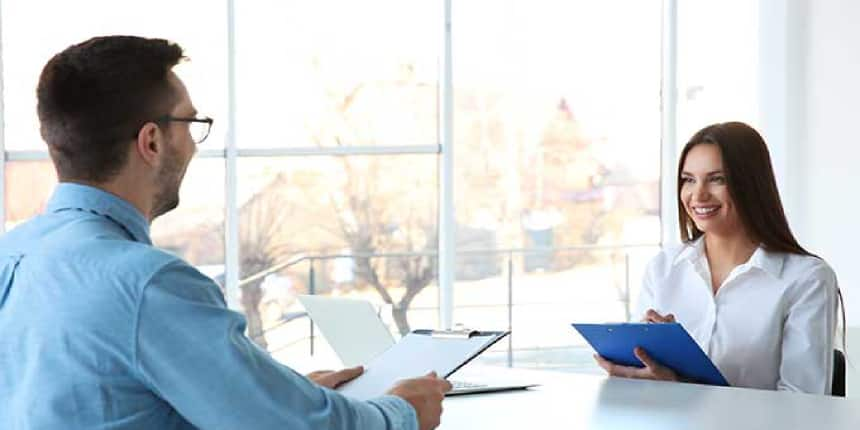 As personality traits that cannot be uncovered through Entrance tests, GD or WAT, PI panellists try to understand the kind of person the candidate is, what are his/her interests, motivation, aspirations etc," tells Vinayak Kudva, Chief Mentor, IMS Learning.
PI is the make or break round in the final selection. Besides checking formal dressing and punctuality, the interviewers check the candidate's overall performance during the interview. Freshers are generally grilled to check their confidence level and other personality traits. Listing the things that are required for a fresher to ace PI round.

1. Be Confident
This is probably the first quality that a fresher needs to nail the PI round. During Personal Interview, you should reflect confidence while answering different questions. Especially when you are a fresher, interviewers often tend to cross-question you even on your right answers just to check your confidence on your own answers.

Ashish Shrivastava, an IIM Lucknow student tells, "I was very nervous in front of my panel, as IIM Lucknow was my first interview. I was asked questions on my Engineering stream, business model of Jio, my home town, last movie I had seen etc. I flubbed a lot of questions but I kept a smiling face throughout the interview and did not become tense or rude, and that helped me a lot."

So, how do you reflect confidence during PI? Arko Biswas of IIM Raipur says, "For a qualitative question, it is a test of your presence of mind, approach the answer logically and make your thought process visible to the panellists. The way you work things out in a situation which you don't know about or have limited knowledge of, is the best and most efficient way to make your mark."


2. Be Polite
This is one quality that always works during PI. Your politeness during the interview also brings a positive impression on your interviewers. You might be correct with your answers but if you are not polite, it may not give you the credit you deserve. Listen to the interviewers carefully and put forward your response with a better argument in a polite way. As per the experts, sometimes, interviewers may also get wrong with some information, but you are not supposed to directly point it out. Instead, you should try to convince them politely about the correct information.
3. Have answers to most general questions
Knowing to the point answers to general questions comes very handy during PI. You should be well prepared with the basic questions revolving around your career, life and ambitions, such as 'why you want to pursue MBA', 'tell something about yourself', 'how does your academic background relate to your goal', 'how relevant your experience', 'why do you want to join a particular institute'.
Arko Biswas, IIM Raipur, says, "The flow of my interview was based on the answer to the first question, which was to speak about myself. I was then asked the standard question – Why MBA after engineering? I spoke about my domain of interest in MBA and career goals."
Ashu Airan of IIM Lucknow says, "For me, the most difficult question to answer was 'Why MBA?' It seems easy to answer but it is not. They were grilling me on everything that I was answering. I answered in terms of learning, exposure, alumni interaction and faculty experience."

According to Gautam Puri, Vice President, Career Launcher, "The interviewers may also grill you on core-academic knowledge and may go deep into questions related to your work experience."
4. It's good to say "I don't know"
Instead of giving a wrong answer, it's a good idea to tell the interviewers clearly that you don't know the answer. You might be asked questions from nowhere but there is no harm in saying that I don't know.
Ashu Airan of IIM Lucknow says, "I was asked questions which I had absolutely no idea. So, I clearly mentioned it to them. But not knowing the answer didn't make me feel unconfident about myself. Clearly, we had to move on."
5. Keep a positive body language and approach
Your body language, sitting posture and approach during the interview should reflect a positive attitude not just towards the answer but towards life as well. Experts believe that a correct response must be supported by your positive expressions and constructive approach. You should look attentive to every question.

CAT topper Akshay Jayaprakasan says, "Body language, communication skills, and good sense of humor can take you places in an interview. It is also important to have a positive attitude. The interviewer in most cases is looking for how you approach a question rather than whether you know the correct answer or not."
6. Honesty is the best policy
Being honest in your responses is a very good idea during PI because you are also tested for integrity of your basic characteristics like honesty. Your answers should have an honest approach. Also, you should be honest about your opinion and put it forward even if it contradicts the interviewers.

Experts suggest that you should be fully prepared with arguments to justify whatever you think is right. Gautam Puri, Vice President, Career Launcher, says, "One needs to be honest with oneself and one needs to think objectively to the basic questions. There is no right or wrong answer in an interview; it depends on how the candidate offers his responses. The interviewers expect honest answers without any bluffing."

7. Stay calm
Sleep well a day before the interview so that you look fresh during the interview. Also, make sure that you stay calm and composed during the round as it will allow you to think before responding to a question. In case, you are countered on a particular question repeatedly, calmly stick to your answer if you are confident on the same.
Julie Bania says, "To appear for PI one must try to speak confidently with proper communication skills. Even if the answers to every question is not known one must never get nervous. You must be calm and lose the grip of the interview."

If you are fresher, it would be a good idea to keep the written things in mind and prepare accordingly for your interview round. All the best.
Questions related to CAT
Showing 9994 out of 9994 Questions