How to crack PI-WAT: It is very important to prepare for general questions, says Priya Ramakrishnan of NMIMS, Mumbai
How to crack PI-WAT: While appearing for a PI-WAT round during the admission procedure it is very important to be prepared early especially with general questions. Providing light in this aspect is NMIMS Mumbai student Priya Ramakrishnan who is currently pursuing her MBA after her work experience at Oracle.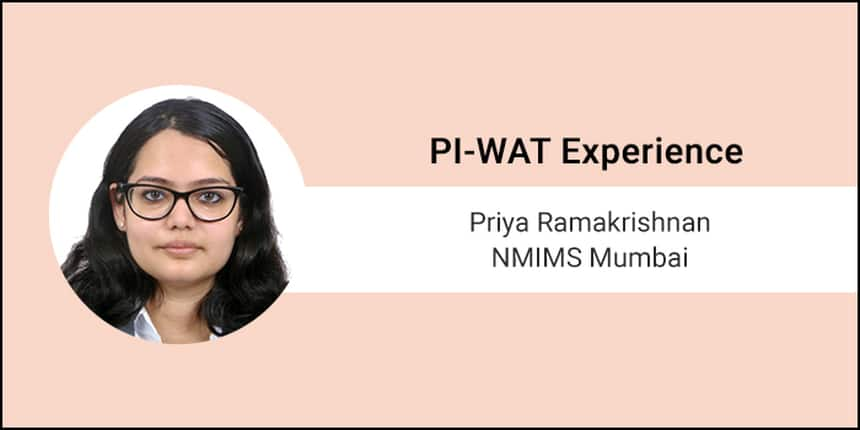 An ardent blogger and a poet, Priya mentions how the interview panel took up her hobbies and asked her questions related to them in the interview. Read more to find out the preparation strategy and perception Priya Ramakrishnan who attempted CAT 2016.
Careers360-What is the selection procedure at NMIMS Mumbai?
Priya- The process for NMIMS, Mumbai consists of an aptitude test (NMAT by GMAC). Following which a list of shortlisted candidates is released, based on a decided cut-off score which the students need to have surpassed, in order to make it to the list. These students are then called to Mumbai for the next rounds, which are a Case Discussion round and a Personal Interview. The students are evaluated in these rounds and based on a total cumulative score, a final list of selects for the academic year is released.
Careers360-What was your overall experience of attending the selection procedure t NMIMS Mumbai. Share in detail.
Priya- While the NMAT test was conducted in the online mode, it primarily tested our quick thinking, and speed, apart from our aptitude and language. The test is conducted in multiple windows, from September to December, and each of us could take the test a maximum of three times and the best of the three attempts would be taken up in consideration for the CD/PI call. Once called for the CD/PI rounds, we had to submit a Statement of Purpose on why we wished to join NMIMS. With regards to CD/ PI, further preparation was needed since it was a completely different ball game altogether. Both the CD and PI are conducted on the same day. My CD topic was a case that was provided on televised media and its effects on the common public. My PI mostly revolved around my work-experience and also several questions on ethics and literature were asked. The panel consisted of three members – a faculty member, an industry expert and an alumnus. A few weeks later, the results were announced.
Careers360- Which other B-Schools' selection procedure did you appear for? Compare your experience at NMIMS Mumbai and other colleges.
Priya- I had appeared for two other interviews – one was that of SP Jain (Profile based) and the other procedure was the one conducted by IIFT. SP Jain has an entirely different procedure from NMIMS. Based on my profile and a questionnaire, I was shortlisted for an interview in Mumbai. This process consists of a Written Essay and Psychometric Test, followed by two group interviews, of which one is an elimination round. IIFT, on the other hand, called candidates for an interview based on an offline written test, and have to appear for a written essay which is usually based on a current trending issue, followed by a group discussion and a personal interview.
Careers360-What was your WAT topic and how did you structure it? Did you find it easy or you had a difficult time writing it?
Priya- While there was no WAT rounds, the candidates needed to write an 'SOP' (Statement of Purpose) and send it across to the University. Since I had sufficient clarity on why I wished to join NMIMS, I did not have much difficulty in writing it.
Careers360- How did you prepare for WAT? When did you start your preparations for PI-WAT rounds?
Priya- I had about a week to write our SOP's and send it across, so could not specifically prepare for my PI as such. Since it mainly tests your knowledge across a period of time, I diligently read the newspapers for over a year before the interviews. However, I did take a week to prepare for some general questions, such as "Introduce yourself", "Why MBA?" etc.
Careers360- Do you think that a separate preparation strategy is required for WAT? How should one tackle questions that they have no knowledge about?
Priya- I believe that it is important to read a lot and develop opinions, while at the same time improving your language also plays a key role. One month of preparations might seem helpful, but it would be impossible to have an opinion on every topic or have perfect writing ability by the end of one month. When it comes to questioning, you do not have an answer to, I feel you can still find a way to handle it. There would surely be one impact or implication that led to the topic that one is aware of, and expounding on that would be a possible option to tackle an unknown WAT topic.
Careers360- What must be the approach, Dos and Don'ts for WAT?
Priya- According to me there are certain points one needs to keep in mind.
Do's:
Read the topic carefully before attempting to answer it. There might be a specific intention to the essay, not simply requiring you to write everything you know about a topic.
Frame a structure in mind, on the flow of the essay and how to introduce and conclude the essay. Keep a few examples handy (if required) and place them only in relevant paragraphs.
Don't:
Start writing immediately. This may lead to not having a proper structure to the essay. You need to plan out the skeleton of the essay before writing it.
Make spelling or grammatical mistakes. Once the essay is done, do read through it once to check if any such mistakes exist, and correct them immediately.
Careers360- Do you think there are some time management skills required for a student to write a complete structured WAT?
Priya- Yes, time management and planning is tested, apart from knowledge and opinion-framing.
Careers360- How was your personal interview experience? How big was the panel and what were your feelings while facing them?
Priya- My interview experience at NMIMS was wonderful. Since there were ample opportunities to guide the direction my interview went in (which could be dangerous if not used well), I was able to make full use of the time to impress the panel. Being a bibliophile, I personally felt comfortable during my interview since we were discussing a book I had read recently. The panel consisted of three members – one faculty member, one industry expert and one alumnus/alumna.
Careers360- Among all the interviews you have appeared in, which one was the best and why? Share your best PI experience with us.
Priya- Among all the interviews I had attended, NMIMS was undoubtedly my best interview. My interview began with why I was leaving my job at Oracle to do an MBA, and how I was going to cover for the opportunity cost that I was going to incur, by taking this step. I answered, by giving an answer I had prepared for this earlier on (one must always be ready to answer general questions). Next, they asked me about my blog and my poetry-writing hobby. Hence I offered to write a poem based on a topic they could give me. They asked me to write on my mother, which I did. The interview then moved on to a topic I had hoped they would move into, the most: reading. They asked me what I was reading and I mentioned a book by Gurcharan Das based on the Mahabharatha on modern ethics. We then had a discussion about the ethics of Karna and how important it is for business organizations. The interviewer, at the end of the interview, even offered me a suggestion on what book to read next, before I left. All in all, it was a wonderful experience and I felt very comfortable and confident taking up the interview.
Careers360- What were the questions which you found most difficult to answer? What were your answers to those questions?
Priya- One question I found difficult to answer was on why I would leave my perfectly good job at Oracle and come for an MBA course, and how I was going to cover for my opportunity costs. I had a feeling, earlier on that this might come up in one interview or the other. Hence I had done some thinking earlier on, on how I could tackle the question. Since I was well prepared, I did not have any difficulty giving an answer to the questions. My answer was that I was not satisfied with working on just one small aspect of the job, and wished to have a bird's eye view rather than a specific one. I also mentioned that if I did not do an MBA, I would definitely look back in regret.
Careers360- What were the most interesting questions you were asked? Please share your answers as well.
Priya- One of the most interesting questions I was asked was to write a sentence in all the languages I knew (since I had mentioned that I knew 7 languages). It was interesting because it was an unusual question and the interviewer wanted to specifically test my spelling in the languages we commonly knew.
Careers360- How did you prepare yourself for PI? What according to you are the factors or qualities, the PI panel looks for in a candidate?
Priya- Most of the preparation I did was by myself. I would recommend reading up editorials, to frame opinions, and to be well-prepared for hygiene questions. Also, work-experience or undergrad based questions are common questions asked at interviews so preparing yourself for the same is also necessary.As far as the qualities are concerned, I think they look out for resourcefulness, quick thinking and how we handle any surprises thrown at us. The candidate needs to make an impression (a good impression) that the panel would not forget so easily.
Careers360-Was there a situation where you did not know the answer to any question asked of you?
Priya- I was fully prepared for the NMIMS interview. But on the occasions I wasn't I merely used "thinking on my feet" to answer. However, if I did not know the answer, I just said I did not know.
Careers360- What was your GD topic?/GA theme?
Priya- My case discussion was on the effects of television and media on the minds of the society.
Careers360- How many candidates were there in your group?
Priya- There were 9-10 candidates in my round of Case Discussion.
Careers360- What was your approach towards the topic?
Priya- I decided not to speak too many times to come across as dominating. I had opening points ready, spoke early with an opinion I had in mind. My views, when I started out were positive and praising TV media, but as the discussion progressed, I became more neutral.
Careers360- How much did you contribute towards the discussion? Did it reach a conclusion?
Priya- Firstly, I framed an opinion, and had opening points ready. I spoke early, I was the third speaker in my CD. I spoke three or four times in all, sometimes to add on to another's point, or to object. I also stepped in when the group seemed to be digressing from the main topic. Unfortunately, we could not reach an opinion of consensus by the end of the discussion.
Careers360- What was the overall experience of this part?
Priya- One thing I observed was that a few people wanted to dominate the entire discussion. There is a clear line between contributing and dominating, and one should never cross that. I remember, how at least four people tried to conclude on the topic, one after the other, while we could have spent that time on more discussion. One does not need to desperately try and conclude if they speak early, have valid points and show that they were listening to others, in the first place.
Questions related to CAT
Showing 8582 out of 8582 Questions