How to crack PI-WAT: Major part of the interview consisted on flora and fauna, says Julie Bania of IIFM Bhopal
How to crack PI-WAT – Julie Bania, a student of Indian Institute of Forest Management (IIFM) Bhopal shares her experience of attending the PI-WAT rounds of the B-School offering specialised MBA programme on Forest Management. She mentions a few tips to prepare for the WAT topic and the questions one should look into before attending the interview session. She also mentions that one must focus on preparing general questions as well rather than just focusing on the technical and course related questions. Read the interview to know how to crack PI-WAT selection rounds at top B-schools?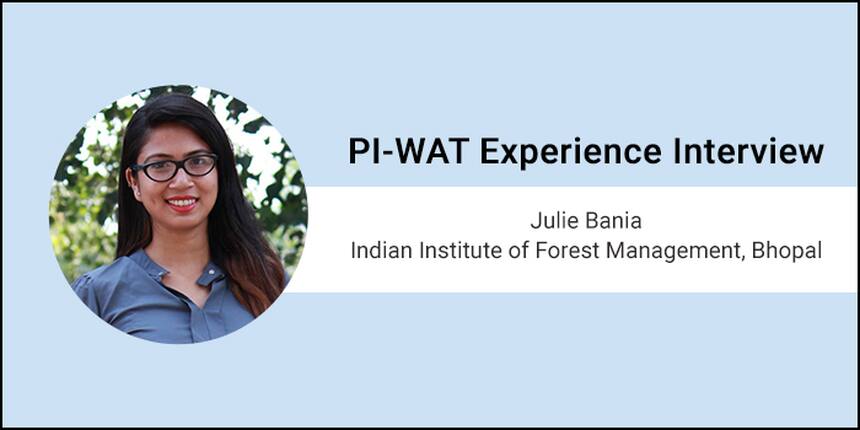 Being a specialised institute, major part of the questions were on flora, fauna and nature and why she chose to join IIFM Bhopal. In this series of how to crack PI-WAT, Julie, a Chemical Engineer shares her preparation strategy for the WAT topics the questions she was asked during her PI round and also her attitude and answers towards those questions during her PI session at IIFM Bhopal.
How to crack PI-WAT
Excerpts from the interview:
Careers360: What is the selection procedure at IIFM?
Julie: In order to get admission in IIFM, one has to clear the CAT exam. Every year based on the cutoffs, the students are called for the further process of interviews which includes WAT and PI.
Careers360: What was your overall experience of attending the PI-WAT rounds at IIFM?
Julie: The overall experience was good and easy. My WAT went pretty well since I got a simple topic after which the personal interviews were held. Both the rounds were compulsory. The questions were very general for example: "Why you wish to join IIFM" (since I had a B.E degree in Chemical), questions about my native region (like names of commonly found trees, names of hills and sanctuaries etc.) and other HR questions. Also there were questions from my WAT writing.
Careers360: What was your WAT topic? How easy or difficult was it for you to write on?
Julie: My WAT topic was "Have coaching institutes in India just become a source of business?" The topic was easy as I was aware about it. We as students have all faced it more or less at least once in the form of coaching or tuition and so it was quite relatable and did not face any hardship in writing.
Careers360: When did you start preparing for WAT? What were your preparation strategies?
Julie: For WAT the basic important things to keep in mind are grammar, spellings, flow of writing and above all you must be specific on what you actually wish to write. So just before starting one can close his eyes and think for minute or so and frame it in mind. Also to easily clear WAT one needs to keep themselves updated with general awareness and current scenarios (Reading newspapers is one of the best solution).
Careers360: How should one tackle a WAT topic, if s/he does not have any knowledge about it?
Julie: In order to tackle WAT it very important to keep oneself aware of all the current affairs. Usually the topics are not that hard and are always based on present burning issues in and around the world. However, if one does not have any knowledge, he or she can look for the keywords and try to write on it with the basic knowledge about it, keeping in mind the grammar, spelling and flow. One must make sure that the written piece makes some kind of sense.
Careers360: What are the Dos and Don'ts one needs to follow for WAT?
Julie: For WAT there are certain things you need to follow
Dos
Specific to the topic

Proper grammar, spelling and parallelism.

Some facts and examples to support the topic

Simple language
Dont's
Use of too many technical jargon
Careers360: How should one manage time while attempting WAT?
Julie: Writing practice and ability to frame the sequence before writing shall help in time management.
Careers360: How was your personal interview experience? How big was the panel and what were your feelings while facing them?
Julie: My experience was very exciting. The panel consisted of two professors from IIFM one of which was an IAS officer. Initially I was nervous but once the interview started it went well and the interview ended up in a good conversation manner.
Careers360:How did you face the difficult questions put up to you?
Julie: While preparing for interviews we generally concentrate on preparing too many questions  on technical aspects and course related questions, but we forget to prepare some basic questions from school subjects or native place and general knowledge. Some questions thrown at me included 'Name some common trees found in your state, some animals or names of national parks, sanctuaries and hills or rivers in your state etc.' Although these questions were not difficult, my mind went blank and I answered few names I knew.
Careers360: How did you handle the questions for which you had no answer? Was the panel rude or easy on you?
Julie: I am always honest when I had no answer to a question. I usually answered unknown questions with "I am not aware of it" or simply "Sorry, I don't know the answer". I never tried to make stories or give vague answers which worked in my way.
Careers360: What were the most interesting questions you were asked? Please share your answers as well.
Julie: the most interesting question put to me was "Being a chemical engineer why you wish to join IIFM?" I answered it in the best way I could: Chemical engineering jobs are very few and the field is very narrow. As a fresher in India it is difficult to get jobs in the private sector. And to get jobs in PSUs one must clear GATE with a rank within top 300. I appeared for GATE twice but did not achieve the required ranking. Since I did not want to pursue M. Tech, I opted for CAT. My score was average. While searching for colleges within that score I came across IIFM. IIFM got eighth ranking in NIRF rankings that year, is a government institute, the fees was very less compared to other B-schools. There is 100 percent placement and a good ROI and the reviews were also quite appealing. Moreover the courses offered were a little different from regular general management courses. So I decided to join IIFM.
Careers360: How did you prepare yourself for PI? What were the PI questions that you searched for during your PI preparations?
Julie: To appear for PI one must try to speak confidently with proper communication skills. Even if the answers to every question is not known one must never get nervous. You must be calm and lose the grip of the interview.
I prepared some basic HR questions like 'tell me something about yourself', 'strengths and weakness', 'hobbies', 'skills', etc. I also looked into some course related technical questions, general awareness and current affairs.
Careers360: What factors or qualities, you think the PI panel looks for in a candidate?
Julie: Some qualities that the PI Panel look in the prospective candidates according to me would be are confidence, honesty, positive attitude, good communication skills and lastly a pleasant face.
Also Read
Questions related to CAT
Showing 9612 out of 9612 Questions