How to crack PI-WAT: B-schools test your confidence and your understanding of your surroundings, says Kushagra Shrivastava of IIM Lucknow
How to crack PI-WAT: Kushagra Shrivastava from Bhopal is one of the CAT 2016 Toppers and now an understudy of IIM Lucknow pursuing his management programme. Having scored a commendable 99.44 percentile in CAT 2016 and 98.965 in XAT 2017, Kushagra's success in PI-WAT is a result of both - his own hard work and coaching by TIME institute's faculty.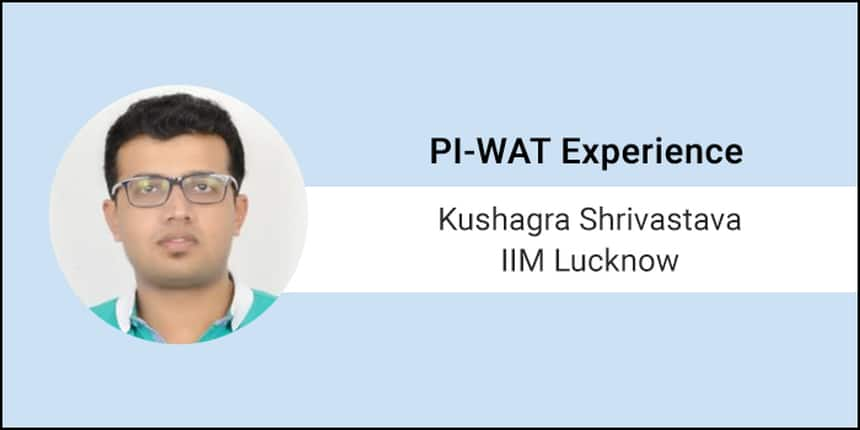 In this interview, Kushagra tells Careers360 that the PIs were mainly about current affairs, a couple of them related to his academics, and interestingly he was also quizzed on his hometown, college life, basic questions on engineering subjects and work experience. 'When I was able to answer those questions, I had a sense of accomplishment which is memorable', he says. Let's get a clear picture of Kushagra's time management strategies, dedicated practice of mock PI s and other tactics to ace PI-WAT for aspiring candidates.
Careers360: Can you tell us about the process of selection at IIM Lucknow?
Kushagra: The selection process consists of 3 rounds: Shortlisting after the CAT exam results based on the composite score, Written Ability test and Personal interview.
Careers360: What was your overall experience of attending the selection procedure at your B-School?
Kushagra: It was a wonderful and smooth process for me. I had a very good interaction during my personal interview with the panel members. The arrangements at the Written Ability test (WAT) & Personal interview (PI) venue was very efficient. The process started with document verification on the day of the WAT/PI. We had to fill a form at the time of WAT/PI shortlist declaration. That and the original certificates were verified. The students were split according to panels and sent to respective interview rooms. The second step on the day was WAT for which 15 minutes were given. This was followed by one interview round.
Careers360: Did you appear for interviews and WAT in some other B-schools as well?
Kushagra: I had been to the selection procedures of IIM Lucknow, IIM Indore, IIM Kozhikode, All the new IIMs, FMS Delhi, XLRI, MDI, NITIE and SPJIMR.
Careers360: What was your WAT topic and how did you structure it? Did you find it easy or you had a difficult time writing it?
Kushagra: My topic of WAT was "Centralization of Indian Public Sector Oil companies will be a boon". I started off by recollecting some facts regarding the oil companies of India and how they operate. I elaborated on the topic in the introductory paragraph. Then I took a neutral stand on this topic and discussed the various pros and cons of this step on the Indian economy and the performance of the company. I also considered the humane aspects associated with this step and discussed the repercussions of this action.
Having worked in the Analytics field during my job, I did not have much idea about the topic. But the current affairs preparation and practice of WAT made it easy for me to write good and valid arguments on this topic.
Careers360: How and when did you start preparing for WAT?
Kushagra: I prepared for WAT by reading newspapers. This helped me to know about the current happenings around the world. Once CAT results were declared, I started practising on the WAT topics which have appeared in the selection process of top B-schools in the past years. I had joined TIME for my WAT/PI preparation. I used to meet the faculty and got some of my essays on WAT topics reviewed by them.
Careers360: Do you think that a separate preparation strategy is required for WAT?
Kushagra: I don't think a separate preparation strategy is required for WAT. All you need is to keep reading newspaper or online news during the phase of CAT preparation. This will help you to remember some recent incidents which might be useful for your WAT essay. After the CAT & XAT results are out, you can write few essays and get them reviewed by someone.
Careers360: Please share the WAT topics which you were asked during the admission rounds last year?
Kushagra: I'd been to a couple of B-schools for selection procedure. My topics were:
i) Elephant is the best animal
ii) Centralization of Indian Public Sector Oil companies will be a boon
iii) Sometimes you win, sometimes you learn
iv) Nuclear technology will destroy the world
v) Honesty is the best policy.
Careers360: When one has very little idea about a question being asked, what should be the strategy?
Kushagra: One can think of looking at the various aspects of the topic and the implications on outside world. There were some topics in my B-school selection processes when I had very little idea. I wrote my essay on the points which are related to my WAT topic and tried to connect those points with the main topic.
Careers360: What must be the approach, Dos and Don'ts for WAT?
Kushagra: Dos:
1) Read the topic very carefully and understand the topic well
2) Write in distinctive paragraphs all linking back to the WAT topic
Don'ts:
1) Write extreme opinions (feelings of love, hatred etc.) about anybody or person
2) Write in illegible handwriting
Careers360: How must a candidate strategize and plan his/her time to write a complete structured WAT?
Kushagra: A person needs to decide after reading the WAT topic about the framework of the essay. He/she should be able to identify the topics which are to be covered in the essays. These topics, then, need to be clubbed in different paragraphs.
Careers360: How was your personal interview experience? How big was the panel and what were your feelings while facing them?
Kushagra: My interview experience was a mix of highs and lows. I started off by answering not so convincing answers for the first 2-3 questions. After these questions passed, I answered the rest of the questions correctly and I was very confident while answering them. The panel comprised of 2 members. Both are senior professors. I was very well received by them. I was slightly nervous but I controlled my fear. Once I started answering the questions of professors, I grew more confident.
Careers360: Among all the interviews you have appeared in, which one was the best and why? Share your best PI experience with us.
Kushagra: My interview experience of IIM Lucknow was the best. The interviewers made me think about tricky situations. I had to think about some aspects of my surroundings which I had never thought of before. My interview involved questions from different parts of my life.
There were questions from my hometown, college life, basic questions on engineering subjects and work experience. When I was able to answer those questions, I had a sense of accomplishment which is memorable.
Careers360: What were the questions which you found most difficult to answer? What were your answers to those questions?
Kushagra: I found the questions related to my engineering subjects a little difficult as I was out of touch for the last 3 years. I answered all of them very briefly and substantiated my answer with a relevant example, if necessary. For this, I did some preparation for the subjects which were my favourite during engineering.
Careers360: How did you handle the questions for which you had no answer? Was the panel rude or easy on you?
Kushagra: It is the best conduct to politely say "I don't know" or "I am not aware" to any question for which you don't have an answer. I followed this rule and none of the panels was rude to me. They were quite understanding.
Careers360: Tell us about the most interesting questions you were asked during selections? Please share your answers as well.
Kushagra: I was asked some interesting questions.
i) Why do you wear a watch when you can see time in phone?
I replied "It depends on person to person. I feel watch is very handy and I can quickly glance at time from it. I don't like to put my hand in the pocket to get my phone and see the time every single time. Whereas others feel that wearing watch is cumbersome and don't feel comfortable."
ii) Difference between a radial tyre and a nylon tyre. I told that both of them have similar chemical composition. The radial tyres do not skid on the roads and have a better grip on the ground.
iii) Sell yourself to us so that we provide you admission. I replied "There are 3 things which are required in an ideal B school student: Knowledge of surroundings, good communication skills and good achievements to substantiate capability of a person. I have all these 3 qualities. You won't regret selecting me for your B-school."
iv) Was Hitler a good orator? "Yes. Hitler was able to inspire and motivate people towards achieving his goals" was my reply.
Careers360: Did you find IIMs' interviews to be different from other non-IIM yet top B-School interviews?
Kushagra: I personally did not find the interview of an IIM to be very different from other B- school interviews. All of them test your confidence and your understanding of your surroundings. Most of them involve questions related to some important events of our life which a person must know. There are a few exceptions though. Like, SPJIMR focuses a lot on a person's understanding of the chosen specialization.
Careers360: How did you prepare yourself for PI? What were the PI questions that you searched for your preparations?
Kushagra: I went through the past interview experiences of people on 'Pagalguy' site and I looked for profiles which are similar to mine. I noted down the questions which were asked to them. This gave me an outline of what can be asked in a B-school interview. Then, I did my preparation of the topics which were frequently asked to profiles similar to mine. I had joined coaching classes for CAT. I gave a few mock interviews with the faculty members which helped me refine my presentation skills.
Careers360: What characteristics or features do you think that the interviewers or panel look for in a candidate?
Kushagra: Confidence and honesty are the most important traits which an interviewer looks for in a candidate. That being said, you should also have a basic general awareness of every sector of the nation. Sometimes, you might not have answered a lot of questions satisfactorily but confidence and honesty can help you to fetch good points in an interview.
Careers360: Any embarrassing moment for you/or a question you think that was difficult or impossible to answer? What was your reaction that time?
Kushagra: In one of my interviews, I was asked some questions related to the ruling empires of my hometown, Bhopal. I was not able to answer them. This made me feel demotivated as I should have known the answers. But I humbly said that I am not aware of the topic. I panicked a little bit. But when the next questions were asked, I maintained my composure and stayed confident.
Questions related to CAT
Showing 9044 out of 9044 Questions