How to crack IPMAT: Don't waste time trying to answer every question, says IIM Indore IPM student Anusha Soni
How to crack IPMAT - The IPM Aptitude Test is the gateway to IIM Indore's Integrated Programme in Management. Self-confidence, hard work and a sorted mindset made Anusha Soni of Bhopal, stand out amidst all the candidates who appeared in the exam. However, she was also preparing for law entrance exams in class 11 and 12 but didn't want to completely dedicate herself towards the preparation of any one particular test.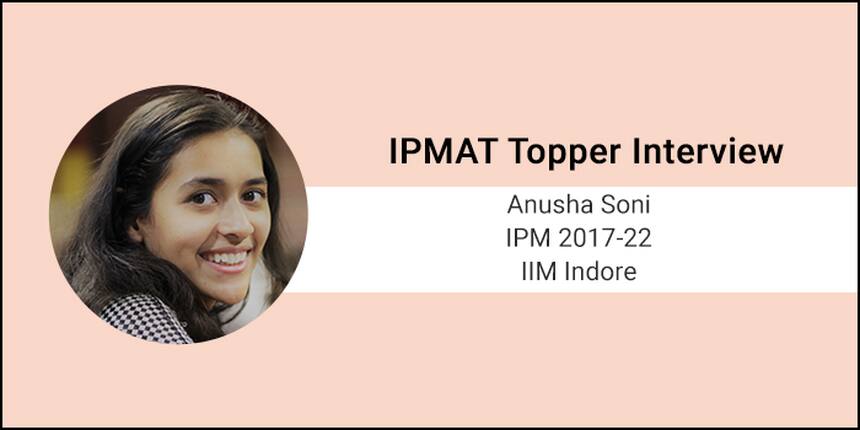 "It was a huge dilemma for me to make a choice between a National Law University, Delhi and IPM - IIM Indore. Both the options sounded extremely good", admits Anusha and then she finally joined the IPM course. She thinks that studies should be enjoyed and not be taken as a burden, and this is why she always remained a topper in academics even at school level. Her family has played a huge role in her success and never tried to control her academics, she shares. She took to NCERT very seriously but also depended heavily on the study material provided by her coaching institute, LegalEdge Tutorials which helped her prepare for law entrances and for IPMAT as well.
Read the exclusive interview of Anusha Soni and her tips to ace the IPMAT exam.
Excerpts from the interview:
Careers360: Anusha, please tell us about yourself in terms of your academic and family background, work experience etc.
Anusha: I have spent 14 years of my life in a convent school named St. Theresa's Girls' School in Bhopal. I was always among the first few rankers of my school, but I never spent hours in studying or practising any particular subjects. Studying, and the results that followed, always interested me and kept me motivated enough to enjoy whatever I was learning. My family has played a huge role in helping me achieve whatever results I did because they never, in my entire lifespan, as a student, pressurised me to study or tried to regulate my studying patterns.
Careers360: Why and when did you decide to pursue IPM at IIM Indore?
Anusha: I knew of IPM since I was in class 10. The course structure always interested me so I always wanted to give it a shot. However, I was also preparing for law entrance exams in class 11 and 12 and didn't want to completely dedicate myself towards the preparation of any one particular test. I decided to join the IPM course when the results of both the law entrance exam and IPM interviews were out, and I was lucky enough to be selected in all the colleges that I had kept as my first-grade options.
Back then, it was a huge dilemma for me to make a choice between a National Law University, Delhi and IPM - IIM Indore. Both the options sounded extremely good to anyone who I wanted to seek advice from. In the end, I compared the detailed course structures of both the courses and made up my mind to join IPM.
Careers360: What is your dream career option which you would like to pursue after completing the programme?
Anusha: I have always preferred to not restrict my options by deciding upon domains too early in life. Hence, I am not too sure of which particular job I would like to go for. IPM offers a lot that I am yet to explore and make an informed decision. Having said that, marketing profiles have always seemed exciting to me and I would like to know more about the field of marketing.
Careers360: Which other entrances did you appear for and what were your scores and percentiles?
Anusha: I gave the All India Law Entrance Test (AILET) and got an All India Rank 36 in it. I also gave Common Law Admission Test (CLAT) and secured All India Rank 407 in the test.
Careers360: How and when did you start preparing for IPMAT? Please share your exam preparation strategy in detail.
Anusha: I had prepared for law entrance tests for two years. There are quite a lot of similarities between IPM and law entrance tests. So, I had essentially gone through most of the syllabus of IPMAT when I was still in class 11 and 12. I revised all the important concepts of Mathematics a few weeks before the test and also solved a couple of logical reasoning questions. I never really devoted a lot of time in preparing for the Verbal Ability section.
Careers360: Did you take coaching or you prepared on your own? According to you, how important is the role of coaching institutes in cracking the entrances like IPMAT?
Anusha: I went to LegalEdge Tutorials to prepare for my law entrances and the institute helped me immensely in preparing for IPMAT as well.
According to me, coaching institutes play a huge role in making you realise that there are 100 more students who are as bright, or probably brighter than you feel you are. The IPMAT pattern and the kind of questions asked are very different from the usual Maths questions that we come across. In that respect, I believe that coaching institutes play an important role in giving you a hang of the questions and making you familiar with the test pattern.
Careers360: Which books did you refer to prepare for the exam?
Anusha: I only went through NCERT books to revise all the important concepts of elementary Mathematics. Apart from that, I heavily depended on the preparation material that was provided to me by my coaching institute.
Careers360: Please share your experience of taking the test. Which was the easiest section and which was the toughest? What was the difficulty level of the test overall?
Anusha: The test offers very limited time to solve a large number of questions so I didn't really realise when the time passed by in the test. I attempted the Verbal Ability section first since it had always been my strength and I believe in going for my strengths first in any test. I found the section to be mostly on the easier end with only a couple of difficult questions.
Then, I moved on to the Quantitative Ability section later which surely gave me a hard time because of the limited availability of time. I skimmed through the questions once and took my call of attempting the question or not as soon as I could. I did not waste a lot of time in trying to get the answers to every possible question. I only invested time in the questions that I thought were familiar or doable once I skimmed through them.
Careers360: How many questions did you attempt from each section? What were the factors based on which you selected the questions?
Anusha: I attempted all 40 questions from the verbal ability section and around 35-40 questions from the Quantitative Ability section. Since there was negative marking, I refrained from attempting questions that I was very unsure of. Also, I wasn't left with a lot of time in the Quantitative Ability so as to attempt more questions.
Careers360: Did you face any technical glitches at the exam centre?
Anusha: I did not face any technical glitches as such at the exam centre. The test went pretty smoothly and quickly.
Careers360: Any special time management strategies that you would like to recommend for the aspirants while taking the test?
Anusha: I would recommend the aspirants to go for their strengths first. Do not waste a lot of time on any particular question even if you are too sure of arriving at the answer eventually. Especially in the QA section, make sure you skim through every question even if you don't end up attempting all the questions. That way, you'll get a rough idea of the questions that you can spend time on.
The VA section is very easy and shouldn't take more than 20 minutes. Do not think of weird possibilities of answers (which we usually end up doing in important exams). This increases the chances of you choosing the wrong answer even after knowing the right one.
Careers360: What is the selection procedure for IPM at IIM Indore? Please explain stage-wise.
Anusha: The students are required to appear for IPMAT first which has a 50% weightage in the overall selection procedure. The students who qualify the aptitude test are then called for IPM WAT and PI. The WAT holds a 15 percent weightage in the overall selection procedure while the PI holds a 35 percent weightage.
Careers360: Please elaborate on your overall experience of the IPMAT and the selection procedures that followed the written test. Was it a pleasant or stressful experience?
Anusha: The entire selection procedure for IPM is a very unique and an interesting experience in itself wherein you get to know a lot of new things and meet a lot of new and smart people. The interviews are especially interesting because that is probably one of the first interviews that a student who has just completed his or her class 12 faces right after completing school.
The experience is stressful yet pleasant. While competing with few of the best brains in the country in the aptitude and PI, you also present yourself in front of some of the most experienced faculty members of an Indian Institute of Management. To sum it up in one word, the experience is overwhelming.
Careers360: Please share your PI experience in detail. Was the panel easy or tough on you?
Anusha: My personal interview was an experience that I can never forget. The interview panel was tough in the kind of questions they asked, but easy on me even when I didn't know the exact answers. I was given the afternoon slot for the interview and I was all prepared in my formal attire for the interview. While I was sitting with a few other people in the waiting room, I was getting intimidated listening to the experiences of people who had already given their interviews. My interview mostly revolved around questions related to academics.
Careers360: How did you prepare for PI?
Anusha: I gave a few mock interviews so that I get used to pressure handling. I made sure that I read up on all the important news. I also revised few of the important concepts of the subjects that I had in +2 and made sure that I'm confident enough while presenting my answers.
Careers360: What were the questions you were asked during PI? Please share your answers to them as well.
Anusha: I do not remember the exact questions that were asked in my PI. However, what I do remember is that I was grilled heavy on certain concepts of Economics. I was given a pen and a paper as soon as I entered the room and was asked to draw graphs (and a lot of them) thereafter. I was asked different questions on the graphs that I drew and was further asked to show shifting and movements along the curve as per different situations given by the panel.
The only General Knowledge question that I was asked in the interview was one related to BHEL since I said that my house is in BHEL area in Bhopal. They asked me to name any one of the clients of BHEL to which I correctly answered as Indian Railways.
Careers360: Were there any questions which you were not able to answer? How did you tackle them?
Anusha: My interview went on for about an hour and there were a lot of questions that I was unable to answer in that duration. I was quick to admit my unawareness in those topics and apologised for the same.
Careers360: Any interesting question or incident which you enjoyed answering?
Anusha: There were a couple of interesting incidents during my interview.
First, I went in the interview room and wished the panel 'good morning' when it was 2 in the afternoon. The instant reaction that came was - "We don't know why everyone is wishing us good morning at this time". I replied – "Maybe, everyone is very nervous for the interview" to which the panel smiled and asked me to have my seat.
Second, when I was asked whether I was good in Maths, I quickly replied with a straight no. No reasons, no ambiguity. Both the panel and I shared a good laugh about how certain I was about my weakness in Maths.
Careers360: What is your advice for future aspirants of IPMAT?
Anusha: Be patient and confident in your preparation. Make sure that you understand the concepts well and make the best possible use of the two hours that you spend in giving your AT.
The WAT and PI are different experiences altogether. You might not get another opportunity to be interviewed by senior faculty members of an IIM so make sure that you enjoy every bit of it.
Manage your time well in the AT and keep calm. Nothing works like calmness and confidence do in a test or PI. Make sure that you enjoy the preparation phase. Do whatever is possible now so that your future self can thank you for the hard-work. Be excited about being a part of an IIM. Dream it. That will automatically make you work harder for it.

Also, Read
IPMAT: Last Minute Tips and Strategies
Questions related to IPMAT
Showing 608 out of 608 Questions