How to crack GD-PI: Panellists look for communication skills and clarity of thought, says Chakrapani C of DMS, IIT Delhi
How to Crack GD PI - Now that MBA exams like CAT, NMAT, SNAP, TISS-NET, IIFT entrance shortlists are declared, it's time to gear up for GD-PI-WAT rounds. Thanks to last year's CAT toppers who are willing to share their previous year's experiences that the MBA aspirants can know tips on how to crack GD WAT PI rounds. In this interview of the series how to crack GD PI, Careers360 brings to you the GD PI experience of Chakrapani Cherripally of DMS, IIT Delhi. He shares his success mantra, preparation strategies and tips on frequently asked questions in the PI rounds.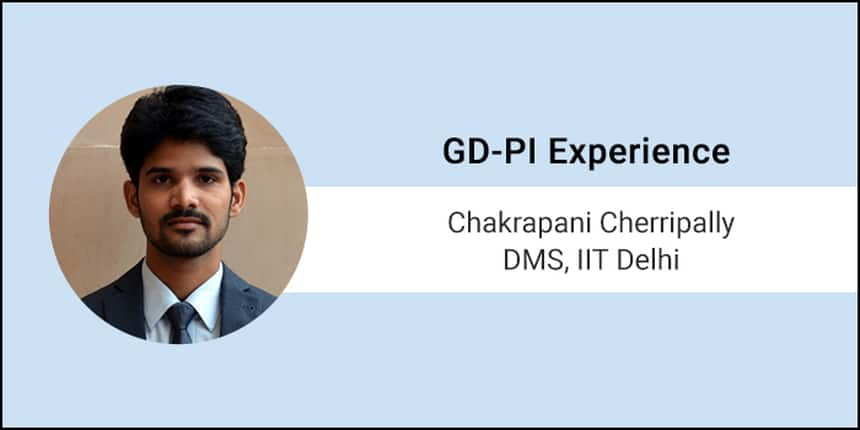 An engineer by qualification, Chakrapani started preparing for CAT religiously despite his disruptive shift timings. He was called for DMS, IIT Delhi's GD and PI rounds during which he kept his calm and thus it went smoothly for him. He gave a new dimension to his topic – demonetisation, during the GD round as his thoughts were quite clear about it. Reading about previous interview experiences on Google along with knowing about past experiences from the seniors worked out well for him.
Read the full interview here: 
Careers360: What is the selection procedure at your B-school?
Chakrapani: We had a GD followed by a personal interview. Earlier to which, we had a shortlisting process based on our marks, extracurriculars and SOP.
Careers360: What was your overall experience of attending the selection procedure at IIT-D? Was it stressful or smooth?
Chakrapani: It was one of the best experiences I had when compared to all other B-School interviews. IIT Delhi made sure we were not succumbed to stress. The process was systematic and there was not a single instance of chaos at any point of time.
Careers360: Did you attend selection procedures at other B-schools? Please share your experience about those as well.
Chakrapani: I attended NMIMS Mumbai, VGSoM, IIT Kharagpur, IIM Lucknow, IIM Shillong, SP-Jain and IIM Indore process along with DMS, IIT Delhi.
Careers360: Which interview was the best among all?
Chakrapani: IIT Delhi was the best interview which I attended. The amount of time that the admission team spent on comforting me was one of the best experience for me. I would always be grateful to the panellists and the team for making me calm during the process.
Careers360: How big was the panel during PI? Were you feeling nervous? Please share your overall experience of the interview process.
Chakrapani: Personal Interview was a very good experience for me. My interview was focused on my academics and my interests. The whole point of the interview was to judge my thinking process and they have given me ample time to think before I could answer. At one instance when I started feeling tensed, they even offered me water and made me answer the questions with ease.
Careers360: Did you face problems when you were asked really difficult questions?
Chakrapani: I had problems while answering questions related to my long-term goals. I never had any precise long-term goals and I always believed in short-term goals. Panellists patiently listened to what I was saying and gave me a chance to put forward my responses.
Careers360: Tell us about your preparation strategies for PI and if you looked up any questions to prepare better?
Chakrapani: I have read about previous interview experiences on Google and also had a chat with few seniors from the respective colleges.
Careers360: In your opinion, what factors or qualities are the PI panel looking for in a candidate?
Chakrapani: Honesty, communication skills, clarity of thought are what panellists look for during the interview rounds.
Careers360: What was your GD topic and number of members? Did you know how to go about it?
Chakrapani: The topic was on demonetisation and I had a clear cut idea on how to go with the topic. I contributed quite a few times during the discussion. There were 10 members in my group.
Careers360: What was your approach towards the topic?
Chakrapani: I contributed for four times with relevant points and made sure I was not cutting other candidates who were a part of the process. I was able to give direction to the topic and add a new element to it by bringing in a future dimension to it. We summed up the entire discussion with a conclusion.
Also Read
Questions related to CAT
Showing 9108 out of 9108 Questions