How CAT 2015 Pattern change and difficulty will reflect in your CAT results?
Many CAT 2015 takers termed the changed CAT pattern as "old wine in new bottle", but experts believe that the sectional time limit coupled with the varied level of difficulty for different sections is bound to reflect in CAT results.
Recent Posts: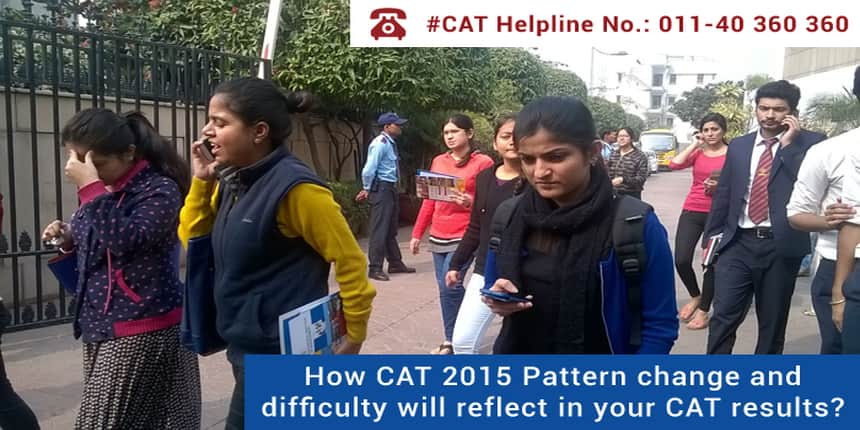 Careers360 spoke to experts, who elaborated on how the varied difficulty level in different sections of CAT under sectional time limit may reflect in your final results.
[How to ensure a positive outcome in your GD/PI. Click here and enroll to get Tips/Tricks and Smart Techniques to deal with situations smartly] 
Easy VA may result in high Sectional cutoff:
Experts were unanimous in terming VA & RC section as relatively easier this year. "The relatively easy level of difficulty of the VA & RC questions may have pleasantly surprised the test-takers," said Hirdesh Madan, Regional Head, Bulls Eye.
Agrees Gautam Puri, Vice Chairman, Career Launcher, as he says, "The questions in this section were of easy to moderate difficulty level. RC's were majorly factual, not being inordinately lengthy or abstract."
As a result, CAT takers are expected to do well in the VA section that may result in the higher sectional cutoff. "With 24 questions (5passages) in RC and 10 questions in Verbal area (all non-MCQs), the section was initially intimidating. However, the RC passages as well as the questions were easy and hence we saw a lot of students attempting upwards of 25 questions," says Arks Srinivas of VistaMind.
High difficulty may lower DI-LR cutoff:
Contrasting the difficulty level of VA section, DI-LR was the toughest among the three sections with most of the DI questions being lengthy. 
"While there were easier sets in DI, the LR had some really tough sets. Many students attempted less than 15 questions in this area," says Srinivas.
"This was the toughest section in the entire paper and the students were clueless about which sets to attempt and which to leave," says Madan. He adds that due to the high level of difficulty, an attempt of 16+ with good accuracy can be considered good. "For a lot of students LR section will be a make or break section. The cut-off for this section is expected to be low," he says.
Sai Kumar Swamy, Director, T.I.M.E. Delhi, also share that given the complexity of sets in DI, the students could attempt only around 2-3 complete sets, and could perhaps dabble with the other sets, managing to crack one odd question in them.
"The sets were difficult on account of the complex data given which required aspirants to commit more time to each set than what they would have initially planned. Most students have reported a lower number of attempts in this section and the cut-offs would be well on the lower side," adds Sai Kumar Swamy.
Non-MCQ guessing to turn into your advantage only:
According to test takers, the CAT 2015 paper had a fair mix of non-Multiple Choice Questions, which were introduced as part of CAT pattern change this year. Altogether, the three sections carried 29 subjective questions.
According to the experts, the non-MCQs in Quant and DI sections were difficult to solve given the long calculations and an absence of elimination method (which is a core advantage of MCQs), still no-negative marking scheme for such questions bought some relief to candidates. The experts believe that attempting non-MCQ questions and guessing in the same would have only benefitted the candidates. "Since there was no negative marking, there was nothing to lose in answering these questions. Thus, guessing in such question would only benefit candidates," says an expert.
Overall cutoff percentile for B-school admission may go down owing to sectional time limit:
Overall the CAT 2015 paper was slightly difficult as compared to previous CAT, but the sectional time limit introduced this year may result in overall lower cutoff for B-School admissions. Since candidates could not navigate between the sections, they could not optimize their overall attempt and sectional time limit restricted their bias towards any particular section.
Experts suggest that by giving 60 minutes to each of the sub areas of the CAT papers viz., Verbal & RC, DI & LR and QA, the IIMs have ensured that the student spends time equally on all the three areas. "This also means that the cutoffs in each of the sections may be lower than in an exam where there is no time limit given for each section. Similarly, the overall scores also will reduce as students won't be able to maximize on the area of their strength," says Arks Srinivas.
Gautam Puri also expects the CAT 2015 cut-off to be a little lower this year given the sectional time restrictions.  "Last year, a raw score of 190 would fetch 99 per centile, but this year the score in the range of 170-175 may fetch 99 percentile," he says, adding, the same would be enough to get a call from top IIMs given a student has good academic record.
Also Read
CAT 2015 Analysis: Moderate to Tough difficulty level; Sectional time limit may result in lower CAT Cutoff
CAT 2015 Analysis Slot 2 - Alike Slot 1 Paper with tough DI & LR
Stay tuned to bschools.careers.com for more news and updates on CAT 2015.
Questions related to CAT
Showing 8933 out of 8933 Questions