How to Ace Group Discussion for MBA Admission? - By Amit Poddar, T.I.M.E
GD Preparation for MBA Admission: A Group Discussion (GD) provides one the opportunity to express themselves on a particular topic. More you involve yourself in a GD, the more you identify your strengths and shortcomings.
Stay up-to date with CAT News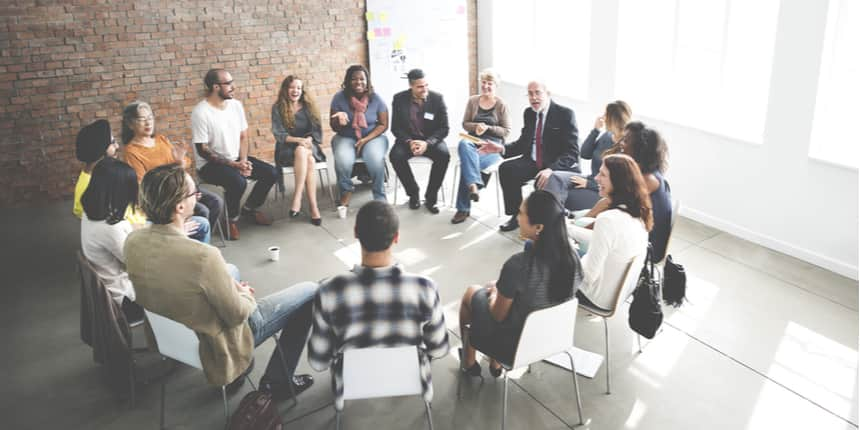 Participating in Group Discussion (GD) also provides the guidelines to overcome one's weak areas. As per the expert of one of the renowned MBA coaching institute, TIME, Amit Poddar - the participants of GD must be well versed about the criteria on the basis of which they are going to be judged by the judges in the panel. In general there are 8 to 12 participants in the GDs conducted for MBA admissions in B-schools. Though there are a couple of B-schools where the number of participants vary.
Usually the time allotted to the participants for expressing their views ranges from 10 to 45 minutes. As per the experts, participants are judged on the basis of their content, communication skills, group behaviour and leadership skills. Checkout the article elaborating about preparation for GD to get admitted in one of the premier B-schools of India.
Group Discussion (GD) preparation tips for MBA admission
'Why' is a very important word and the first question which normally should come to the minds of the aspirants is this word. And once you understand the importance of 'Why this process', you will definitely increase your chances of getting through the GD PI-WAT process. Try to connect this with your future job roles and you can easily convince yourself of importance and then give your best to crack it.
4 min read
Mar 05, 2022
Read More
Group Discussions are an integral part of the selection process of some of the top B- Schools but most of the IIMs have stopped conducting GDs in their selection process. While the weightage given to GDs varies between B-Schools, it is usually in the range of 10-15 per cent at most of the B-Schools. In the light of the weightage accorded, it is important that when it comes to GD preparation, you leave no stone unturned.
What is a Group Discussion (GD)? A GD is a forum to discuss and express your views about an issue in a logical, coherent, and mature manner. The person who conducts the GD and assesses your performance is called moderator.
The number of students in a Group Discussion varies between 8-12 at most of the B- Schools. There are a couple of B-schools where the number may be higher. Similarly, the time given to a group to discuss a given topic / situation / case varies between 10 minutes and 45 minutes. Irrespective of the number of participants and the time given, you should make sure that you perform to your full potential and to the expectations of the moderator.
To prepare effectively for GD, it is important to understand the finer nuances of what a GD is and what the performance evaluation parameters are.
(Though, this year the importance of GDs have gone down as most of the B-schools have scrapped this process due to the COVID pandemic.)
Group Discussion preparation method
A GD is unlike an elocution, which is a one-to-many situation. A GD is a many-to-many interaction situation where any participant, at any time, may interrupt another to express her / his idea(s) about the topic under discussion. While experience in public speaking helps, it does not lend any special advantage over those who do not have such experience.
Another misconception that most students harbour is that only those who use flowery language tend to do well in a GD. In fact, nothing could be further from the truth. A student who uses simple, easily comprehensible language to convey ideas, will have an advantage over others.
Types of Group Discussion (GD)
Topic-based

Case-based

Article-based
In topic-based discussions, you will be asked to discuss a knowledge-based topic that may pertain to society / social trends (including education), politics, economics, legal/ judicial system, information technology, sport or current events. Alternatively, you could be asked to discuss an abstract issue or an article from a newspaper.
Some top institutes, such as K.J Somaiya and NMIMS normally have Case Study based GDs. Institutes like IMT, IRMA, and few of the SIU affiliated B-schools have, as a part of their selection process, been asking students to enact role-plays and analyse situations.
The moderator in a GD sets the ball rolling by announcing the topic for discussion. Sometimes, the moderator may ask the group members to discuss among themselves and come up with a GD topic or the moderator may also provide the group with a choice of GD topics and ask the group to choose any one topic for discussion. Often students are awarded marks on the approach they take in selecting the topic and the reasons they cite for selecting the topic.
GD Evaluation Parameters
In a GD, members within the group are judged on four parameters. They are:
Content

Communication Skills

Group Behaviour

Leadership Skills
GD Idea Generation
Find below three major techniques to generate ideas in a GD:
(a) Key Word Approach (KWA): In any topic, there will be keywords that are loaded with meaning and open to interpretation. You should use these words to generate ideas for discussion.
(b) Viewpoints of Affected Parties (VAP): The group should look at the pros and cons of the topic, and try to bring forth their views on the parties which would probably be affected by any decision (adverse or otherwise) taken.
(c) Socio-cultural, Political, Economic, Legal, and Technological (SPELT) angles to the given topic: Students should analyse a given topic using this approach as this would help them look at an issue from multiple angles.
You should bear in mind that it may not be possible to use each of the above mentioned approaches in isolation for every topic. Rather what you should look at doing is to use a combination of approaches so that you generate the maximum number of ideas.
Quick links-
Tips to ace Personal Interview
Questions related to CAT
Showing 10573 out of 10573 Questions