Great Lakes Institute of Management Hosts 6th Annual HR Conference
Great Lakes Institute of Management (GLIM) Chennai hosted the 6th Annual HR Conference at its Chennai campus on Thursday, September 12, 2013. The theme of the conference was Strategic HR - Impacting Business Results. The conference was graced by Mohan Narayanaswamy, MD & COO, iNautix Technologies India Pvt. Ltd.; P Dwarakanath, Advisor ‐ Group Human Capital, Max India Ltd and Ashok Vasudevan, Chief Executive, Preferred Brands International.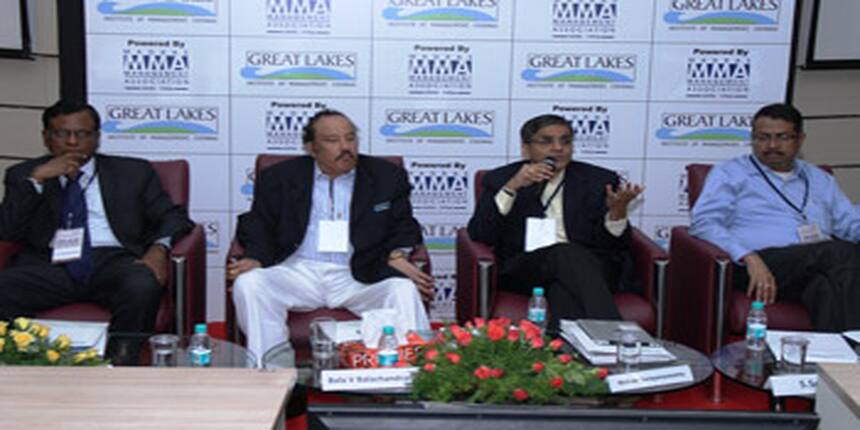 According to GLIM Chennai, the theme was set up considering that the businesses are going through turbulent times, economy instability and markets remaining highly competitive. These factors are forcing organizations to evolve with aligned and agile strategic responses.
In his inaugural address Prof. Bala V. Balachandran, Founder & Dean, Great Lakes Institute of Management said, "Every business functions with a common ideology of keeping its customers first, but in my opinion it is human capital that comes first because human capital enables the service to customers. India has tremendous human capital, if we nurture the human capital in a right direction, we can overcome any given crisis that we face today."

Admission open for PGPM and PGDM 2014 at Great Lakes Institute of Management. Apply Now
Narayanswamy started his address with the question, "Are we learning as fast as the world is changing?" He also mentioned that, "The collective intelligence of people is very important, human resource management is transforming the physical structure into virtual environment and this aspect catalyses the collective intelligence. A great work place is formed where employees trust their management, take pride in their job and share camaraderie with other employees. I would like to conclude that, whether you're an HR professional or not, keep yourself abreast with the latest technology because that is the element which is going to make the difference."
Delivering his key note address Dwarakanath said, "We are in age where competitors' intelligence is not just the factor to succeed in market but human capital plays the major role in driving the competitive advantage. For any organization people and talent development is the real asset. HR plays the important role in aligning the core vision and mission of the organization." He concluded his talk by quoting Peter Drucker's famous line, "Culture eats strategy for breakfast".
In his address Vasudevan said, "If you find harmony in your work, harmony with your colleagues and harmony in your work environment, then you have the work and life balance. The biggest challenge is not to get anchored to anything and when you do that you are in harmony with work."
Three panel discussions were also held in the conference and the panelists comprised of vice presidents and senior management from top companies such as Frost & Sullivan, Nokia, Citibank, Mphasis, Asian Paints, Ingersoll Rand and ICICI Bank. The panelists represented different sectors thereby giving the students a picture of how the different industries work.

Panel Discussion Topic - 1: HR's impact on Strategic Execution
By deploying appropriate talents and by creating aligned learning, HR ensures first-time right solutions to the customers. HR leaders shared their experiences of building and developing the talent pool, and deploying the talent effectively for best results for the customer.

Panel Discussion Topic - 2: HR: Fostering Innovation
Innovation across the organization needs to be encouraged and channeled towards building and leveraging new business opportunities. HR has a significant role in creating the right platforms for encouraging and leveraging innovation.

Panel Discussion Topic - 3: Role of HR in Organizational Transformation
Organizations re-align to meet the business needs, by constantly evolving structure, people, processes and technology. This calls for an agile HR, which ensures minimal disruption and smooth change adoption across, with aligned mindset and skills.
Great Lakes Chennai Updates and Articles
Questions related to Great Lakes Chennai
Showing 92 out of 92 Questions