GMAC - Interview with Sangeet Chowfla, President and CEO
Graduate Management Admission Council (GMAC) is well known for the Graduate Management Admission Test™ (GMAT™) exam. The test is widely used for admissions to more than 7,000 graduate programmes worldwide. In an interview with Careers360, Sangeet Chowfla, President and CEO, GMAC talks of the challenges during COVID and the impact on study abroad, new changes and more. Read the interview with Sangeet Chowfla, President and CEO, GMAC.
Stay up-to date with NMAT by GMAC News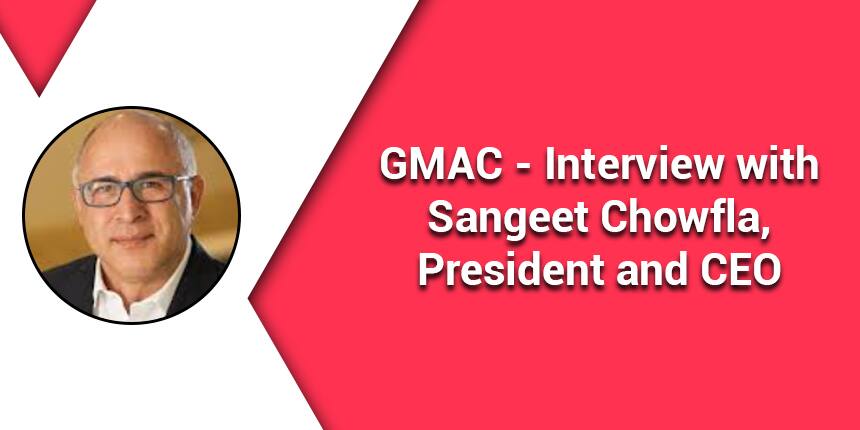 Careers360: What is the impact of COVID in education institutions?
Sangeet Chowfla: It has been a difficult time and most of the financial pressure for institutes was for the undergraduate programmes. The cost has gone up on account of online learning and revenue has been down. If we look at business education, applications and enrollment have grown globally because of the increase in people deciding to pursue higher education during the quarantine. Now that the schools have started to open up, the cost has increased significantly considering social distancing and such regulations in addition to mock classrooms etc. When we accumulated data from India, we saw a decline in domestic applications, unlike international applications which had a good response. If we consider test registrations for GMAT and NMAT, months like December were strong months where the volumes and the data showed recovery unlike May, which witnessed the least number of the registrations.
Careers360: Since at-home examinations have become a new norm, where do you see this dynamic of an assessment happening beyond the classroom?
Sangeet Chowfla: Due to this practice, students got two options to write the exam; at GMAT test centres or using online options. The whole pandemic situation, fortunately, has made the situation and the access better than the pre-COVID phase. However, some places like China which does not allow the online testing procedure, this has been a challenge. The majority of the world have seen a huge and better opportunity due to the "at-home procedures," introduced after the COVID hit the world. The applications grew 20% to 30% for schools so their subjective holistic process is even more at risk. Yes, a very experienced professional can make a good decision without the test but can it happen on a larger scale? I do think that the online testing will continue to stay. Our goal is to continue with the online testing to give students the choice as it enables us to go to places where we could not with the restrictions of test centres.
Careers360: Many Indian students wanted to study abroad but it could not happen on account of the pandemic. How do you see the world tackling the pressure of a large number of Indian students wanting to study abroad? Do you actually see that happening in the future?
Sangeet Chowfla: There is no doubt that the 2021 admission cycle will be a highly competitive cycle because there is a pent-up demand for the enrolment to study abroad. On one side, there is pent up demand and on the other, there are deferments which have risen to about 300% in business schools. In fact some deferments have even been pushed to 2022.
One strong message I would want to give to Indian students is that if you are looking to study abroad, then start really early. There is a notion that students usually have to wait till round 3 or 4, go through multiple tests etc. and this will make them lag much behind in the race. If you are planning to appear for GMAT then you should really start right now. Due to the huge demand for the courses, various business schools in the US will probably try to increase their capacity which will also enable better students' visas, facilities and friendlier practical training, etc.
Careers360: What is your advice to students who have postponed their aspirations of studying abroad?
Sangeet Chowfla: It is very unfortunate that their dreams and aspirations had to take a back seat due to the pandemic. My advice is that the business education opportunities seem to be coming back rather strongly. Schools have made some really good moves in terms of deploying technology, ensuring safety, mass testing etc. So, there's some real innovation that is happening. Secondly, we must really try to accept the blended way of education that is going to happen; in fact, it is happening right now. A lot of innovations are going on towards using online facilities in a better way and this includes restructuring and re-skilling the faculty.
Careers360: What should an Indian B-school education system do to make the students a bit more global than what they are currently?
Sangeet Chowfla: Instead of having thousands of aspirations, it is all about building and not expecting that the best students will come just because of the power the name of the institution holds. Indian B-school institutions need to think more through a holistic point of view and make this an investment. They must invest such that students with good scores to enroll for the courses under them and not miss a chance to make their institutes global.
Questions related to NMAT by GMAC
Showing 1006 out of 1006 Questions