Is GMAC India Management Graduate Survey Misleading Indian students?


The GMAC India Management Graduate Survey 2013 report shares questionable data. It could have been ignored if it was any other report. However, if such findings come from GMAC, world's foremost testing organization, it demands answers.

Data: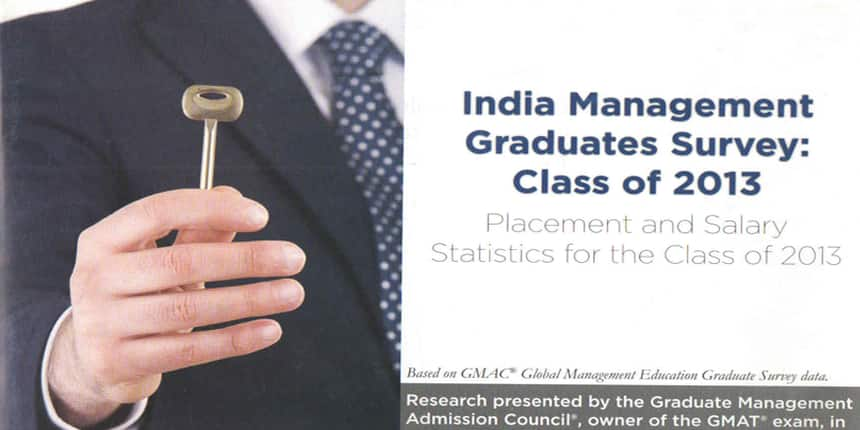 Can 18 B-schools truly represent India?  Even amongst the 18 B-Schools that participated in the survey, six of them are top tier schools with enviable placement records and if they dominate the sample size, it would naturally skew the results. And to top it, the survey presents no information on the number of responses from each school.
52% of the respondents in the survey have pursued a one-year programme. In India, there is a distinct difference in the profile of the students who pursue one-year programmes. They are experienced and normally look for lateral placement. Very few schools offer such programmes. Any generalization based on their response is unfair to the lakhs who pursue 2-year full-time programme.
Misleading results:
GMAC global report when speaking about placements in India says "Two-thirds of students at full-time one-year (67%) and full-time two-year (70%) MBA programs received job offers prior to graduation, as did 68% of job-seeking students at two-year PGP Programmes. One-year PGP graduates fared the best with 83% of job-seeking students securing an offer of employment before graduation." But the GMAC's Indian report has a different number: It says 83% of graduating students in two-year PGP had job offer by mid-march 2013. One of the reports is plain wrong.

If we go by GMATs global report on India, nearly 32% of student body surveyed   (graduating in 2013) is still jobless.  This reads very close to the data we obtained during our survey of graduate MBAs & PGDMS. In other words the GMAC global data is more real. But highlighting that data may not do much good to glamourize MBAs & PGDMS. (See www.gmac.com/globalgrads). 

The Indian report makes the eye-popping claim that there is 122% increase in salary between pre and post MBA scenario. But what this big number does is to club a four-year experienced candidate with a fresher. The global survey slices the pre-MBA student in to four categories, namely one with six or more years of experience, one with three to six years of work experience and one with less than three years of work experience. If they had bothered to slice the data, then they would have got dramatically different numbers. But then Indian students are gullible, and all aggregates are meant to mislead.

87% of the graduates in India recommend their programme, the survey claims. By not specifically asking whether they will recommend their school, GMAC is not doing much service to the schools.

Page 25 of the Indian report says that more than 80% of Indian students indicate that graduate management programme provides students advantages in job market. It also goes on to identify five parameters. But what the table in page 38 gives for each of these parameters is an agreeability percentage that varies from 5% to 50%. How they arrived at the 80% figures puzzles us.

 In fact the contents of the table on page 38 are quite surprising. It says just 5% of the respondents agree with the statement that education controls one's employment outcomes. Just 11% agree that it introduced them to new career opportunities.  If this is correct it is alarming.

That all real life problems need a combination of data, verbal and logical skills to solve is a given. To ask students whether such a skill helps in getting a job is asking the obvious. All that GMAC achieves here is a little promotion of its new test. 
One can understand and appreciate the need for GMAT to popularize itself with Indian B-Schools and MBA aspirants. But painting an unnecessarily rosy picture, especially when the markets are challenging, is definitely not the correct way to go about this.

Editor's note: We had written to GMAT seeking clarifications on data. Despite oral promises to revert, no response has been received until now. We will be very happy to publish the response, as and when we receive it.