GD Goenka University celebrates its 3rd Annual Convocation


GD Goenka University celebrated its third Convocation on December 23, 2017 (Saturday) at its Gurugram Campus. A total of 381 students from eight schools of the University namely Engineering, Management, Law, Humanities and Social Science, Hospitality, Communication, Education and Fashion & Design were conferred undergraduate, postgraduate degrees and postgraduate diplomas, during the ceremony. 23 meritorious students also received gold, silver and bronze medals for academic excellence.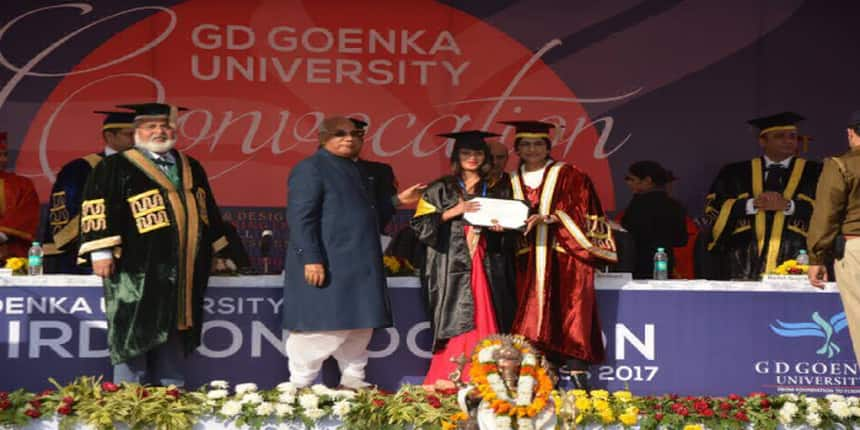 The Convocation was presided over by the Hon'ble Prof. Kaptan Singh Solanki, Governor of Haryana & The Visitor, GD Goenka University. Other Dignitaries present during the ceremony was Mrs. Renu Goenka, Hon'ble Chancellor, GD Goenka University & Vice Chairperson, GD Goenka Group, Mr. Nipun Goenka, Managing Director, GD Goenka Group, Mr. Rohit Gujral, Director, GD Goenka Group, Prof. (Dr.) Shrihari, Hon'ble Vice Chancellor, GD Goenka University and Dr. Nitesh Bansal, Registrar of GD Goenka University.
Prof. (Dr.) Srihari, Vice Chancellor, G.D Goenka University said, "We strive at working closely with the students to design customized educational plans that meet their individual goals. We continue to offer our students a personalised learning environment with a great deal of flexibility and continuous mentoring. As we strive to be at the forefront of education, we also continue partnering with industry and leading research centres in India and abroad for joint projects, training and internships."
The academic year 2016-17 has been quite a success for the University wherein GD Goenka University ranked the number one private University in north India by ASSOCHAM. Apart from this, School of Engineering was ranked 2nd among the emerging private institutes and School of Management achieved 3rd rank among top emerging BBA institutes in the entire nation by the Times of India.  A new school was also launched at the event specialising in Medical and Allied Sciences.
Prof. Kaptan Singh Solanki, the Hon'ble Governor of Haryana, congratulated the University for aligning itself to the Department of Higher Education's aspiration to instill an entrepreneurial mindset throughout India's higher-education system and produce graduates with a drive to create jobs, rather than only seeking jobs.
GD Goenka School of Management, Gurgaon Updates and Articles
GD Goenka University successfully organised a 4-day Internatio...
07 Nov 2017
GD Goenka University, Sohna has announced admissions for its M...
27 Feb 2017
Questions related to GD Goenka School of Management, Gurgaon
Showing 1 out of 1 Questions
69 Views
if your collage provide any scholarships
Dear Manju,
I did MBA from Lovely professional University,LPU is one of the best choices indeed. It provides for multiple industrial exposures,live projects,an updated curriculum rigor and technology along with very good placements and personality development.
During my post graduation I got 100% scholarship on the basis of achievements in sports and it continued till last semester of my MBA. I represented LPU in AIU level and won gold medal.The scholarships was  more then merit scholarship.
Lovely Professional University strongly believes in the fact that monetary constraints should not be an obstacle for a student to have access to quality education. So, the University extends Scholarship Scheme to students on various parameters. Scholarship can be availed in all the Programmes of the University, ranging from Diploma to Ph.D. Students have been awarded with scholarship worth Rs. 100+ crores in last year only.
In LPU,Students get different scholarships as per their performances in the academic as well as in other activities.The scholarship is also available on the basis of:
Due to current situation LPU has introduced COVID-19 FRONTLINE Scholarship scheme worth Rs 20 Crores, to honor the selfless contribution of the COVID-19 frontline warriors (I. e. Doctors, Nurses, Para-medical staff, Civic staff, Police personnel and many more) during the time of pandemic breakout through a special scholarship to their wards.
Percentage in Qualifying Exam
Performance or Rank in National Level Test
Percentage in Sports (https://www.quora.com/topic/Sports) , Cultural (https://www.quora.com/topic/Cultural-Evolution) , R&D, Co-curricular Activities (CCA) (https://www.quora.com/topic/Co-curricular-Activities-CCA) , Social Services (https://www.quora.com/topic/Social-Services) and National Bravery Award (https://www.quora.com/topic/National-Bravery-Award)
Special Scholarship for Toppers of Education Board
Fee Concession for Defense, Central Armed Police Forces (CAPF) personnel and their dependents.
Scholarship for Orphan Applicants
Scholarship for Person with Certain Disability
As per my knowledge,Whatever scholarships you are awarded at the time of admission,it will be continue till the last semester,But it can be cancelled in case of any serious misconduct or in disciplinary action committed by the student or poor academic performance.
For more information kindly visit Lovely Professional University websites or call on Tel: +91-1824-404404
Thank You!