Galaxy Institute of Management Chennai Chairman talks about MBA, PGDM programs, specializations and placements
Careers360 conducted Live Chat with the Chairman of Galaxy Institute of Management, Chennai, Mr. M. Ramesh on Friday, May 10, 2013. The participants mainly asked questions on the admission process of the B-School, MBA and PGDM program details, placements, specializations and the uniqueness of the B-School.

Excerpts from the chat:

Sonali: I want to know about the MBA programme your college offers. What is the duration and fees?
M. Ramesh: Our MBA program is of 2 years duration, affiliated to Anna University. The total course fee is Rs. 2 lakh.

Aadit: I am from Hyderabad. I will give CMAT exam on 20th May. Will I be able to take admission at Galaxy Institute of Management?
M. Ramesh: Yes Aadit, you are eligible to apply.

Aadit: I have also taken MAT. What are the exams through which I can apply? Earlier I had taken CAT and XAT. What is the cut off percentile?
M. Ramesh: That would depend on which course you apply, MBA or PGDM. However, we believe in the individual personality more than the entrance scores.

Aadit: What is the difference between MBA and PGDM? Which one shall I choose?
M. Ramesh: MBA is controlled by University but PGDM is an autonomous course. You have specialised course like Media Management, Banking, Insurance & Financial Services in PGDM.

Gargi: How old is your institute and what are the unique features?
M. Ramesh: Our Institute is 2 years old. The unique feature is our institute is promoted and managed by IIM Professionals. I am from IIM Calcutta and my Director is from IIM Ahmedabad.

Sonali: What is the total fee of the PGDM program?
M. Ramesh: The total fee of the PGDM program is Rs. 4 lakh.

Sonali: Thanks sir! Is there any tie up for loans with any bank or any scholarship scheme?
M. Ramesh: We have a tie-up with Central Bank of India for Loans.

Robin: Has there been any placement for the first batch?
M. Ramesh: The placement process is continuing at present. So far 90% of the students are placed.

Rizzu: I have 2 years experience in the IT field. I want to go for the Executive MBA procedure at your B-School. Please tell me the procedure.
M. Ramesh: We have a programme PGDM (Executive) meant for working professionals from any field and the duration of the course is 15 months. One need not resign their job for this purpose and you can take week day evening classes or week end classes while working.

Aadit: What is the selection procedure?
M. Ramesh: For our MBA Tamil Nadu students need to write TANCET and other states students have to write consortium test under Management Quota which will be taken care by us. For PGDM, PGCM, and PGDM (Executive) one has to write any one of entrance exams – CAT, XAT, CMAT, MAT, ATMA and GMAT. The final selection will be based on group discussion and personality interview.

Avijeet Kumar: I have received 75 percentile in CAT and 53 percentile in XAT. I have done my B.Com from UP and got 56% but no work experience. Am I eligible to apply? How many seats are there?
M. Ramesh: You are eligible for both MBA and PGDM programmes and we have enough seats for you.

Robin: Is the placement process common for MBA and PGDM programs?
M. Ramesh: The placement process is separate for MBA and PGDM students since the profiles are totally different. For example, Media companies will recruit our PGDM (Media Management) students and Banks, Insurance Companies will take our PGDM (Banking, Insurance & Financial services) students whereas the MBA students are recruited by all types of companies.

Nithya Subramanian: Do you have any incubation cell for entrepreneurship enthusiasts?
M. Ramesh: Yes. We have a special entrepreneurship development cell (EDC) and our director has 27 years experience in EDII, Ahmedabad.
Soumya Saxena: Could you please guide me for PGDM Media management course of your institute? What type of placement and career I can expect from same?
M. Ramesh:Our PGDM (Media Management) is aimed at producing professionals at Managerial level and we have specialisations in all areas of Media namely TV, Radio, Print, Cinema, PR, Event and Advertising. The Media students will be placed in TV Channels, FM Stations, Publications, Advertising Agencies, etc.

Avijeet Kumar: Sir I am from UP, North India. I have heard it is very tough for students outside south India to adjust in the atmosphere. What is the generic region wise background of students in the campus? I'm worried I would be left out in terms of culture, language etc. Hope you understand.
M. Ramesh: Chennai is a cosmopolitan city and safest place in the country. You have a large chunk of students' population from Bihar, UP, Maharashtra, West Bengal, Orissa and Eastern States. You get all types of food here and culturally south people are very friendly.

Nisha: I am from Delhi and currently working in Bangalore. This year I am planning to do MBA. How do you rate your campus as compare to AIMS, Acharya and GITAM?
M. Ramesh: If you compare those 3, we are only 2 years old. But our MBA degree is from the world's largest Technical University Anna University. As far as the infrastructure and faculty are concerned, we are comparable to them.

Nithya Subramanian: Has any of the students from the first batch pursued Entrepreneurship?
M. Ramesh: Nithya, you will be happy to know that 3 of the students are going to start their own business.

Soumya Saxena: I scored 87% in Delhi University. I am from Noida. My parents shifted to Chennai currently and I am looking for MBA. Which one do you suggest for me in this case MBA or media management PGDM? I am more inclined towards media course but not sure about placement and future scope?
M. Ramesh: Yes Soumya, I have got 27 years of Media experience and I have realised that there is no full fledged course in the country to take care of all mediums and that's why I have started this last year.

Nisha: I have already got offer from AIMS and Acharya School of management so what is that I can get extra from Galaxy as compare to these 2 options?
M. Ramesh: Our Institute is centrally Air conditioned with Wi-Fi enabled facility and the Hostels are also Wi-Fi enabled with A/C facility. We have lots of IIM Alumni in our board who will also act as visiting faculties.

Nithya Subramanian: That's quite encouraging to know. I have 3 years work experience. I want to do MBA and start my own venture. I have always wanted to be an entrepreneur and having a special incubation cell is definitely an advantage. Is there any last date of application? 
M. Ramesh: Nithya, Have you written TANCET? Even otherwise, we can give you a seat under Management Quota. The admission process is going on now. You can get in touch with us any time before this month end.

Nithya Subramanian: No sir I didn't take TANCET. I've taken CAT, XAT and IIFT.
M. Ramesh: Nithya, these tests are ok for our PGDM programme. But for our MBA you have to write a consortium test to get admitted under Management quota which can be organised by us.

 Nithya Subramanian: Can I apply for PGDM and then be a part of the cell or is it only for the MBA students?
M. Ramesh: Nithya, with your CAT, XAT scores we can consider you for our PGDM programme and still you can be part of the EDC.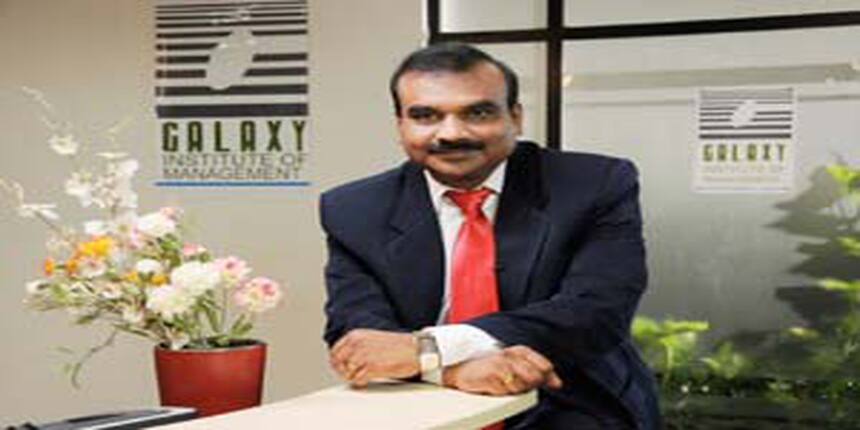 Galaxy Institute of Management, Chennai Updates and Articles
Galaxy Institute of Management – the Chennai state of India, a...
19 Jun 2015
Questions related to Galaxy Institute of Management, Chennai
Showing 1 out of 1 Questions
50 Views
is tancet is necessary for this college
Hi Abar,
No it is not necessary to appear for TANCET to get into galaxy institute of management in Chennai. Apart from TANCET they accept admission fro MBA and PGDM program through CAT, XAT, CMAT, MAT,GMAT and ATMA.