Expert tips on BBA, MBA by Dr Rajan Saxena, VC, NMIMS and Dr Atish Chattopadhyay, VC, Vijaybhoomi University
There has always been a huge demand for management graduates when the economy was in good shape. A fresh graduate would always think that an MBA degree would help him to set out on a good career path. However, that is not the situation now.
World over the economies are in bad shape. India is no exception. The coronavirus pandemic has forced the manufacturing industry to a grinding halt, sparing no other sector as well. Those who are studying management programs at undergraduate or postgraduate level do not know whether they will get a job offer and when. Those who already have job offers have been asked to wait before joining.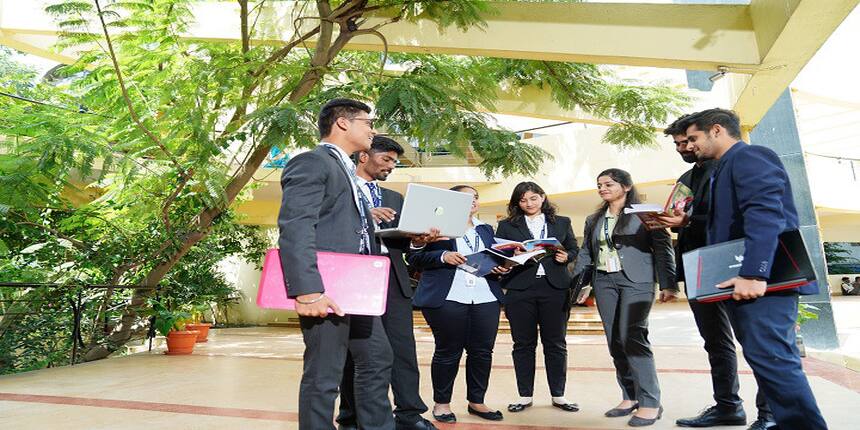 Planning to do a management program at this juncture throws up a lot of questions with no answers in sight. Students are weary of what management program to choose and why. They also want to know which management program will get them a job. Those who are already employed want to know whether it's a good idea to quit the job and do an MBA to make the future a bit brighter.
Students in Class 12 want to know if an undergraduate management program will fetch them a job when they pass out three years later. Should one go for a BBA or BBM and with what specialisation? Or, is it better to do a general undergraduate degree and then go for MBA? There is no end to such doubts.
Dr Rajan Saxena, Vice Chancellor, NMIMS and Dr Atish Chattopadhyay, Vice Chancellor, Vijaybhoomi University share their expertise for BBA and MBA aspirants to take informed decisions.
A lot of students ultimately want to be a manager or a leader. Should they do some other course at the bachelor's level and then go for an MBA?
Undergraduate degree can be in any sphere. It doesn't make any difference. At the MBA level you are talking about managing, uncertainty. A degree in engineering or degree in business at graduate level doesn't really matter. What is significant is the premium given to the students who can think better. Many of the students who come in lack the power of building of a narrative. Now look at most of the students coming up from an engineering programme. This is where the problem rests because they are expected to think in a linear fashion. And as a result the narrative suffers.
The second part of it is the creativity part and the question of who can do it. Fine arts students, medical students, liberal arts students, literature, history or philosophy students all can do it. Diversity in the class today is so important all these different kinds of streams only make the discussion far more enriched and far more valued.
The CAT examination appears skewed towards students who've done mathematics.
For a long time there was a setback to arts students as CAT was heavily biased towards quantitative skills. Later on industry realised the need to bring about a change and GMAT, for example, changed dramatically and started including a lot of non-quantitative sections. This gives non-mathematics students a certain degree of level playing field.
I am in Class 12 and I haven't taken maths, but I wish to pursue business in future. What course is recommended for me?
It is a misnomer that maths is important. For example, those who are specialising in analytics in an MBA programme may not be from maths background because MBA does not say that we have to have an engineering or maths background. So, once you come to the programme, you get an exposure to many other areas. Secondly, today we are talking about multiple careers. You may be in one business today and tomorrow it will be in some other business. So, holistic grooming becomes very important.
You must discover where you are good at and must have a holistic personality. Then, whatever you do as a professional should create a social impact. So if you want to do a business, BBA is a right programme which also allows you exposure across disciplines and allows a pathway based on which you can choose. You have to move out of a straitjacketed approach and more towards the discovery approach. Exposure to multiple disciplines and being a holistic professional can create a social impact.
I didn't take maths in 10 + 2 but I prefer BBA Finance. What course will suit me?
There is a myth about the relationship between maths and finance and maths and data sciences, which needs to be broken. Jack Ma is an English graduate and founded the Alibaba Group. After somebody comes in a business program, the way the courses is delivered makes sure that somebody who does not have the maths background is equally comfortable in doing the finance courses. Even data sciences can be pursued by people who are not from a maths background.
Is it worth it spending 10 to 15 lakh rupees for BBA or should I go for a college with low fees and invest that amount in my MBA?
It is good to invest in good BBA program and go straight to job market rather than wasting three years in a not-so-good program and then go for MBA. You will still be uncertain at the end of two years of MBA program. It is always better to invest in good education. You learn a couple of things there and the most important one is social skills. A good undergraduate degree is full of activities that allow you to explore, learn the art of planning, team building and team management and also learn the art of managing the most uncertain things.
What are the differences between PGPM, PGDM and MBA?
All those institutions which are part of the university system offer an MBA while all those standalone institutions regulated by the AICTE give the PGDM. A lot of Institutions that give the PGDM call their degree PGPM because conventionally, an MBA program is known as a PGP program.
Can fine arts students or liberal arts student do an MBA?
Howard Gardner in theory of multiple intelligences says there are eight Intelligences like linguistic, music, visual special, intra persona, interpersonal, understanding nature and mathematical intelligence. Now today's situation is very, very uncertain. Nobody could have predicted what is going to happen. And there are those who are from a liberal background who can actually have an understanding of multiple disciplines, can connect the dots, understand nature, and understand the impact of their decision on the society. They are the ones who will be more required and held desirable in a futuristic context. So, today I think those who are coming from liberal arts background, from humanities are the ones who are going to be welcomed in the management profession.
I want to be an entrepreneur. So, should I do an MBA in entrepreneurship?
See, MBA gives an overall exposure to business. That is good enough to become an entrepreneur. If you look at most of the entrepreneurs, they're not even an MBA. The point is what is it that you would like to do, which is the area that interests you? That is the most important factor. So, select a programme which allows creating a mix and match of courses aligned to your purpose.
Is MBA in international management a viable option with good career prospects in the post COVID scenario?
In order to succeed in international business environment one needs to understand different cultures. You have to live that, relate to those cultures and also understand how businesses are done in multi-cultural environment. If you look at best B-schools they have students across the globe with faculties who have diversified exposure, who are delivering lectures in different parts of the world. There you get a kind of multicultural environment where students can learn. An MBA from one of the top B-schools from the world that has international accreditation and a global reputation is a great kind of offer. That can take you anywhere.
Even in India IFIM Business School has got programmes in collaboration with State University of New York (SUNY) and in collaboration with University of Wollongong (UW) Sydney Business School, Australia. So, after the first year, the second year is spent in SUNY or in UW, which means a student can opt for a career in Australia or the US.
Two things become important. Is there international accreditation like AACSB? The international accreditation is a big help from the students perspective.
Instead of going only for the international degree it is good to go for a dual degree programme where you get a degree both from India as well as from abroad, which means you have got both the options open so that you can get anywhere to work in an international location or in India. NMIMS University, Mumbai, in partnership with Purdue University offers a dual degree program which is in the area of design science, MBA, education, science, business analytics and intelligence.
This is the time for the students to start considering dual degree programmes because you have an Indian degree and possibly international degree also and the learning is happening both in India and outside of the India.
Should students prefer integrated MBA or do an undergraduate programme and then build up a work experience of 3-4 years and then go for an MBA?
You need to first of all understand your interest levels before getting on to thinking about whether to go for BBA or MBA or Integrated MBA. It's very important to understand your interest and match it with the course that has good pedagogy and legacy and proven outcome.
Should a student try to do an Executive MBA after putting 4-5 years of work experience or should he do an MBA after 3 years of work experience?
There are two types of people who do MBA in India. One, those who have been into a particular stream like engineering but don't like to be an engineer and want to do MBA to become a consultant or an investment banker and so on so forth. Number2, those who come to do an MBA is they have not got a job of their satisfaction after graduation. A good graduate would probably earn 8 or 10 lakh rupees per annum straight out of college. If he decides to do an MBA after 2 years, the opportunity cost is around 20 lakh rupees of giving up the salary and another 25 lakh rupees for doing an MBA. So, the cost of MBA becomes 45 lakh in India. In US this phenomena has already happened and so MBA programs have taken a dip. Similar thing is expected to happen in India. So what will happen is those who are not getting a good job after graduation will be doing an MBA and those who are in the job and in the profession where they want to continue and don't look at track change would actually go for an online program or a programme where they don't need to leave the job.
Is it good to go for distance learning MBA as quite a few institutions now offer it?
The way distance learning is defined is going to be very different post Covid. Distance learning nowadays means that courseware is there and just accesses it at your convenience. If you change 'distance learning' to 'remote synchronised learning' it means you conduct the class just like the way you conduct the class in a classroom and you do a program where you can access the classroom sitting at your own convenient place and time. It means that you get a classroom like experience where you are interacting directly with the faculty and can also interact with the peers in small groups. So the shift will be from distance learning to remote synchronised online learning and post Covid that is going to gain popularity.
Every B-school offers specialisations. How does a student go about deciding what to choose?
See, the question is, there are two options of entry. One is declared major and another is undeclared major; see, somebody who wants to really explore, discover and make the choice should get into an undeclared major. So after say, one and half years or two years and going through the whole process, they should decide what he likes to major in. The university also should give the flexibility that if somebody after 1.5 years should allow the shift to happen and allow that process of discovery and to choose the majors after a certain period of time.
What are the specialities in greater demands from the employers' perspective?
Analytics, finance, general management, marketing, and then HR are the areas where jobs will be in greater numbers.
The question is, whether after graduation a person should directly join an MBA or should he build experience before MBA?
If somebody wants to join general management program then work experience becomes important. Take the example of an engineer who has already invested 4 years. If he is getting a good vertical position where he is interested in, then do work and after 5-6 years consider doing a general management program. But if he is not into a vertical or position, then an MBA becomes the only option.
Are the 100% placement claims by B-schools true? How does one verify these claims?
Increasingly the data on placements of many of those Institutions is transparently available. The first thing is, they are supposed to do is 'mandatory disclosure' which means they have to put up all the data on their website. They are also supposed to submit all the data to NIRF. Three, there is something called Self Study Report (SSR) which they submit to the UGC. Fourthly, all the universities are supposed to submit data in terms of intake or placement, salary and other details to the AICTE.
You need to be very cautious in terms of looking at the data to see whether the placement has actually happened. If the placement doesn't happen it's far better for you to go to another B-school.
How would be the placement scenario for the batch of 2020 in the post COVID world?
Perhaps the joining of the MBA graduates who received their offers this year is going to get affected, the joining will be late.
The style of working is also going to get affected. Traditionally, somebody who is a marketing specialist would have gone to the office and also spent lots of time in the market meeting people. But in changed scenario he would work from home with the help of a computer system and give presentations over net. Greater degree of autonomy will be there, autonomous and collaborated functioning will now come into play. The jobs and industry will be requiring people who can manage uncertainties.
The advice to BBA and MBA aspirants was given by Dr Rajan Saxena, VC, NMIMS and Dr Atish Chattopadhyay, VC, Vijaybhoomi University in a webinar hosted by Careers360 recently.
If you have any doubt regarding any course or career, write to us at: ask@careers360.com
NMIMS Mumbai Updates and Articles
Questions related to NMIMS Mumbai
Showing 673 out of 673 Questions