Experience life at ITS Ghaziabad with Vikash Kumar
B-schools provide immense opportunities to students in the two years. It is important for any student aspiring to take admission in any MBA college in India to make the best use of resources available. There are case study competitions, fests, sports, seminars, guest lectures, being part of clubs/ committees and much more. Meet Vikash Kumar, a PGDM final year student at ITS Ghaziabad who shares his campus life experience. In his interaction with Careers360, he describes the facilities, clubs and societies in the campus and their importance on how they make an impact on CV. He also mentions about the various companies that come for placement in ITS Ghaziabad. Let us dive into the campus life at ITS Ghaziabad with Vikash Kumar.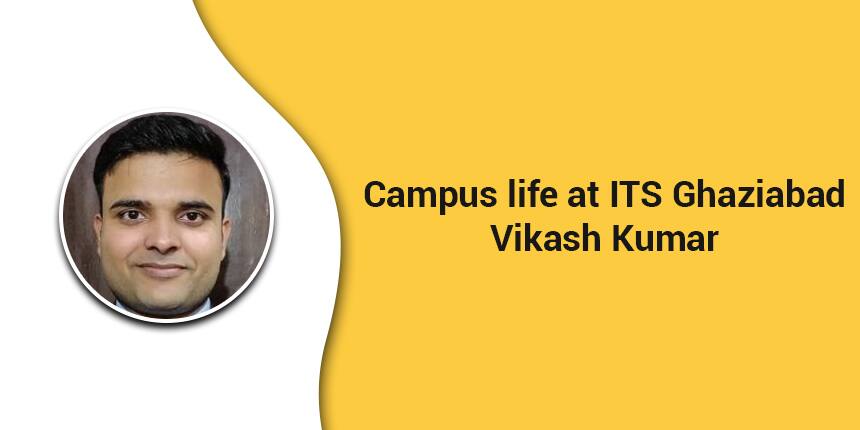 Careers360: Tell us something about yourself such as from which place are you from?
Vikash: I am from the coal capital of India, Dhanbad situated in Jharkhand.
Careers360: Presently which course are you pursuing and in which year are you?
Vikash: Presently I am pursuing my PGDM with Dual specialization in Human Resources and Operations.
Careers360: Did you face any difficulty in the initial months when you joined the institute?
Vikash: No, there were no such difficulties.
Careers360: What activities are offered in the institute? Are there any clubs etc for the various extracurricular activities? Which ones have you taken up and are a part of?
Vikash: There are various activities like Utkishit Awards, college fest and many more. There are clubs for every specialisation and social clubs performing different activities. I am vice-president of International Business Club and Liaison Officer (Marketing) of Utthan (Social activity committee).
Careers360: Describe a typical day at your institute – what do you do from the time you wake up till you go to sleep?
Vikash: A typical day starts from doing daily activity, having breakfast in hostel and attending classes then having lunch in break and again attending classes and then having snacks at canteen and returning to hostel room and finishing the daily task and then having dinner and going to sleep.
Careers360: Tell us about the faculty-student ratio here and about the teacher-student relationship in your understanding.
Vikash: Faculty student ratio in PGDM is 1:10 (approx.) and the relationship is very healthy and friendly with all the teachers all want students to perform their best and avail best knowledge they can get in ITS.
Careers360: What all facilities do you have on the campus? What do you like here the most which you feel is unique and differentiating?
Vikash: There are all the necessary facilities starting from 24*7 electricity, wifi, water, clenniness, Sports and Gym and many more. I feel like maintaining discipline is the best thing an institution provides to its students and that is being done by ITS.
Careers360: How comfortable are your hostels and how about the cleanliness factor over there?
Vikash: The hostels have privacy and the food is provided in time and proper cleanliness is maintained in the hostel.
Careers360: What about the medical facilities? Can you avail requisite medical attention if needed in an emergency?
Vikash: There is a medical facility especially for students from 9 to 5 and there is an ambulance facility for students facing serious problems.
Careers360: How do you balance your studies, projects, exams and other activities?
Vikash: All the activities are maintained very nicely because we are there to learn management and if we cannot manage ourselves then how are we going to manage others in the organization.
Careers360: Tell us about the clubs and societies at the campus and how significant are they from your point of view or students point of view?
Vikash: All the clubs and societies have their own different meaning and perform their tasks very nicely in a scheduled manner, the activities are very enriching and always new things are there to learn from them so I enjoy from every club activities either I be the participant or the coordinator.
Careers360: Is there any in-house magazine or journal for the latest events or happenings at the institute?
Vikash: Yes, there are regular and daily supplies of Newspapers and Magazines in the library for us to read free of cost and even being a hostler we can order newspapers for ourselves.
Careers360: What are the popular hangouts at the institute? What, according to you, are the most-visited places nearby?
Vikash: In the Institute the popular hangouts are gardens, gym, library, canteen, parking lot, sports ground and Hostels. According to me the garden and Parking lot are the places where every student spends time.
Careers360: How do you spend your leisure time at the campus?
Vikash: I spent my leisure time with my friends discussing or gossiping in the canteen or garden or playing sports like football, cricket, basketball or badminton.
Careers360: Do you have any Facebook page of your campus where the students express their views, jokes or ideas, or maybe even a blog where they write about their experience of life at campus?
Vikash: Yes, we have a Facebook page not only for the Institute but also for different clubs sharing their events and blogs, ITS has its instagram and Linkedin accounts where the regular posts regarding the institution are available.
Careers360: What type of companies come for campus recruitment and what percentage of students get placed every year? How is the recruitment process here?
Vikash: There are various types of companies coming for placement for every stream and mainly for marketing and operations where students regularly get placed and the placement is more than 90% and even during lockdown it has not decreased and still the process is going on.
ITS Institute of Technology and Science, Mohan Nagar, Ghaziabad Updates and Articles
Read ITS Ghaziabad Alumni Interview of Kumkum Tiwari who talks...
10 Mar 2021
ITS Director Dr. Vidya Sekhri shared about the college, its vi...
11 Feb 2021
Questions related to ITS Institute of Technology and Science, Mohan Nagar, Ghaziabad
Showing 6 out of 6 Questions