"Education is a combination of theory & real-life experiences," at FOSTIIMA, says founder trustee Anil Somani
FOSTIIMA Business School was set up in 2007. The name FOSTIIMA is an acronym for Friends Of Seventy Three of IIMA. As the name suggests the institute is the brainchild of and is founded & managed by the alumni of IIM Ahmedabad with a vision to provide the ambience and the IIM experience to a wider body of students who otherwise could not have had the privilege of such education with a motive to give back to the Indian society at large. Anil Somani, the founder trustee of FOSTIIMA in an exclusive interaction with Careers360 talks about the admission process at the institute, robust management education, infrastructure, placements and interaction with the industry leaders.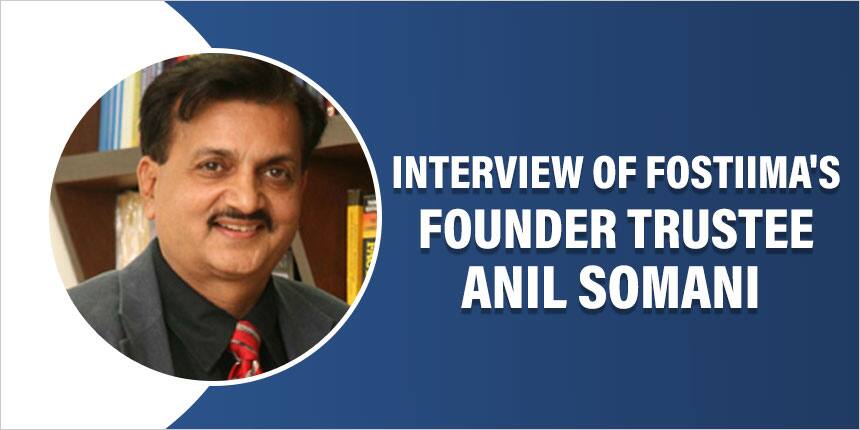 Careers360 - Tell us something about the institute; when it was set up, vision and mission?
Anil Somani -The mission of the institute is to provide the world class education in a model where young people can leverage the best traditions of the strong Brand India image and the solid intellectual capital that exists within India in order to help them get access to a robust management education which is particularly strong not just on the theoretical side, but which leverages the actual real-life experiences of successful managers from different sectors.
Careers360 - Tell us something about the admission process?
Anil Somani - The admission process at FOSTIIMA starts with Management Entrance Examinations. We generally take students who have appeared in CAT & XAT and in some exceptional cases also through MAT. The shortlisted candidates go through a Group Discussions & a Personnel Interview or in some cases two rounds of interviews. The interview focuses on the personality traits of the candidates while simultaneously testing their domain knowledge, communications skills & quantitative ability.
Careers360 - What kind of infrastructure can students expect at the institute?
Anil Somani - FOSTIIMA Business School is located in the heart of the sub-city of Dwarka in New Delhi. It is very centrally located close to the airport, metro station & bus stand. It is spread over nearly an acre of land and seven stories, most modern centrally air-conditioned building with the floor plate of 50,000 square feet. The campus boasts of amphitheater style Class Rooms, a Seminar Hall, a Computer Centre & a well-stocked Library – all highly conducive to learning.
On the recreational front it has a 120-seat cafeteria which runs from 7:30 am till 9:30 pm, a Boy's Common Room, a separate Girl's Common Room, Table Tennis, Pool & other Indoor Games, a Badminton Court plus a Gymnasium for the health freaks.
Careers360 - There is a lot of stress that is being made with regards to interaction with industry as well as companies that recruit. What are the steps being taken by the institute in this direction?
Anil Somani - FOSTIIMA has a full-fledged Corporate Interface Department headed by a very senior Alumnus of IIM Ahmedabad. He is also the convener of the PAN-IIM Alumni Association & he maintains regular contacts with PAN IIM trinity as well as the Corporate HR's. The institute invites senior HR professional from the corporate world who interact with its students and also deliver talks and conduct seminars. There is a lot of focus on enhancing the communications skills, the interviews skills & the GD skills of our students by making them go through mock rounds so that they are able to give their optimum performance at the time of placement interview. There is continuous support which is provided to the students by exposing them through the contemporary business developments & impacts of government and public policies both in India & globally.
Careers360 - Internships are now mandatory as per AICTE guidelines thus the institute help students with this, if yes how?
Anil Somani - Before internships were made mandatory by AICTE, FOSTIIMA had a policy of arranging 100% internships to its students. An important feature of FOSTIIMA internships is that they are all stipend paid internships. While on one hand stipend paid internships provide a value add to the organizations where the students do the internship, they simultaneously provide immense learning to the students. Even in the COVID times, FOSTIIMA is amongst the few institutes which provided 100% internship in work-from-home mode to all its students in the summer of 2020 and some students even did 2 or 3 internships.
Careers360 - Can you please share details, if there's any collaborations with universities abroad?
Anil Somani - We have in the past had collaboration with the UBIS in Switzerland. Although at present there is no collaboration but with the new education policy & guidelines we are very confident of our collaboration with a foreign university.
Careers360 - Please share placement statistics with information on the average package, highest & lowest package, no of students placed and details of the company that have recruited?
Anil Somani - FOSTIIMA has had 100% placements in most years & even during COVID times, our placements have crossed 90%. It would have been 100% definitely, had the placement activity not been halted midway due to COVID.
FOSTIIMA Business School, Delhi Updates and Articles
FOSTIIMA Business School has released the application form for...
18 Feb 2020
Questions related to FOSTIIMA Business School, Delhi
Showing 13 out of 13 Questions