Dont't Forget to carry your brains with you!
A group of aspiring management students engaga in animated discussion
It is again that time of the year when thousands of bright, young Indian minds are preparing hard to cross the final hurdle - the 'group discussion/interview' in their quest for that most sought after degree — MBA, or its equivalent. It struck me that a blind adherence to so-called 'tips' has a contrary effect and ruins the prospects of many a promising candidate in the GD/interview stage, who otherwise stood a bright chance.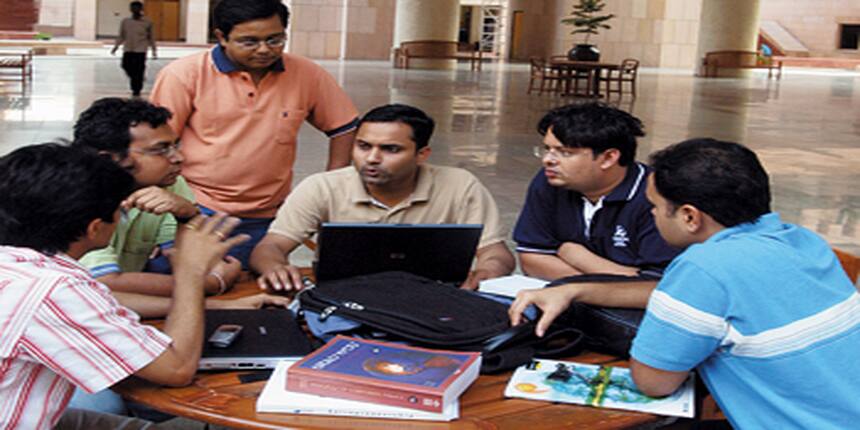 HOW IT MUST WORK

Most business schools divide the candidates into groups of 5 to 15 members and conduct a group discussion among them, followed by a personal interview with each candidate separately. In a typical group discussion, a situation or issue — it could be business-related or a more general topic — is provided to the group as a short write-up, and each candidate is given five or ten minutes to read the situation and formulate his/her thoughts or views. Then, the group is asked to discuss the issue for 15 to 30 minutes, depending on the size of the group, and preferably come to some conclusions.

REALTY IS DIFFERENT

Unfortunately, in practice, most group discussions end up resembling a busy fish market, which has prompted some business schools to drop group discussion as an evaluation component altogether. To a large extent, the cacophony and chaos in the group discussion is a result of some of the myths propagated by coaching institutes in the form of their so-called 'tips'. The first of the myths is that the person who initiates the discussion is demonstrating leadership qualities. In many groups, this results in a mad rush by many candidates to initiate the discussion all at once. The leadership qualities actually come to fore during a GD, if at all, not by starting first, but by the way a candidate with leadership potential is able to rally the group together.

The second myth is that the person who speaks most during a group discussion is the one who would score the highest. It is precisely this belief that drives many candidates to compete vigorously and grab as much air-time as possible, rendering the GD into a hopeless fish market. 

The third myth is that group discussion primarily evaluates the oratory skills of candidates. Due to this belief, some candidates even launch into mini-speeches during the group discussion with a view to impress the panel members. While evaluators certainly expect good articulation from aspirants, they are not looking for oratorical skills.

DOING IT WELL

To understand how to do well in a group discussion, it helps to keep in mind the basic purpose of the GD in the evaluation process. Through it, panellists assess if a candidate can really think on his (or her) feet, formulate views on an issue in a short time, express himself/ herself precisely and clearly, and argue his points persuasively in a group. Evaluators will observe how each of the candidates behaves in a group - whether the person is willing to listen and take into account others' view points, his/her body language, and whether the candidate is reasonably considerate and tolerant of others.

PERSONAL INTERVIEW

Next comes the more important of the two components — the personal interview, which may last from 10 minutes to over an hour. An oft-asked question is, "What is typically asked in the interview?" My answer is, "Anything under the sun!" Questions can range from your graduate-level core subjects and high school math to your hobbies, politics, economy and general awareness on social issues. This must sound very daunting to you, however, I would say this makes life a lot more easier for you. Here is why.
Panellists look for some original answers and candidates with originality, who can 'think' on their own and not quote other's ideas
With the mushrooming of coaching institutes and their burgeoning revenues, tremendous effort goes into finding out the various questions asked in interviews every year. After collating a bank of questions, coaching institutes proceed to prepare 'appropriate' (canned or ready made) answers and coach candidates enrolled with them. An example of one such question would be, "Why do you want to do an MBA?", and most candidates have a ready answer to give. Herein lies the problem.

Most business school professors hate to hear such stereotypical, 'canned' answers. So, the panellists change their questions every year. More importantly, they seek original answers. It helps to keep in mind the purpose of the personal interview. A candidate reaches the interview stage only if he/she has scored high in the written test, making it already clear that he/she is quite sharp. The panellists now want to understand through the interview process, what kind of a person the candidate actually is. Is he (or she) a warm, witty, smart, alert, curious, mature, thinking person whom they would like to have in their school, or is he a boring, uninteresting person.

CARRY YOUR BRAINS

My final advice to you on attending a GD/Personal Interview is: it does not matter if you forget a long list of prepared questions and answers, if you forget to carry a pencil, pen,  — but please do not forget to carry your brains and wits with you and put them to use. That is all you will ever need. 

The Author is Assistant Professor of Strategy at ISB Hyderabad