How is Jaipuria Institute of Management's MBA program being customised for the new age leaders?
At present, having a bachelor's degree is not enough. Having a master's degree has become the must thing to shape up your career and getting a reputed job profile in the growing sector. Doing a management course is one of the most preferred courses by many candidates. In these days many growing sectors demand management degrees for Grade A and B designations. Although, it is not mandatory to do an MBA program from the prestigious IIMS or any other premier B-schools. There are some other colleges also which have emerged in terms of placement and studies also and Jaipuria Institute of Management, Jaipur is one of them. In Conversation with Dr.Prabhat Pankaj, Director, Jaipuria Institute of Management, Jaipur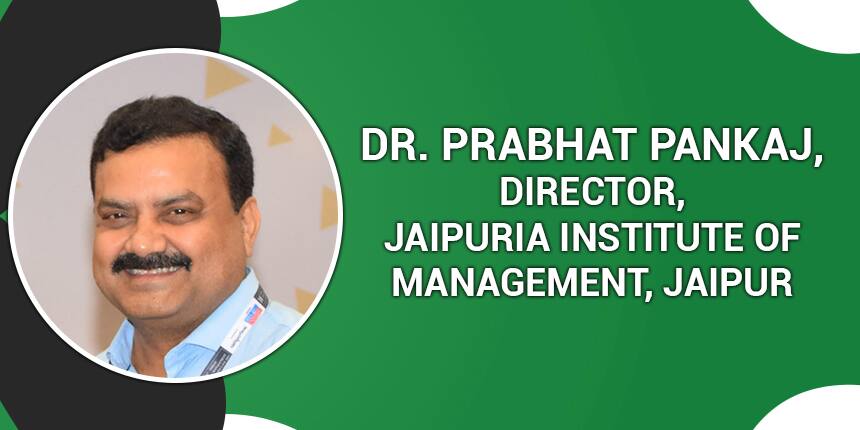 Careers360 - So much is happening at such fast pace- the dynamic changes, the intervention of AI and Cloud Computing, the blockchain and Big Data revolution; the coming decade is going to be all about globe ready managers and business professionals. Amidst all these changes, how is Jaipuria's PGDM being customised for the new age leaders?
Dr. Prabhat Pankaj - The Future of Work Report by World Economic Forum (WEF), report on Global Employment Trends for Youth 2020 by International Labor Organization (ILO) and many other similar reports have clearly pointed out that out of many future skills which will be needed to become employable, most of them cannot be taught in classroom environment. Learning needs to transcend beyond the classroom and submerge in real-life experiences. Jaipuria always tried to stay ahead of the curve and we adopted experiential learning, learning-by-doing, and learning beyond classroom quite early. This has resulted in two major shifts in PGDM program at Jaipuria: one, focus on learning coupled with major reshuffling of pedagogy; and two, blending of technology and new-age electives and certificate courses. There has been a lot of reforms made not only in teaching-learning but also in how we assess our students. For example, one big change is in terms of collaborative learning and assessment. In the real world workplace, we tend to work in groups and with people. Can we make our students learn 'how to learn together in group' and 'how to do peer assessment'? This is a great future skill our students will learn. We strongly believe that there is a lot of scope to make changes within the PGDM program which will prepare our students for jobs and future.
Careers360 - What are the few specialisations that Jaipuria is aiming to start or deliver from the upcoming academic season?
Dr. Prabhat Pankaj - Indeed, the pace of change is very fast and dynamic. Electives provide a good opportunity for B- schools to keep up with the changes. Jaipuria has the provision for dual specialization within which a good number of choices are provided to students. This enables a student to find a niche. Apart from this, Jaipuria also offers the option of 'open electives'. These open electives cut across streams, and accommodate new-age electives. Some of the new electives offered are related to machine learning, analytics, and international economics. From next academic year, we are offering electives in tourism, health management, and family business management. These are fast growing areas not only in terms of its contributions in GDP but also from the point of view of self-starting a business. Creative economy is expanding and there will be a lot of focus in B-schools to assimilate new-age services as part of electives. Jaipuria will always stand ahead of the curve.
Yet another interesting offering Jaipuria Jaipur does is in terms of liberal arts courses as elective. There is a bucket of 6 courses to choose from: Happiness & Wellbeing; Economic History of India; Alternative Cultural Shifts; Culture and Society; Management Thought Leaders & Perspective; French Language. These courses are much in demand and our students rate them high on life-long learning. The offering on Happiness & Wellbeing is unique to Jaipuria Jaipur as it is delivered based on our own research and expertise. Perhaps, Jaipuria is one of the pioneers in launching this futuristic course.
Careers360 - What kind of professors or academics is Jaipuria attracting towards itself to create the platform for new age specialisations? Give some examples of new recruits or existing academicians with names who are specialising in these new age domains.
Dr. Prabhat Pankaj - Recruiting the right kind of faculty is extremely critical for a successful offering and Jaipuria Jaipur is very conscious of this fact. Our faculty is offering new courses based on their own research, teaching experience, and publications. Since Jaipuria has also joined the process of AACSB accreditation, it has become all the more cautious in screening and recruiting faculty. To cite the examples of who all are teaching the electives mentioned herein, following may suffice for a better understanding:
Dr Abhishek Singh is an HR faculty and he has obtained his Ph.D from IIT-Roorkie in health management and developed expertise in tourism management over time. He has a good number of publications in top tier peer reviewed journals to his credit which supports his credibility as scholarly academics.

Dr Prashant Gupta, a mechanical engineer and MBA from FMS-Delhi University, has floated a family business from next session. He is a seasoned industry practitioner turned academic with 48 years of experience. He worked with Bharat Electronics Ltd. and Rajasthan State Industrial Development & Investment Corporation for a long time and took up assignments in France, U.K., Germany, Japan, South Korea, Hong Kong etc.

Dr Prabhat Pankaj and R Anand are running the elective on Happiness & Wellbeing. Both are faculty of international repute and published their work on happiness in reputed journals and Times of India. Dr Prabhat obtained executive education from Harvard University in higher education leadership and he was an invitee of the Ministry of Happiness, UAE in the World Government Summit 2019 in Dubai. R. Anand is a sage author on happiness at work and he is an advisor to HCL Technology. Both offer boot camp and workshops to corporates as well as happiness.

French Language is offered in collaboration with Campus France, Jaipur.

Dr Akash Dubey and Dr Ajit Kumar offer electives on machine learning and analytics. They are super experts in computer language, python, and analytics. Dr Akash has taught at Fiji University and he is an IBM resource person for analytics dealing in software such as Cognos, SPSS, Watson Social Media analytics, and Big data. Dr Ajit has obtained his MBA and Ph.D from Pondicherry University and published in credible journals. He is an expert in programming, python, R-based analytics and many more.
Careers360 - What is the major shift you are seeing in student's choice of electives of late? Is there some distinct change in the pattern of their selection of new-age electives or the trend is still the same?
Dr. Prabhat Pankaj - There is a shuttle change but not an obvious shift in choice of electives by students. Students are opting for new age electives like machine learning and analytics but not in large numbers. Large number of students still opt for conventional specialization and electives. Marketing and finance are the obvious choice. Yes, many students are turning towards analytics within marketing, finance, and HR. They do want to learn AI, block-chain etc but in a workshop mode rather than as part of elective. Keeping this trend in mind, Jaipuria Jaipur has given them options for Industry-run-certificate courses by BSE, KPMG, Thomas Assessment, IBM Analytics, TrakInvest, and British Standard Institute (BSI). These courses are over and above the electives and students have the choice of opting for one. Trend suggests that these certificate courses are equally popular as the elective courses. Looking at this trend, we are planning to introduce more courses based on AI and machine learning in due course of time. Perhaps, as the pattern of job availability would change in times to come, it will guide the change in choice of electives by students.
Careers360 - What kind of impact did you see this year in placements due to the introduction of specialised and industry oriented courses in the flagship programme of Jaipuria? Kindly give some distinctive instances.
Dr. Prabhat Pankaj - The number of students selected for analytics based companies has more than doubled. Selection in companies such as Deloitte, E&Y, Moody's etc has shown great results and good conversion. The new age electives and industry-run-certification have given us some wonderful placements. For instance, for the last two years, our students have been able to crack core finance profiles in companies like Moody's analytics, Protiviti, S&P Global. Similarly, we have got placements in HR profiles like Pantaloons, Delhivery and Spectrum Consultant. We were able to crack companies like Amazon and Indicaa Dubai with the introduction of these courses. Looking at the emergence of the E-commerce industry and disruptive technologies, we also designed the courses based on logistics, supply chain management, digital marketing and analytics. As a result, our students are now placed in companies like Swiggy, Delhivery, Zomato, Adomantra, TVS Motors. Similarly, the subjects offered in the area of Banking and Financial Services have benefitted our students a lot and helped them to secure jobs in Deloitte, IDFC First Bank, Bajaj Allianz, ICICI Securities, Tata AIG.
Jaipuria Institute of Management, Jaipur Updates and Articles
Questions related to Jaipuria Institute of Management, Jaipur
Showing 31 out of 31 Questions