Digital Vidya conducts Digital Marketing Scholarship Test till December 13
Digital Vidya, a digital marketing and data analytics training company is conducting Digital Marketing Scholarship Test for Digital Marketing professionals and students to marks its eighth anniversary. The test will be conducted till December 13 in an online mode and consist of 15 multiple choice questions on Analytical, Communications and Digital Media awareness skills. There is no negative marking scheme for wrong answers. Successful candidates will win scholarships worth Rs. 8 lakh. They will also be considered for internship and full-time job opportunities at leading brands and digital marketing agencies such as Mirum India, CarDekho, Infibeam, Social Panga and Digital Vidya.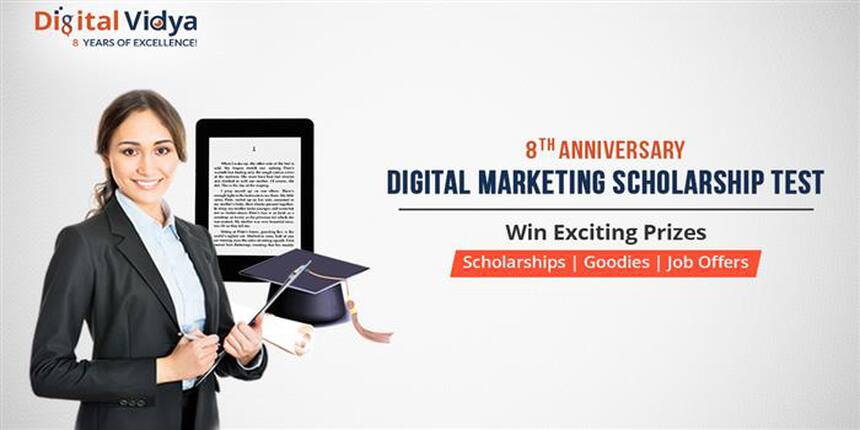 According to Digital Vidya, the scholarships will be offered based on candidates' score and response to the final question, which is subjective in nature. Candidates can participate multiple times. The names of the winners will be declared on December 15, 2017. Apart from scholarship and job or internship opportunities, winners also stand chance to win Amazon Kindle and other prizes. Aspirants have to visit the official website of Digital Vidya to take the test. There is no application fee or duration of the exam.
Pradeep Chopra, CEO of Digital Vidya on the launch of Digital Marketing Scholarship Test shares, "As a digital marketing skill enabler, we feel privileged to be an integral part of the digital marketing growth story in India over the last 8 years. We are very excited to announce this Scholarship Test as it will open multiple opportunities for everyone associated especially the participants and our hiring partners."
As of December 2017, Digital Vidya has trained over 25,000 professionals from 12,500 organisations across 50 countries through more than 1500 digital marketing training programs. Certified Digital Marketing Master (CDMM) is the flagship digital marketing training program offered by Digital Vidya.
Sanjay Mehta, Joint CEO, Mirum India, one of the hiring partners of Digital Vidya says, "The Digital Vidya programs have always provided us with a good base of talent to choose from, since the training that they get is very strong, and we are able to put such people into work roles quickly!"